Jonathan Binet & Sonia Kacem at Sankt Gallen
The Kunst Halle Sankt Gallen, located in St. Gallen, Switzerland, is no stranger to putting on challenging and thought provoking exhibitions that challenge our ideas about art (you can read about their The Deep Web – From Memes to Onionland. An Exploration and In a Certain State of Uncertainty exhibitions) and the newly announced joint exhibition by Jonathan Binet and Sonia Kacem is sure to continue the rich vein of thought as they fill the Kunst Halle Sankt Gallen with their expansive installations that allow visitors to physically experience the art on show and where the objects and people continually interact and react with each other.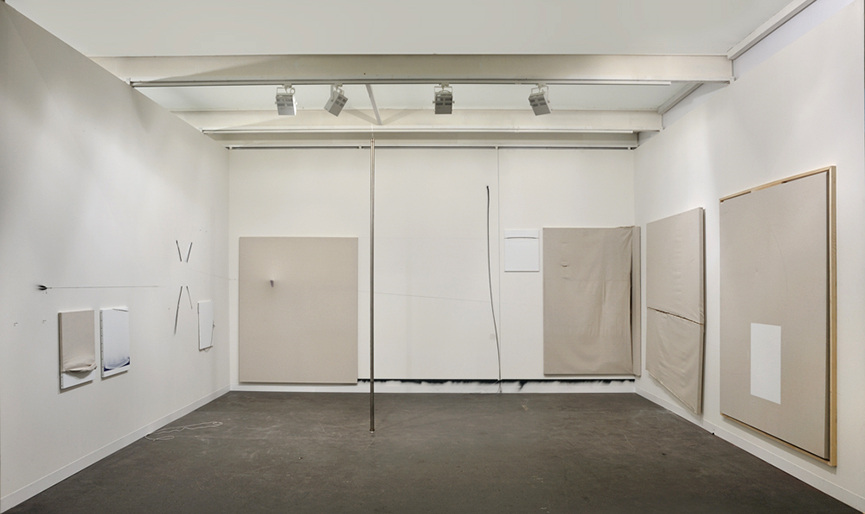 Spatial and Material Interactions
The installations that both Jonathan Binet and Sonia Kacem created in their exhibition at Kunst Halle Sankt Gallen will present visitors with the potential aesthetics of spatial and material interactions, with Binet setting up canvasses in relation to the gallery space, his sometimes calculated and sometimes spontaneous gestures coming together to form a rhythm in his works (you can read about Ryan Wallace and his The Standard Model exhibition that explores ideas of rhythm), while at the same time deconstructing the ideas of painting and architecture in his canvasses. Sonia Kacem incorporates performative painting for her images while her installations make use of both intuition and conscious decisions to make pictorial allusions that encourage the viewer to become part of the spatial picture, (check out the fascinating Donald Judd Chinati video for similar ideas of being in compositions).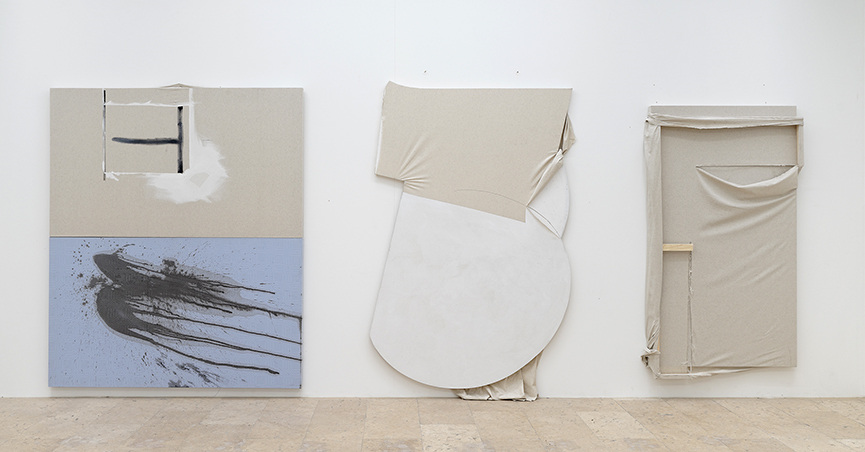 Jonathan Binet
The work of French born Jonathan Binet begins in the studio where he lets his environment and tools dictate elements that appear to him, such as random lines or dots that provide the inspiration to drive the work of art forwards whether it be through repetition, interruption or continuation (although very different in styles, one may think of someone like Jackson Pollock and the way he reacts to the materials he is using in this video). The canvasses on show at Kunst Halle Sankt Gallen will be of one repeated size that will allow Binet to focus on singular forms to highlight within the canvasses from one to the other while this experimental freedom allows the processes carried out on the works to remain visible, (again, although very different in style, the work of Oscar Murillo is very much about the process) and in some way taking them down from their elevated status to put time, space and materials next to each other.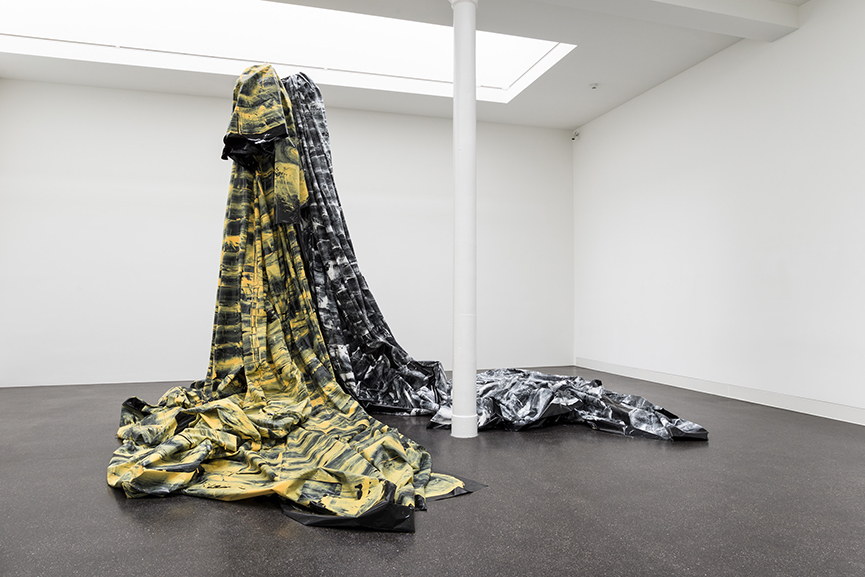 Sonia Kacem
Swiss born Sonia Kacem will be setting up an installation at Kunst Halle Sankt Gallen that comprises coloured foam balls and black elastic strips as she continues the exploration of her works that find inspiration on the streets and from memories. The artist often drapes found waste objects with newly produced elements that when combined with the juxtaposition of them in a space opens up ideas on our throw-away society, (have a look at Welcome to the Future by Daniel Arsham for similar views), product cycle and natural forms, deliberately shying away from charging the installations with personal meaning to allow the viewer to create their own contexts.
The Jonathan Binet and Sonia Kacem joint exhibition at Kunst Halle Sankt Gallen will open on the 24th January 2015 and will run through until 29th March 2015.
To discover all the latest installations news sign up to My Widewalls today!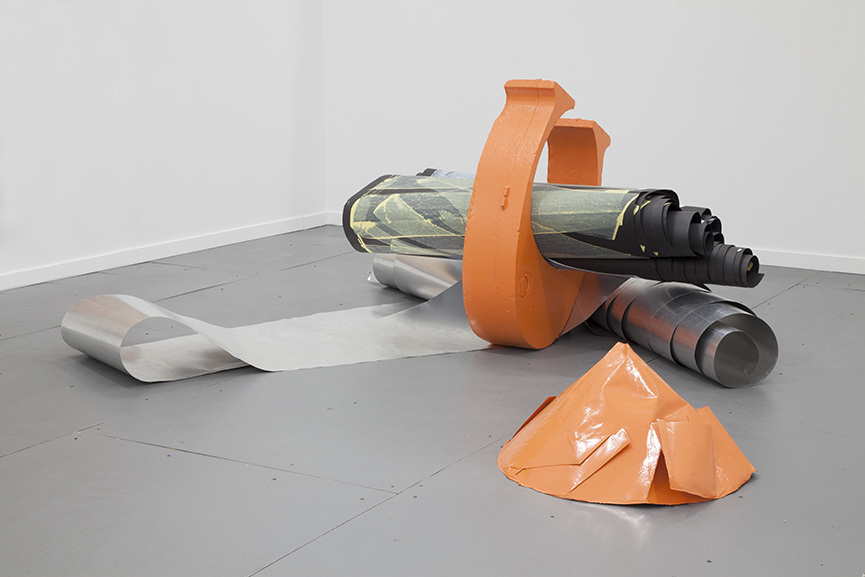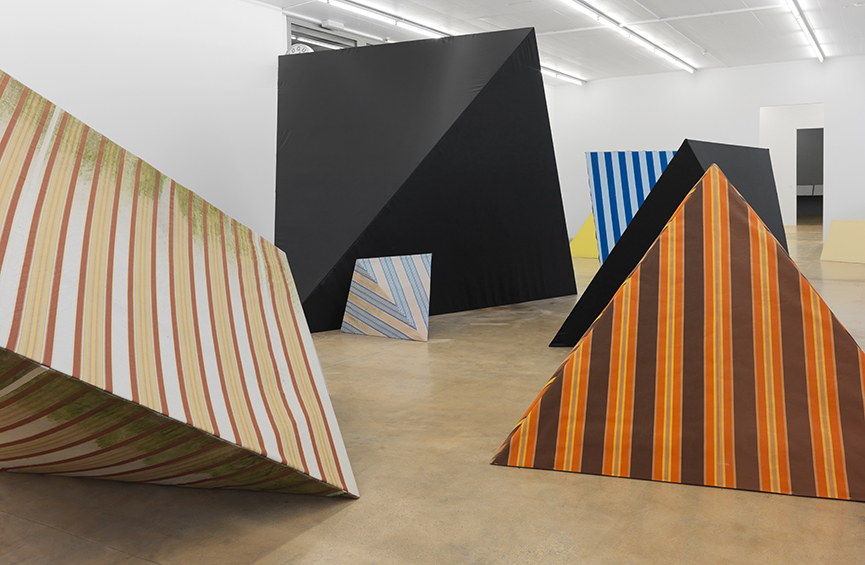 Photos courtesy of Kunst Halle Sankt Gallen and as credited.
[mc4wp_form]