JonOne Exhibition is Opening at Galerie Bartoux
Famous for his Abstract Expressionist graffiti style, JonOne will return to where it all started for him in an exhibition of his brand new pieces. At Galerie Bartoux, the artist will present a confluence of ideas and styles explored in his previous works, done in his trademark manner using saturated palette and playful brushstrokes. This Paris-based individual born in New York triumphally returns to the US, conveying a clear message: Old school graffiti is not dead! It is very much alive and showcased in galleries and even museums around the world, and JonOne did a lot to make sure it stays this way for a long time to come.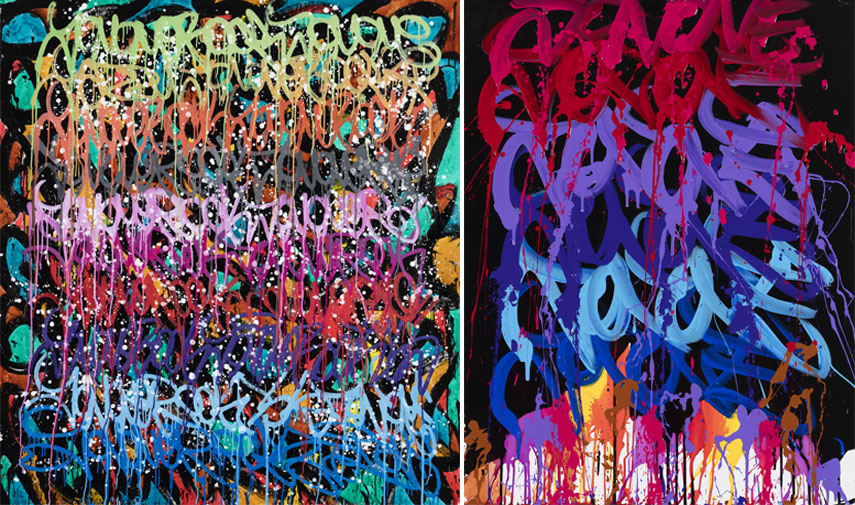 Crossing Over
The relationship between positive and negative space has always held an important spot in the practice of JonOne. His frenetic, vivid, abstract chaos, however, appears perfectly in order, aided by thick, expressive strokes of color and the signature drips of paint that remind us of his street roots once again. In his latest body of works, the artist incorporated more delicate brushstrokes, giving his paintings more rhythm that evokes the busy, dynamic pulse of the urban areas that inspire him. Aesthetically mesmerizing, the compositions of JonOne are flowing in space, creating a balance of density and openness. They almost seem to be crossing over to three-dimensionality as well, as the layers of paint rise above the surface of the canvas and give life to a kind of a relief landscape – perhaps another reference to what surrounds him.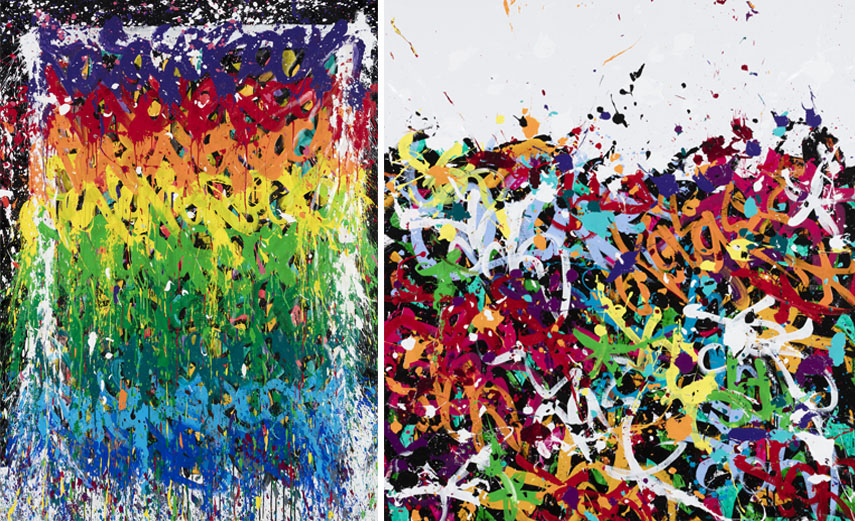 Chaos in Order
What is immediately evident in the works of artist JonOne is his goal and ability to convey a sense of freedom that freestyle writing gives its artists. His beginnings date back to the 1980s and the streets of New York City, when the movement was in full swing, as original, uninhibited and vibrant as we can see it today in JonOne's canvases. Let us not forget that he also created the 156 All Starz in 1984 with fellow street artists. His is a stylized calligraphy of color, which kept the excitement of painting on subway trains in complete secrecy, under the rush of adrenaline. However, the canvas that receives JonOne vision contributes to their elegancy and fine art quality as well, turning these artworks into the perfect combination of both worlds. In an ingenious way, he was certainly one of the biggest contributors to urban art as an accepted and recognized form of contemporary art, which we now perceive as both formal and original in its own way.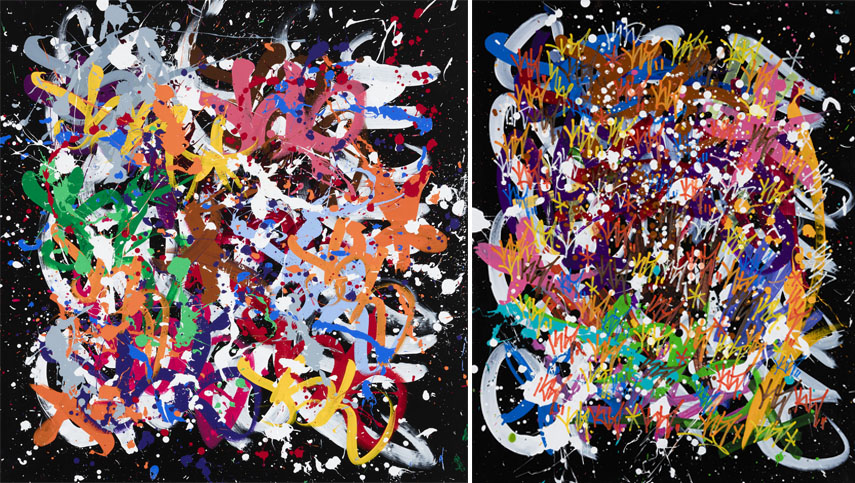 JonOne Exhibition at Galerie Bartoux
For the occasion of the annual Art Summit in 2015, in partnership with Galerie Bartoux and Courchevel Resort, artist JonOne transformed Courchevel valley into an outdoor museum, decorating the station buildings, cable cars and chairlifts with unique pieces and monumental sculptures. Now, Crossing Over, an exhibition of new works by JonOne, will be on view at Galerie Bartoux in New York City, USA, from November 30th 2015 through January 8th, 2017. The opening reception is scheduled for November 30th from 6pm to 9pm.
Featured images: JonOne – Missing Feelings, 2016. Acrylic and ink on canvas, 150 x 205 cm; Face To Face, 2016. Acrylic and ink on canvas, 147 x 205 cm; Good Intentions, 2016. Acrylic and ink on canvas, 146 x 166 cm. All images courtesy Galerie Bartoux.