Urban Legacy by JonOne Reveals the Uniqueness of his Approach at Fabien Castanier Gallery
Fabien Castanier Gallery is pleased to present a new JonOne solo exhibition titled Urban Legacy. This will be the third solo show for the artist at Fabien Castanier Gallery, and it will feature new works from the internationally renowned JonOne. Known as one of the most influential personas in the world of urban contemporary art today, John Andrew Perello, better known as JonOne will show in this exhibition why he is considered to be so significant and celebrated in this realm of art. He built his career on the distinctive mixture of abstract expressionism, graffiti, and calligraphy, and possesses a profound understanding of colors and textures, which is a skill and a talent that will definitely prove him worthy of all the compliments and acclaims he has received over the past twenty-five years.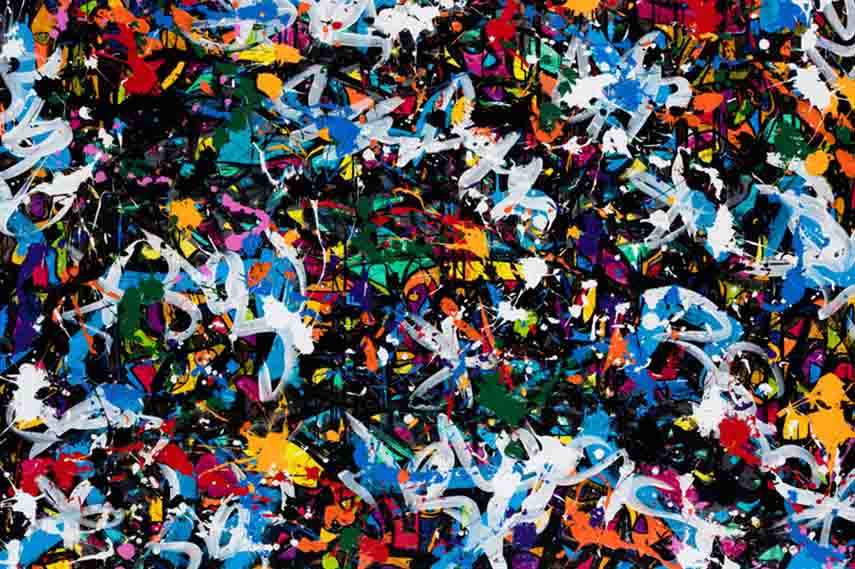 From Harlem to Paris and Back
JonOne was raised in the New York's neighborhood Harlem, a time which inspired him to evoke the classic imagery of famous New York tagged trains and the trails of color they leave when they rush through the city. Beginning as a young artist, tagging the streets of Harlem, JonOne has always highlighted the painterly approach to street art by using brushes instead of spray cans to tag the said trains of New York City. The artist has lived in Paris in the mid-1980s where he managed to establish himself as an artist and start his long and fruitful career. The time spent in the city of light encouraged him to apply his painterly style to his roots in graffiti and combine the two into a unique form of abstract expressionism, which reminds of the style of Jackson Pollock and Willem de Kooning.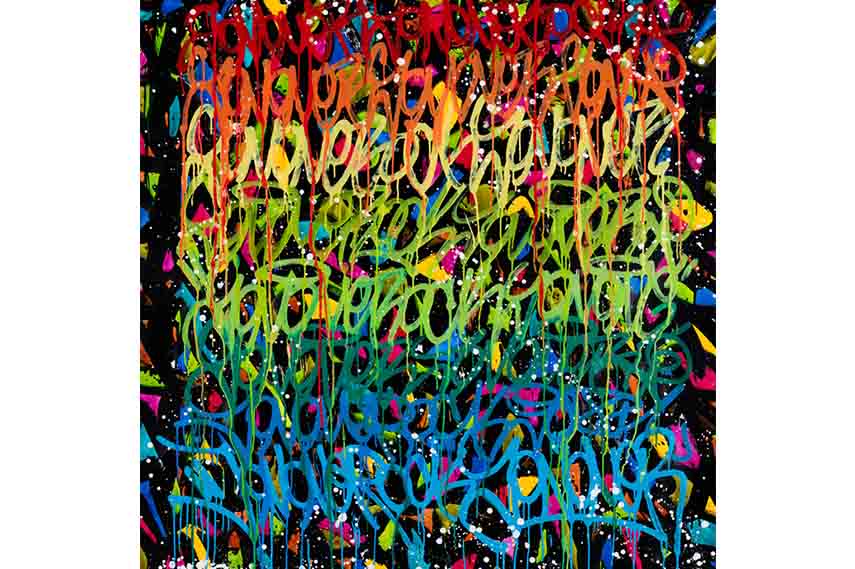 Movement and Color in JonOne's Paintings
JonOne is an artist whose works show a vast sense of movement and color in them. His compositions are a careful mixture of precise brushstrokes, freestyle, repetition, and texture and they all create a distinctively balanced and dynamic visual experience. JonOne and his works are a prime example of a new generation of contemporary artists who have bravely transitioned from their graffiti and street art roots into the world of unique urban contemporary art and established themselves as painters. In the light of his international recognition, JonOne has collaborated with a number of famous brands, lending his original designs to companies such as Air France, Perrier, Guerlain, and Lacoste. From New York to Shanghai, from Paris to Casablanca, all the way to Hong Kong, the artist has exhibited his works in notable galleries and art fairs all over the world and received a status of one of the most sought after artists of his caliber.
JonOne Exhibition at Fabien Castanier Gallery
JonOne exhibition Urban Legacy features a collection of new paintings that depict the most vibrant style that the artist is famous for. He once again returns to Los Angeles to offer a series of canvases that will invite the viewers to investigate the vibrancy and the spirit of the city, and reassure them that JonOne is truly a name worth remembering. The exhibition will open on Saturday, May 14th, from 6 PM to 9 PM, and will run until June 11th, 2016, at Fabien Castanier Gallery, located at 2919 La Cienega Blvd., Culver City, California. JonOne is an artist whose works have been exhibited at major galleries and institutions around the world, such as the Fondation Cartier for Contemporary Art and the Grand Palais in Paris. In 2015, he received the Legion of Honor from France, and celebrated the achievement with a painting Liberté, Egalité, Fraternité, unveiled at the seat of the French National Assembly, Palais Bourbon.
All images courtesy of Fabien Castanier Gallery. Featured image: JonOne portrait, credit The1point8Image in the slider: JonOne – Ambiances, 08 04 2014, credit Gwen le Bras