Jose Pedro Croft's Monumental Sculptures - Pavilion of Portugal at Venice Biennale 2017
Villa Hériot in Venice is once again the spot chosen to host art for the occasion of the 57th Interantional Art Exhibition, the famous Venice Biennale. This time, the space of the Villa and its gardens will be occupied by the pavilion of Portugal, and its representative José Pedro Croft. The pavilion is curated by João Pinharanda, and bears the title Medida Incerta [Uncertain Measure]. Comprising of six sculptures, the monumental sculptural work will be installed in the gardens of the Villa, while in its interior the visitors will be able to see additional materials related to the project and the exhibition.
Medida Incerta questions our understanding of space, and represents a visual play with our notions of objectivity and illusion. Questioning the notions of stability and balance, the work is reframing interpretations of space, both natural, and the created one, as is opening and awakening the senses of the spectator. In José Pedro Croft's art, sculpture and its context are inseparable, as the artist explores, and brings into dialog our heritage, built environments, and contemporary art.
With the opening of the Biennale approaching, we arranged an interview with the artist, in order to find out more about his exciting work, the production and creative challenges he faced in bringing this project to life, but also about his understanding of space and art.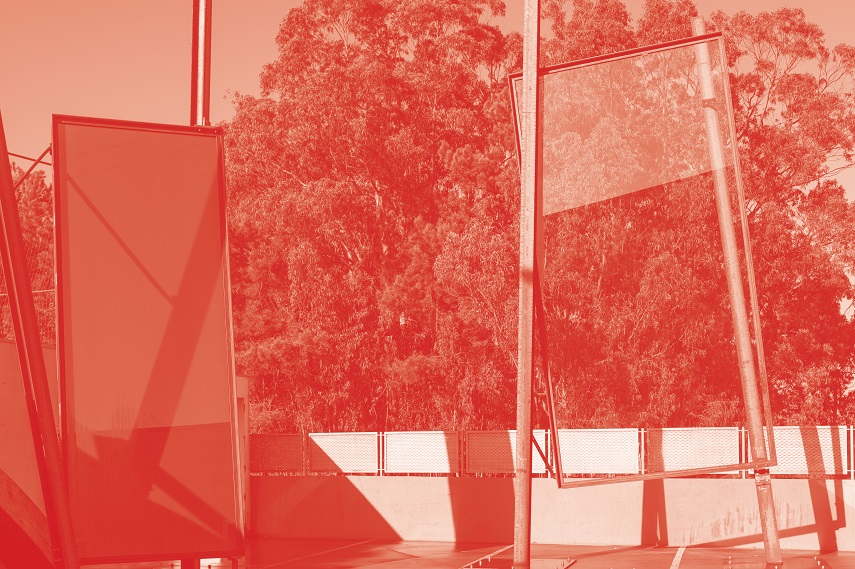 Medida Incerta at the Venice Biennale
Widewalls: You come to this year's Venice Biennale with the work Medida Incerta (Uncertain Measure). Can you introduce it to our readers?
José Pedro Croft: It is an installation composed of six monumental sculptures made of mirrored and coloured glass, each measuring 9.8 x 19.5 feet in height and suspended at 26 feet at their highest point.
The works will reflect the architecture around them, the visitors and the lagoon, constantly changing the viewer's perception as their points of view change.
Widewalls: How did the development of your work go? Have you visited Villa Hériot before you came up with the definitive concept for it?
JPC: I visited Villa Hériot whilst preparing for the Biennale but the project was actually originally conceived for a different location. The project will be an adaptation of an earlier version, which had been conceived for Campo di Marte, the adjacent building by Portuguese architect and Pritzker-winner Álvaro Siza Vieira.
Originally, the plan was that the sculptures would directly confront the architecture. However, as often is the case with such ambitious projects, plans changed and when the location changed there had to be further adjustments to the work.
The works now had to conform with the particular Heritage requirements of this historical garden as there are objects of archaeological interest buried within; there were also special requirements due to Venice's Navigation.
Pavilion of Portugal at Villa Hériot
Widewalls: How much did locality influence or change your initial idea? How challenging it was to execute it (the steel structures you are using are quite large)?
JPC: It is a very ambitious project, of especially great engineering complexity. The location of this Biennale meant I had to conform to the works having 1ft foundation footings, which ultimately restricted their height and shape. However, I have to admit, these challenges give me a huge rush of adrenaline and above all it has been really rewarding working with a magnificent team supporting the creation and installation of the works.
Widewalls: You are dealing with space and our understanding and perception of it. Where does this fascination with space come from?
JPC: Those are the eternal questions concerning sculpture and they have always intrigued me. I still haven't found a definite answer, but I believe some people communicate verbally, poets and writers for example; others, like me, communicate through colours and forms…and yet there are others who do not need to dedicate their lives to expression – they just live, which is also good!
Widewalls: Your work destabilizes the singular perception of space, but also examines the relation between built and natural environments, and art. What issues are you addressing by focusing on these themes?
JPC: In my opinion, these outdoor sculptures work their landscape, no matter whether the landscape is architecture or a garden or the woods. As I see it, it is nature already humanized and worked by man. From this already artificial point of view, I put these subjects into evidence.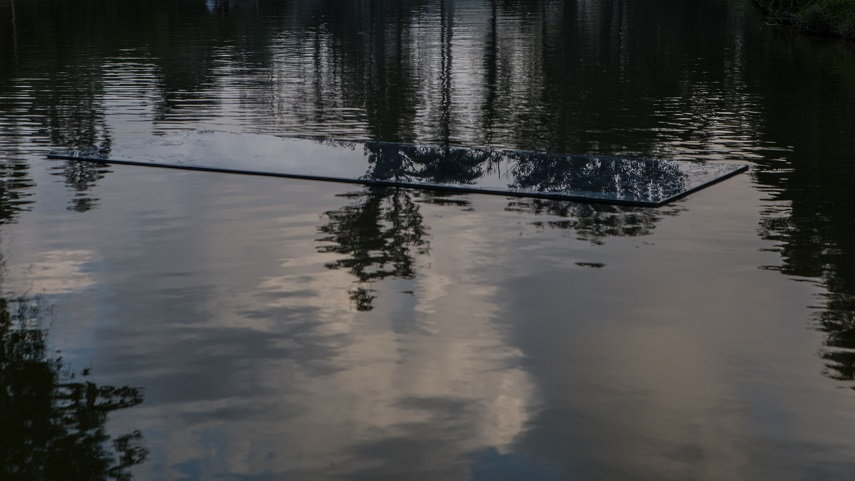 Connecting Art to Life and Ethics
Widewalls: Can you reflect a bit on contemporary situation regarding new spatial divisions, borders, and obstacles put before people in Europe today?
JPC: The situation of contemporary creation is very contaminated by the market, in its most diverse ways. These divisions and limits are ways of framing something which should be freer, which is the creation, and which anticipates the contexts.
Widewalls: The title of the 57th Biennale is "VIVA ARTE VIVA". How does your work relate to this theme?
JPC: Very well, as I already mentioned in the previous answer, let us forget the contexts and the countless divisions into categories, and let us see what energy Art brings to the World.
Widewalls: Art as a 'yes' to life, as the most precious part of the human being – contends Christine Macel, the curator. What does art represent to you?
JPC: I connect art to life and ethics, it especially helps us to stay away from the senseless voracity to which we are subjected to on a daily basis.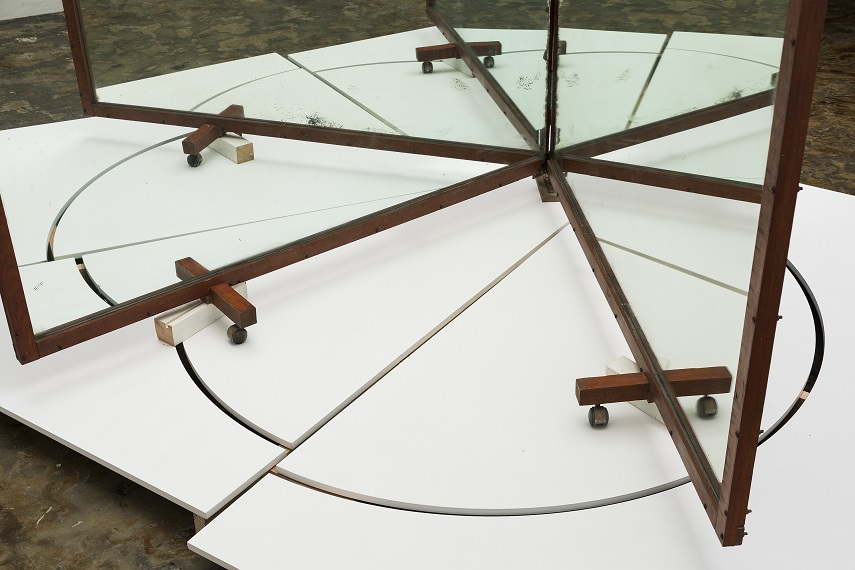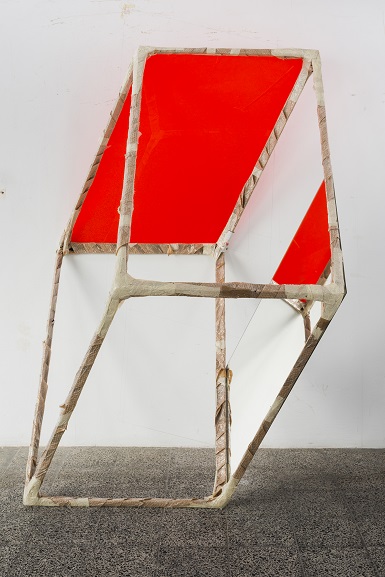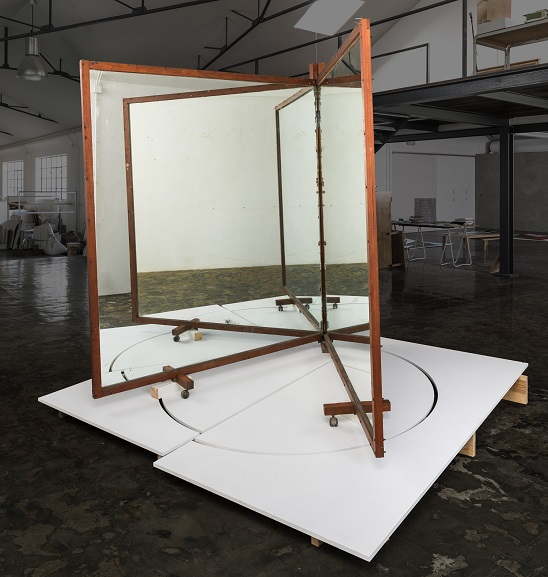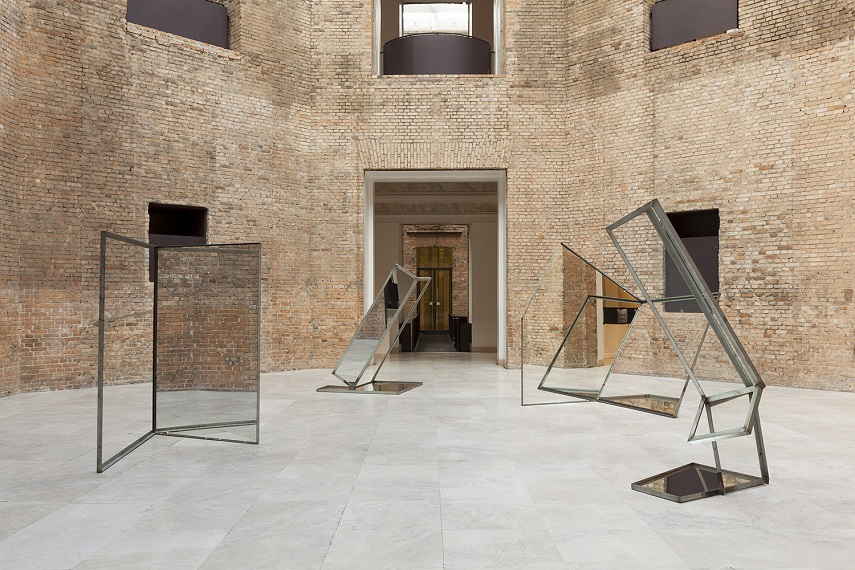 Featured images: José Pedro Croft – No title, 2015, iron and mirror, height 7 meters. Courtesy of the artist; José Pedro Croft, photo Daniel Malhão, courtesy of the artist. All images used for illustrative purposes only.