Joseph Grazi: God Complex
In a solo exhibition God Complex, the Joseph Gross Gallery will present new work by Joseph Grazi. New York City born and based artist Grazi works across a growing variety of mediums and largely focuses on themes of nature and death. He has exhibited widely throughout NYC, in galleries, inside bars, but also at the Metropolitan Museum of Art, where his rendered, seven-foot-wide T-Rex skeleton, made with ink pencil and paint, was shown. As his alter ego, Parker Wolf, he led wide-scale performance art exhibitions about fashion consumerism in Central Park and Union Square. Grazi is also a rock musician and plays bass guitar. Worlds of art and music often come together and we have more on this subject here.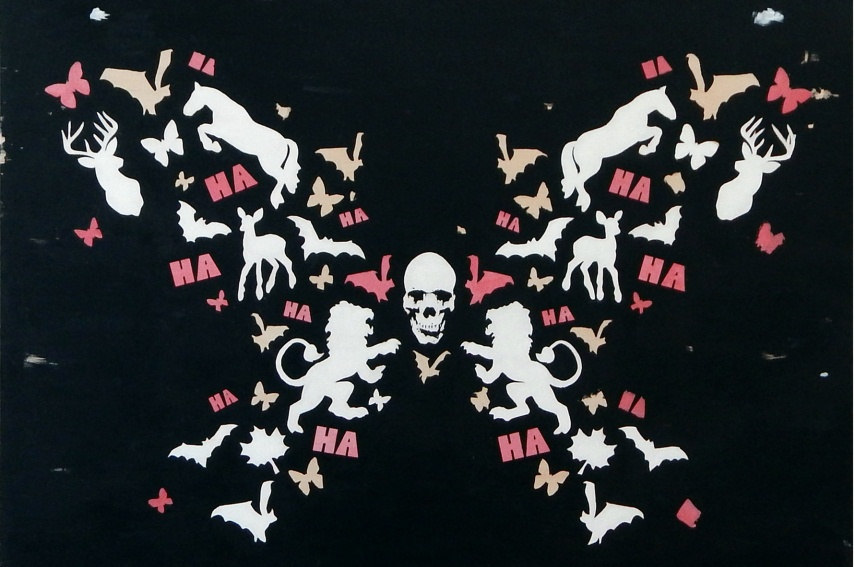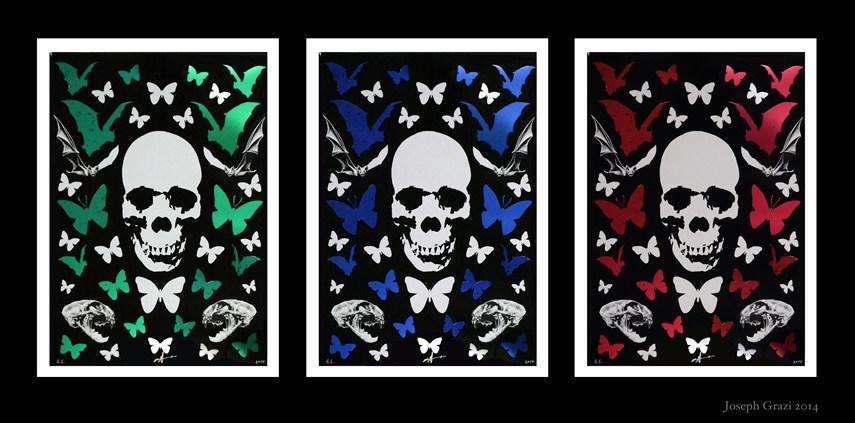 God Complex: Mankind vs. Nature
God Complex features Grazi's newest body of work illustrating mankind's increasing dominion over the natural world. One of the works featured in this exhibition, Trophy Room, incorporates several components of the natural world, including birds, deer, bats and leaves, as well as human skulls and guns, arranged symmetrically to portray the unlimited dominion of man over nature. Another piece, Inferno, consists of a massive alligator head with 22 taxidermied bats flying forth from its jaws, arranged like a fireball. The alligator takes on the appearance of a fire breathing dragon, in allusion to mankind's proclivity to reshape nature and create a new version of it. With these works Joseph Grazi attempts to capture our godlike powers over the natural world. They are an illustration of the duality of humans as both animals and gods. Open ended and inconclusive, Grazi's work in God Complex revolves around the irrational as well as inconsistent relationship that we have developed with our very nature.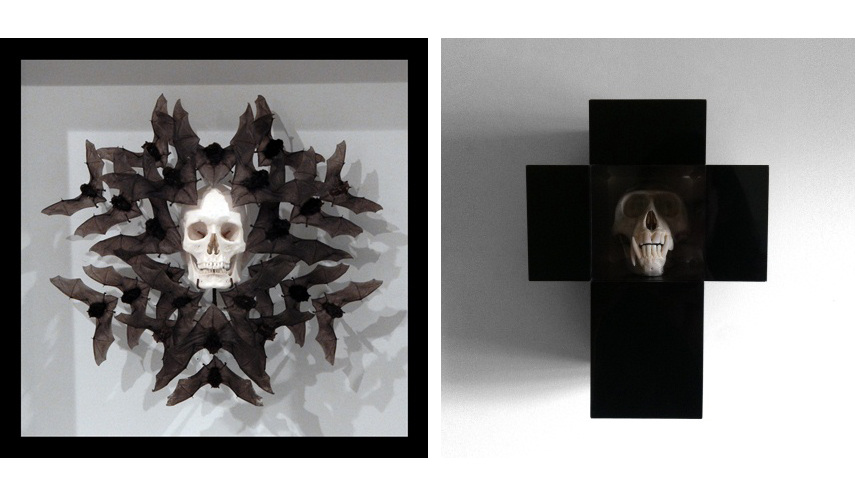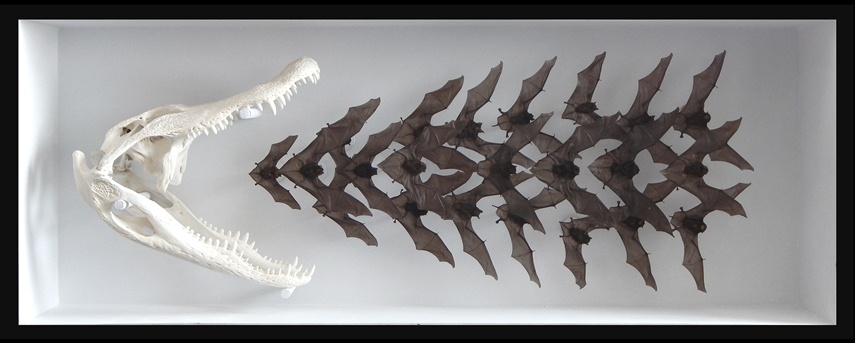 Aesthetic of Death: The Art of Joseph Grazi
Grazi utilizes a wide variety of media such as taxidermied animals, acrylics, wood and other materials, compositionally designed to neutralize fear through order and arrangement. Animal and human skulls, bones and taxidermied bats are only some of the elements that, put together, can trigger fright and relief at the same time. His goal is to alleviate the most ancient fears through acknowledgment of individual power and control in the hope that such acknowledgment can lead to a better understanding of the animal kingdom. Grazi's artwork is also about the beauty of the parallels between life and death and the irrationality of human aesthetics. He tries to make something otherwise horrifying as skulls and bats appear beautiful as a rose, or butterfly.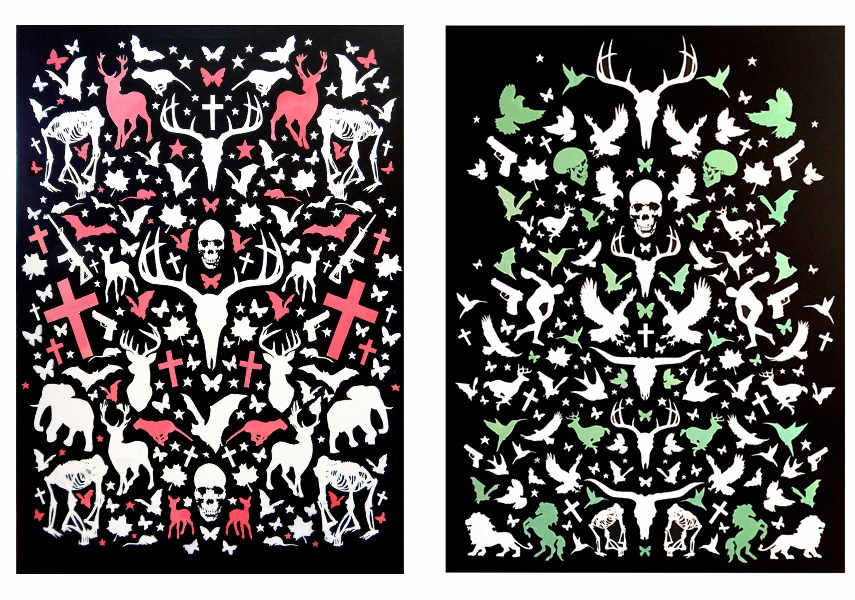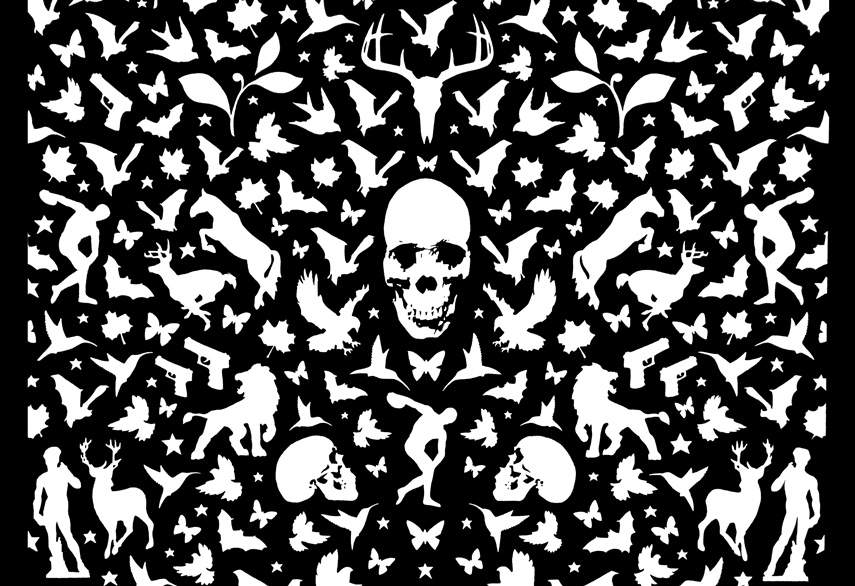 Grazi at Joseph Gross Gallery
God Complex is Grazi's second solo exhibition at Joseph Gross Gallery, located in the Chelsea art district of New York City. It features 24 new works that focus on the interaction between art, nature and science. With the human brain considered the most complex structure in the known universe, human beings have been given the ability to manipulate the environment as they please and ultimately bend nature to their desires. Therefore, the human skull is dominant in his drawings, paintings and sculptures, a symbol of human superiority, but also a link to our mortality.
God Complex at Joseph Gross Gallery opens on April 9th and runs through May 2nd.
Also inspired by nature, Belgian street artist ROA is having his solo exhibition at Jonathan LeVine Gallery. Check it out here!
Make sure you stay informed about more exciting shows and artists by signing up for My Widewalls!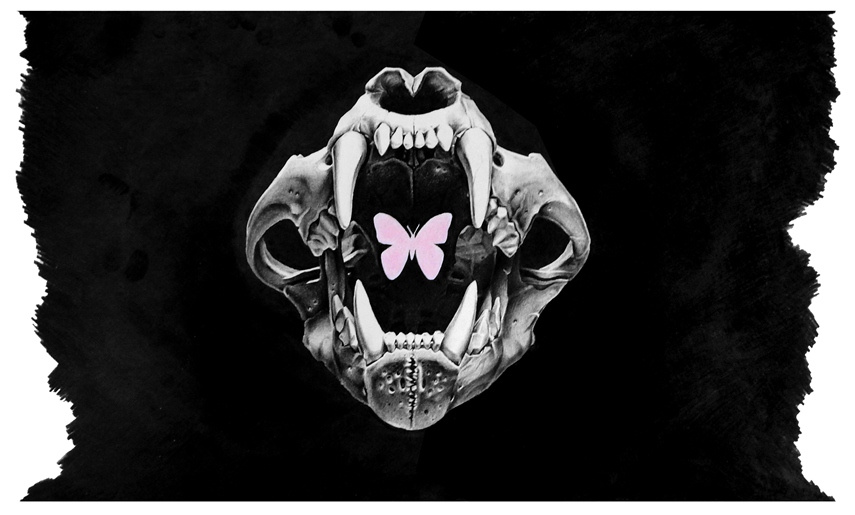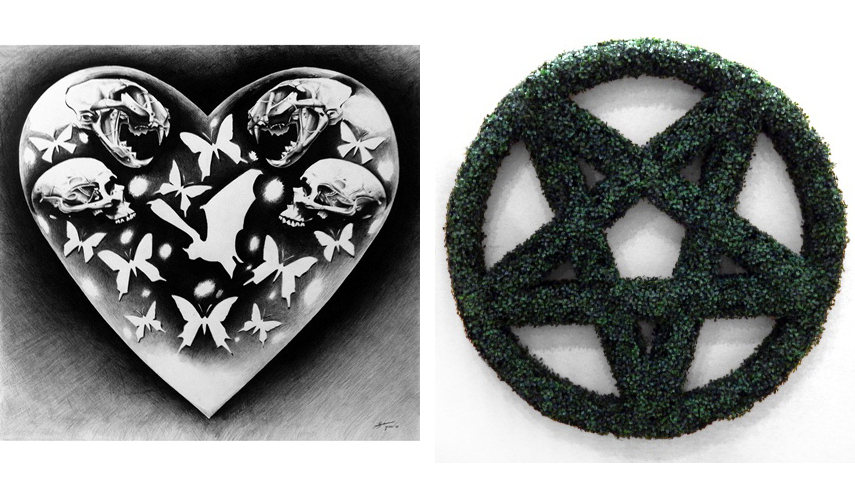 Featured image – Joseph Grazi, Down On The Upside 2015, 24 x 19 inches, colored pencil on paper.
All images courtesy of Joseph Gross Gallery, New York City, NY.
[mc4wp_form]