Joshua Liner Gallery Showing: All Types of Characters
A character, as a part of identity, probably is one of the few basic things in arts that, generally speaking, everyone could relate to, more or less. And that was the leading idea of All Types of Characters exhibition at Joshua Liner Gallery in NYC: to create an exhibition that everyone could relate to, an exhibition in which every visitor will find at least one artwork that he or she would have wished to share. The All types of characters exhibition consists of 34 artworks by 34 different artists with different reputations: from established creators to lesser known and undiscovered artists that are trying to make a major breakthrough. The technique of artworks varies from oil painting to photography, and, according to Dave Wilfert from The World''s Best Ever website, who organized All Types of Characters exhibition at Joshua Liner Gallery (his first ever art exhibition), almost every single artist was thrilled to participate in this exhibition, which opened on June 18.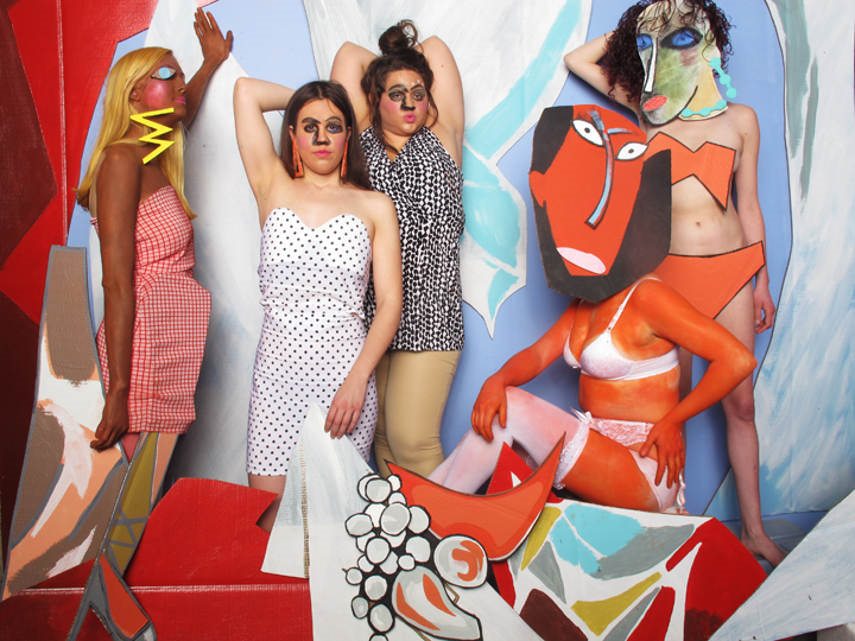 The Humor of Jaimie Warren
As we said, 34 artists are represented at the All Types of Characters exhibition, so we won't be able to focus on each and everyone of them – we'll just mention a couple of them: HuskMitNavn, Richard Colman, Andrew Jeffrey Wright, Andy Jenkins, Luke Pelletier, Mark Mulroney… However, we will give you a few hints of what you'll experience if you go to Joshua Liner Gallery. First of all, there's Jaimie Warren and his In Self Portrait as Woman in Les Demoiselles d'Avignon by Pablo Picasso. With much of a successful humor, Warren reinterpreted the famous Picasso's painting using real, live female models, and, you know, it's kinda funny. In the words of Dave Wilfert: It''s a summer show, it should be fun. And, if you look at other Warren's works, you'll know that he is an entertaining artist – Lasagna Del Rey, Oreoprah, and Chicken Tikka Masalvadore Dali are titles of just a few of his works.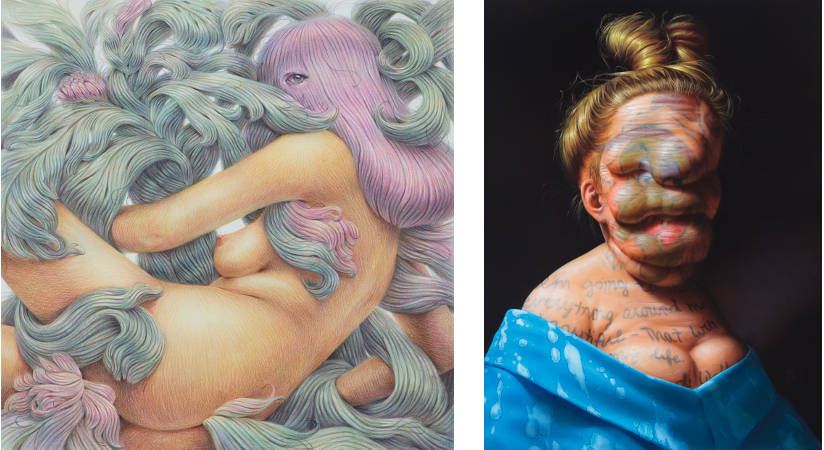 The Reality of Taylor McKimens and the Unusual Beauty of Winnie Truong
And if Jaimie Warren's works are filled with a sense of humor, that probably isn't the first thing you will think of when you see works by Taylor McKimens. His Wherever I am, artwork that is representing him at All Types of Characters is depicting a green, decaying face, and his other works could be described as depressing. But, that's not his intention. McKimens claims that he is depicting the world as it is, and "all of that stuff is in everybody". So, McKimens is showing the realistic picture of the world around us, and we're the ones to be blamed for refusing to see it that way.
The third and the final artist whose work we'll mention here is Canadian artist Winnie Truong. As we could see in her Side Eye from 2015, she is using a very detailed technique in depicting a nude female body. This kind of detailed work suggests that the girl's body is covered with hair, and all we could see on her face is her eyes. That's intrinsic for Truong's work, as her portraits of both men and women have facial and other hair in unusual places. This way, Truong is trying to challenge our perception of what's beautiful and what's normal.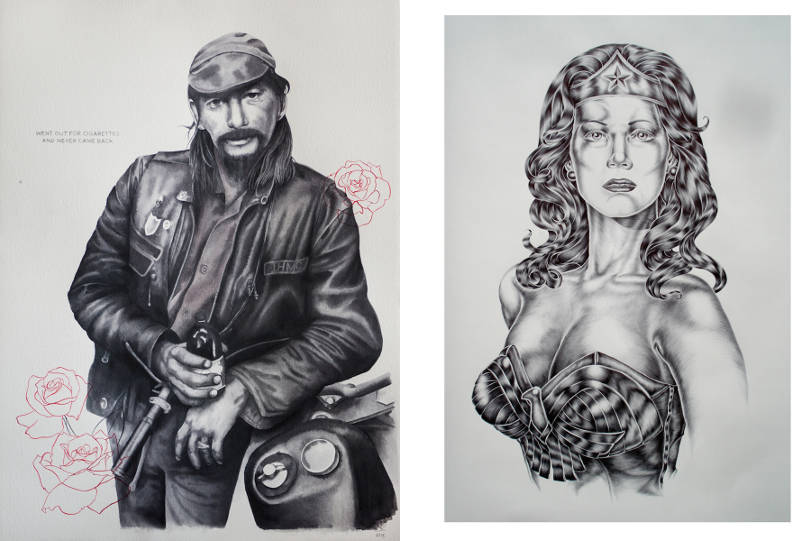 All Types of Characters Exhibition: Where and When
As we said, the All Types of Characters exhibition opened on June 18 at Joshua Liner Gallery in New York, and it will be open until July 10. The gallery is open from Tuesday till Saturday from 11 AM to 6 PM, and the address is 540 West 28th Street, New York, NY 10001.
Sign up for My WideWalls for FREE and be up-to-date with contemporary and street art.
All images courtesy of Joshua Liner Gallery.
Follow These Galleries
New York City, United States