Enter JR's Pantheon
The French president François Hollande announced on Friday, February 21, that the ashes of four respected figures of French Resistance during Second World War will be transferred to the Pantheon in May 2015. Four days later, the Centre of national monuments (CMN) announced that the famous photographer and conceptual artist JR will decorate one of the world's most famous mausoleums.  The dome of Paris' Pantheon is undergoing renovation, and the construction site itself will become a work of art. The faces of thousands of ordinary people will be on show in a huge art installation on site. For the first time, a tarpaulin construction becomes the medium of artistic creation. JR is funded by a private benefactor whose name was not disclosed, and therefore will be no costs to the State. It is assumed that the international visibility given by the work of JR will also attract the eye of patrons, since there is no budget for the second phase of restoration which began in 2013.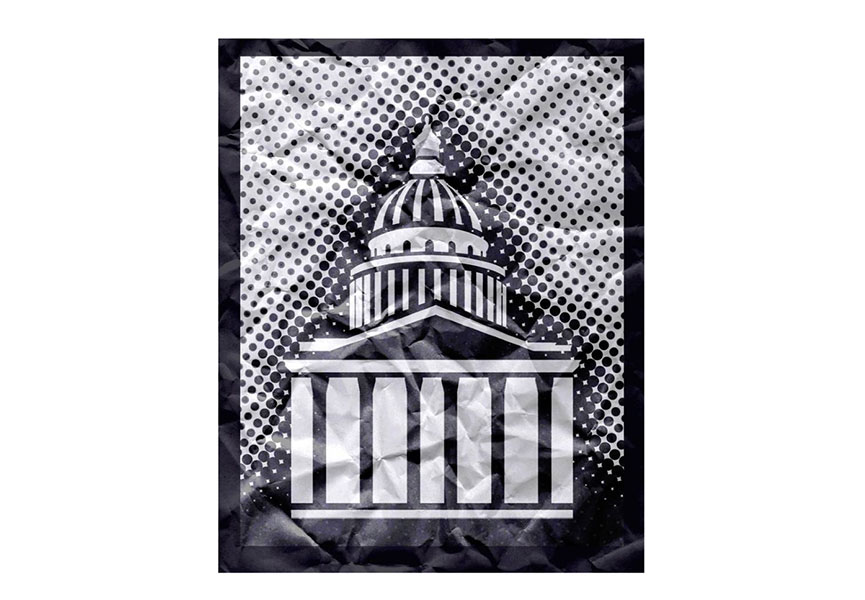 Pantheon covered with JR
The President of CMN, Philippe Bélaval, chose not to put advertising tarpaulin during construction. He preferred a work by JR. "I called JR because it seems that his participatory and humanistic approach echoes the values ​​held by the Pantheon. For the first time, covers of a national monument will become the medium of contemporary artistic creation, and not that of a lucrative advertising campaign," said Bélaval. JR will cover both the dome of the building and its colonnade with a mosaic of portraits of ordinary French citizens. The artist also wanted to work inside of the monument, especially on the ground.

Photo Truck Tour
The participatory mechanism runs similar to the JR's project "Inside Out". Individual portraits in black and white will be collected between February 25 and March 29 through a dedicated website. Portraits will also be collected in eight national monuments thanks to the artist's itinerant truck which works as a photo booth. The truck will start up parking in front of the Basilica of Saint-Denis on March 5, before a tour of France, to find people who want a place in the building that houses the remains of Victor Hugo, Voltaire, and Marie Curie, among others. People can be photographed for free and leave with their portrait or paste it on site. This unique and titanic project will be visible across the capital and remains during the work. The installation will be inaugurated on April 22.
About the Pantheon
The monument was built by Jacques-Germain Soufflot at the end of the eighteenth century and it is an early example of neoclassicism. The Pantheon was originally built as a church dedicated to St. Genevieve, and during the Revolution converted into Pantheon which functions as a secular mausoleum containing the remains of distinguished French citizens. This spring will, however, welcome the common people.