Window Seat
Julia Benz is both a mystery and delight in the German contemporary art scene. Few things are known about the artist that studied fine art painting at the Kunstakademie Düsseldorf and Universität der Künste in Berlin. After completing her studies in Germany's capital she remained in the city to set up her studio atelier.  The works of Julia Benz are expressive and colorful representations of diversity in seemingly mundane day-to-day situations.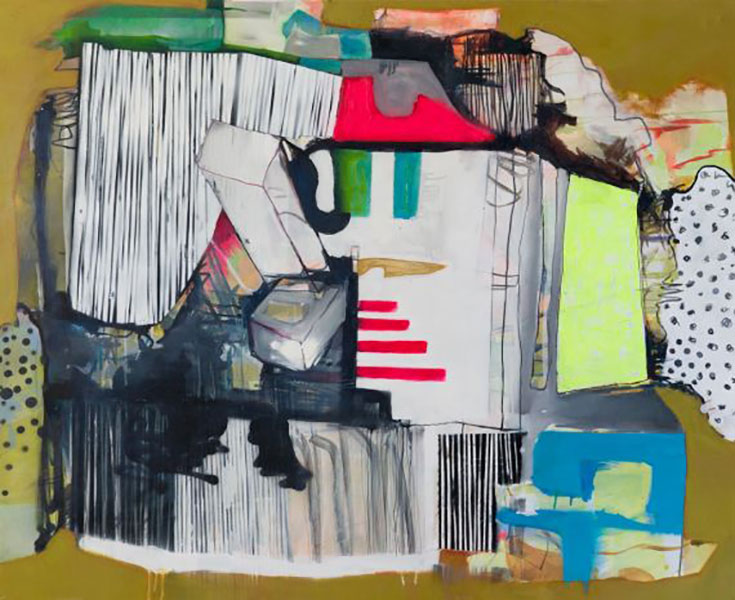 Playfulness
With the clever interplay of bright and muted colors Julia Benz creates sceneries in which reality and fiction become blurred.  In her mainly large-scale artwork Benz combines representational and graphic elements with figurative imagery. The combination breaks the romanticism of nature landscapes with urban influences. The figurative elements in her work do thereby not raise the finger and act as moral reminders but emphasize the playfulness of her art.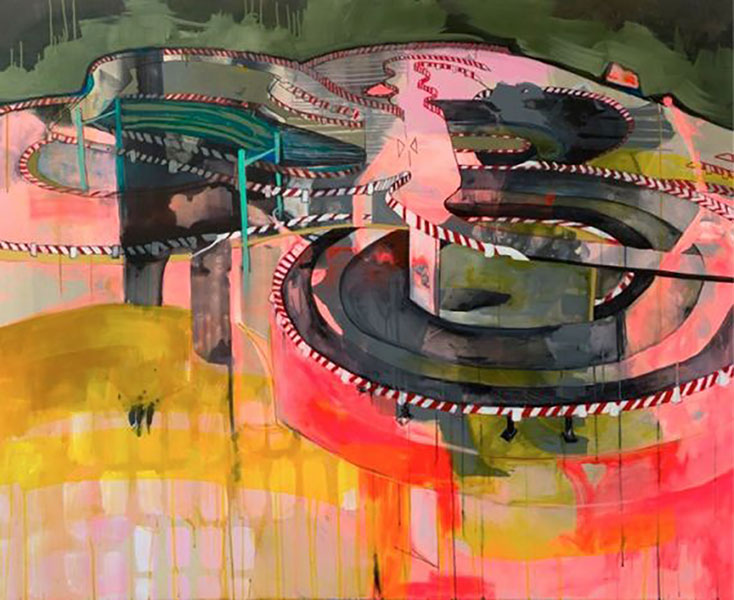 Unobserved People
"Ein Bild fängt mit der Malerei an und nicht mit der Idee" – A painting begins with painting and not with an idea. This is Benz' anti-conceptualist approach to creating art. Her works need to be big, colorful, energetic and loud. Julia Benz incorporates both figurative and abstract elements to create her loud pieces of art. The works are about openness, intensity and passion and not limited by any formal or informal constraints.  She works with light and dark contrasts to blend her figurative and abstract imagery. Viewers need to dive into the work to fully comprehend the eclectic mix of style, color and imagery. The central subject to these works are people that feel unobserved. For Benz these people present higher artistic significance than the artificially beautified portrayals in mass media.
Die Kunstagentin in Cologne will present a body of work by Julia Benz that takes the window seat in everyday life. Starting point for the the exhibition Window Seat is the assumption that the artist is detached from the world and looks at it through a window. The exhibition begins on December 4th and will run through January 24th 2015.
To stay informed about all upcoming exhibition sign up to My Widewalls.
All images courtesy of Die Kunstagentin
Follow These Galleries
Cologne, Germany

Barcelona, Spain