See All the Murals from JustKids x Life Is Beautiful Festival in Las Vegas
Circled around an idea of expanding the city's already rich street art portfolio, JustKids, in partnership with Life is Beautiful Festival, brought artists from all around the globe to transform Downtown Las Vegas into an open-air gallery last September. And now, the fruits of the organizers' and the participants' efforts are available for everyone to see – we are pleased to say that Downtown Las Vegas can now officially be described as one of the pivotal contemporary street art epicenters of the United States!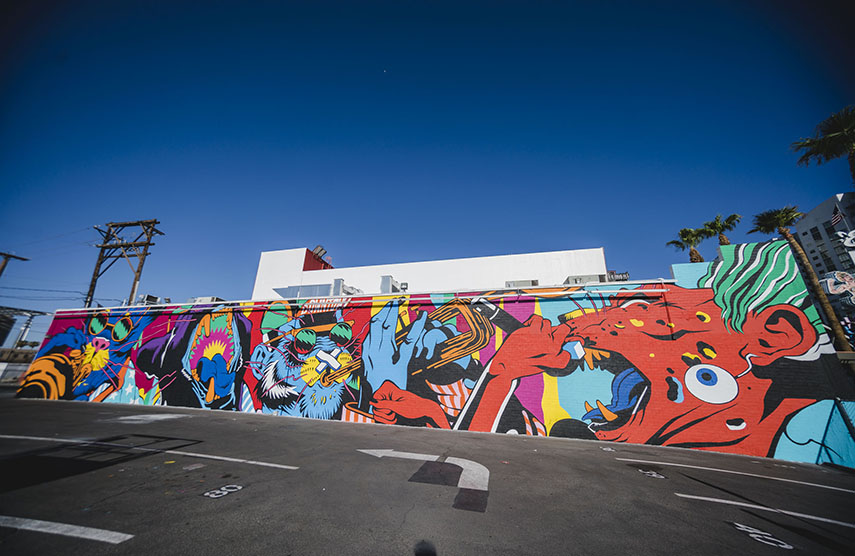 An Ambitious Street Art Undertaking
The curatorial project JustKids and Life Is Beautiful Festival organized is ambitious both from a quality and the quantity standpoint. An exceptional number of truly talented artists decided to become a part of the project that had a goal of bringing some joy to a city desperately needing it at the moment. The Spanish multimedia visionary Okuda brought his recognizable geometric surrealism to Nevada as he created an amazing large scale mural titled Rest of the three Graces and a huge bear sculpture called Smiling King Bear. Another arrival from Spain that ended up on JustKids' artistic roster, Felipe Pantone upgraded his previous sculptural mural made for Life Is Beautiful 2016 by adding a neon light makeover, the first 100% solar powered neon light public artwork. Mau Lencinas debuted with three excellent murals as the Argentinian artist rendered his unique style to a new residential development project on Fremont Street. Furthermore, the New York street art duo Faile also participated, chipping in by creating a massive mural depicting a dog playing poker that sprawls 21 floors of the iconic Plaza Hotel North tower.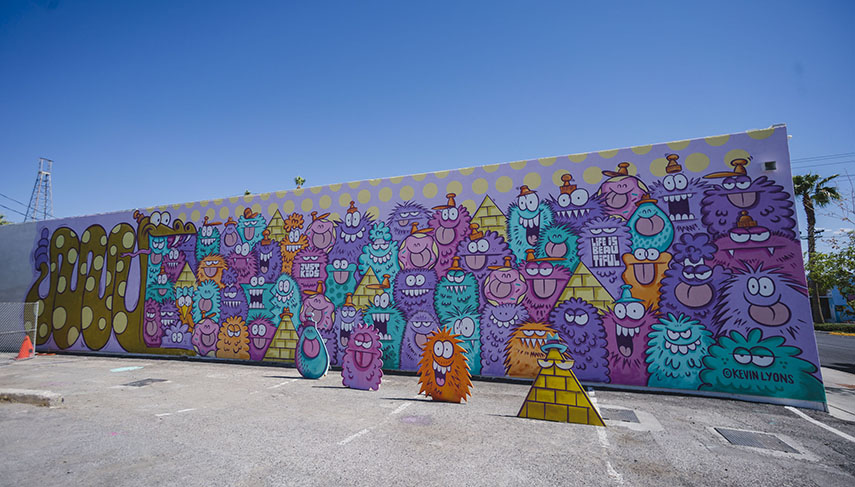 Other Noteworthy Participants
Kevin Lyons also delivered what was expected. He brought his signature furry and colorful creatures with goals of cheering the atmosphere a bit. Coming from overseas, Morag Myerscough crossed the pond and created Surrender to its Warm Embrace, a mural characterized by a mesmerizing splash of colors full of positivity and hope. The Israeli street legends Broken Fingaz also agreed to participate – by transporting their style from the urban areas of Haifa, the crew took over a 90 degrees corner of a Fremont building with their fluorescent graphics. Demonstrating an outstanding ability to mix and match characters, Brazilian duo Bicicleta Sem Freio also revamped the Downtown landscape by introducing two new murals. Other than that, additional noteworthy artists JustKids managed to gather for the Las Vegas project are Fafi who retook the Emergency Arts building on Fremont, This is My B. World who came from Greece and made a clustered mural, Zest who brought us his stylistic color swatches and the Spanish collective Luzinterruptus who made a clever illuminated dumpster installation produced from locally recycled plastic.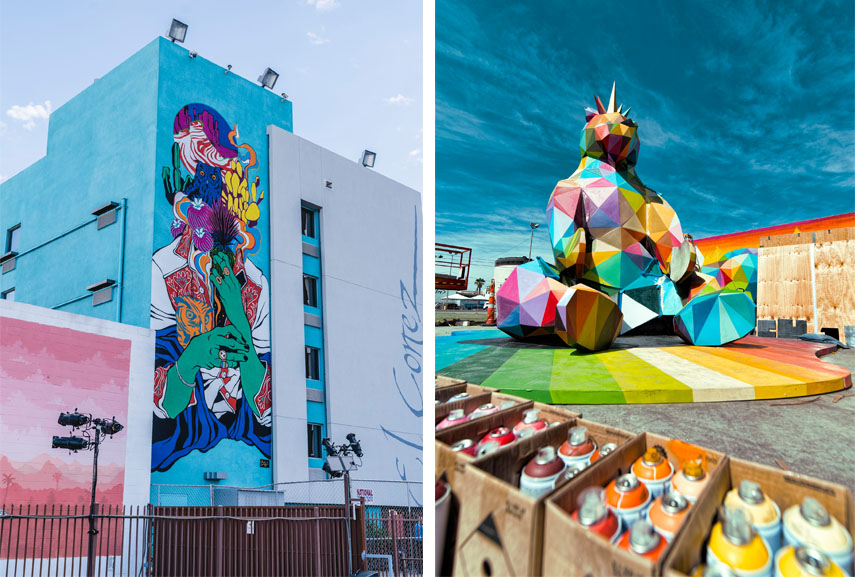 JustKids Expands the Street Art of Downtown Las Vegas
The Downtown area of Las Vegas was already well-known for its street art portfolio as this part of the Nevada's iconic city always had an exceptional number of talented urban artists active in it. However, as this segment of the city received its latest creative injection of urban artworks as a result of JudsKids' actions, the street pieces of Downtown Las Vegas went to a whole new level – these new high-quality works will surely soon become an intricate element of the town architecture as the neon lights and the casinos Las Vegas is famous for.
Featured images: Felipe Pantone, Kevin Lyons, This Is My B. World, Okuda, Zest, Faile, Fafi, Broken Fingaz, Morag Myerscough, Mau Lencinas. All images courtesy of JustKids.