Katowice Street Art Festival 2015
The Katowice Street Art Festival 2015 is about to kick off in Poland, which will see a number of street artists hitting the city to create some murals and installations for the public to enjoy. This year is the fifth edition of the Katowice Street Art Festival and happens to coincide with the 150th anniversary of the city receiving its urban charter, which will be celebrated with many events across the city. The festival aims to use its fifth edition to reflect upon Katowice, its past and future, by turning the streets into a space for experimentation for a short while. Along with the street art and mural painting there will be a host of other events including film screenings, talks, exhibitions, concerts and tours around the city by bike, highlighting some of the mural works from previous editions of the festival. Poland has a rich history of urban art which can be explored in Polish Urban Art in Berlin and Street in Gdansk gets a New Face.
Scroll down for a detailed preview of Katowice Street Art Festival 2015.
City in Crisis
Michał Kubieniec, curator of Katowice Street Art Festival 2015, wants the fifth edition of the popular Polish festival to become a profound reflection upon the city. With the 150th anniversary of the city receiving its urban charter, the curator feels it is time for Katowice to find its new identity, a chance to reinvent the streets or at least to have some questions posed by the influx of street artists during May. Street art has long been associated with being revolutionary and critical in character and the festival offers the perfect opportunity in changing times to forge new ideas, question the social and political aspects of art and how street art can be involved in the process of change. See 10 Favourite Politically Charged Art Expressions 2014.
Featured images: Paweł Ryżko – Ulańska 12 Katowice. 2014 & MOBSTR – Lelewela 3, Katowice. 2013.
Artists at Katowice
Ten artists will be heading for Katowice Street Art Festival 2015, ready to transform the city with their murals, street art and installations. Brooklyn based Ian Strange is recognised for his multi-disciplinary approach, including sculpture, photography, installations, painting and site-specific interventions. Ian Strange recently presented a solo exhibition as part of Public 2015 festival in Australia. Graffiti artist NUG is teaming up with UNDOG, the Amsterdam based design agency, who will jointly be presenting an interactive sound and video installation during the festival. Axel Void will be making an appearance also and we eagerly wait to see what he produces in terms of murals, he rarely disappoints. Also expect fascinating work from Maciej Salamon, known for making the art zine Krecha and running his own gallery, while Mariusz Libel is well known for his urban art with explicit visual messages and creating posters which are borderline conceptual poetry, illustrations, murals and social action.
Full list of participating artists: – Ian Strange, NUG and UNDOG, Forin (Grzegorz Piwnicki), Coxie (Anna Szejdewik), Łukasz Surowiec, Axel Void, Michal Škapa, Mariusz Libel, Maciej Chodziński & Maciej Salamon.
Featured image: Etam Cru – Debowa 3, Katowice. 2011.
Program of Events at KSAF 2015
15.05 – 24.05  – Murals and art installations in the city.
16.05 – Outdoor sound meeting | Robert Lippok Live (DE) + Sound Department in Katowice & Exhibition opening ManuFAktura – About Rich People, Curators: Mikołaj Iwański & Rafał Jakubowicz.
17.05  – Bicycle tour around the city (through the realisations from previous editions of KSAF) & Debate with the curators and artists of About Rich People, moderated by Bogna Świątkowska.
20.05  – Film screenings: 1. Zmiany w Bogocie, Andreas Dalsgaard, Dania 2009 & 2. Street Art Dyskretna Rebelia, Benjamin Cantu, Anne Burger, Niemcy 2009.
21.05  – Concert FISZ EMADE TWORZYWO / Kuba Sojka Live / Piotr Figiel Live
22.05  – Exhibition opening BEYOND GRAFFITI WRITING, Curator Cezary Hunkiewicz / Brain Damage Gallery
24.05  – Bicycle tour around the city.
Keep up to date with what looks likely to be a fascinating event by heading over to the KSAF facebook page.
Featured image: Daniel Sparkes – Markiewki Katowice. 2013.
For all the latest festival news sign up to My Widewalls today.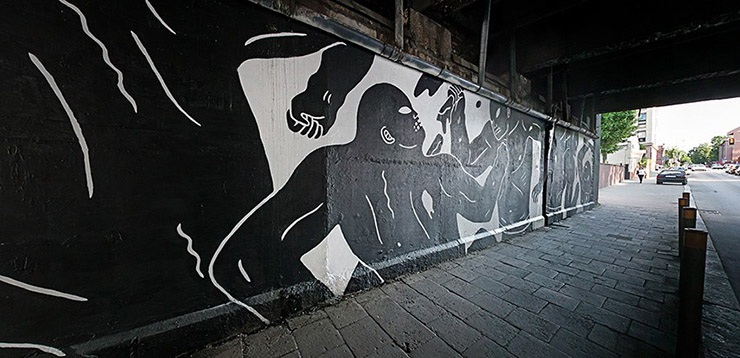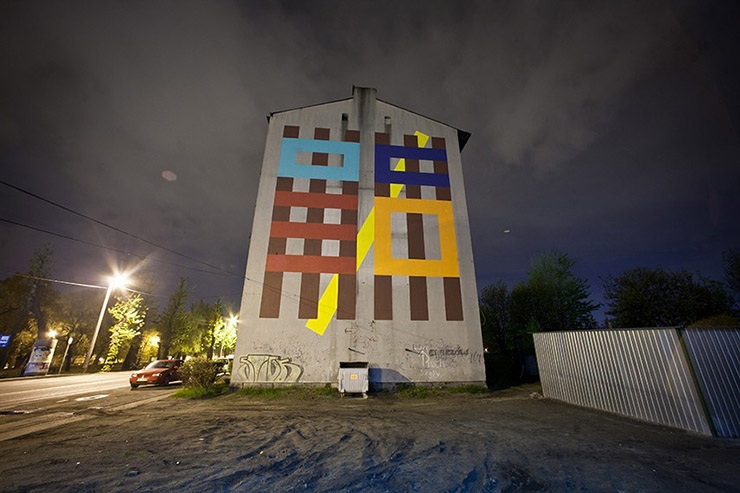 Featured images: SpY – Krakowska 148 , Katowice. 2013 & Stachu Szumski SZUM – Teatralna 2a , 2014. All images courtesy of Katowice Street Art Festival.
Follow These Galleries
London, United Kingdom

Berlin, Germany