Flying Awareness at Lazarides
Vortexes and free currents of running color occupy canvases and drawing of Katrin Fridriks, an artist from Iceland, whose London exhibition debut is currently on show at Lazarides Rathbone.
Opened on June 26, Flying Awareness exhibition attracted a lot of attention, since this is the first solo presentation of the artist at the acclaimed space. Having participated in group shows with the Lazarides, Katrin Fridriks created a completely new series for this occasion, inspired by relations between rapidly developing drone technology and human condition. Flying Awareness will remain on view until July 24, 2014. All the images of the opening are provided by Butterfly.
Works at the Flying Awareness show encompass her signature canvas pieces, works on paper and interactive installation elements that coexist with her distinctively pictorial oeuvre. By expanding her medium, Fridriks allures each visitor to actively participate in the setup, experiencing her abstractions from another angle, identifying himself with the observed, with the mass.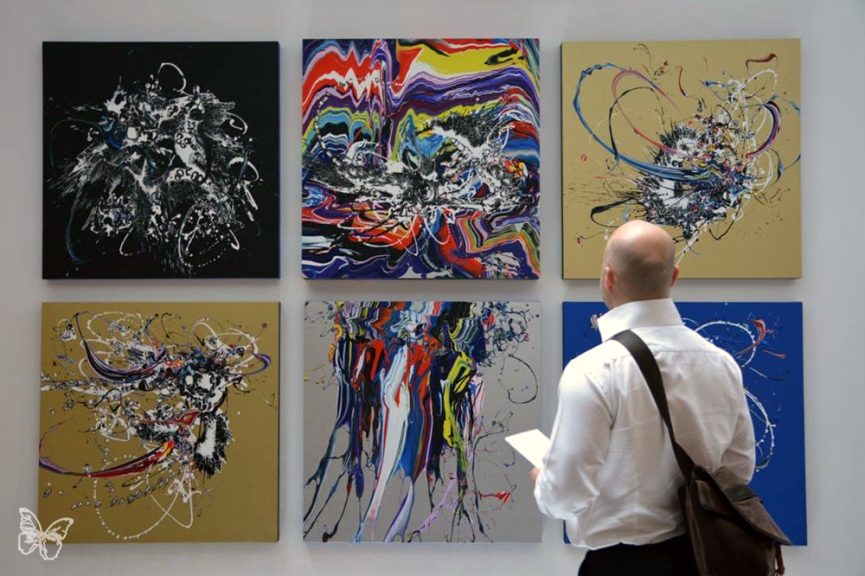 Aware of the Around
Focusing on depictions of landscapes blurred and swirled, as if they were seen with a tech eye, the artist emphasizes the engaged aspect of her art. Sociopolitical issue becomes even stronger once the viewer realizes the landscapes are distorted to the point of unrecognizability, questioning threateningly growing use of drones and surveillance systems. This type of relentless monitoring is bound to deform the human psyche, as much as it alters what ought to be depictions of human surroundings. One can easily lose identity in such situation, where the awareness of being constantly watched changes the behavioral and living habits of an individual.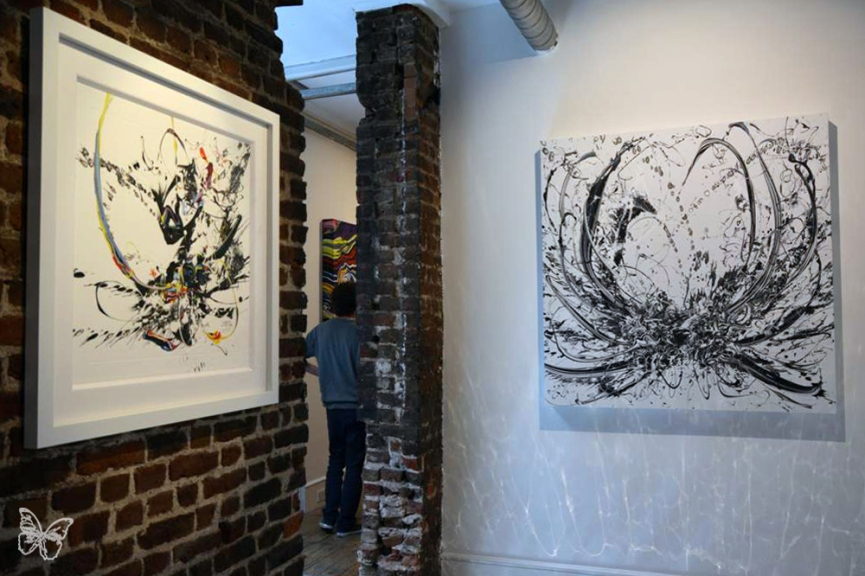 Flying Colors
One of the focal points of the exhibition is a large piece consisting of 9 tondos and symmetrically placed plexiglass bars, emulating a huge antenna or observations in terms of longitude and altitude. The round canvases are spots to see, while their abstract nature allows everyone to interprets them openly, since the blots may resemble different familiar things. Suggesting someone is always navigating above our heads, Katrin Fridriks imports restlessness into our mind, backing it up with energetic, impulsive strokes of her chromatically abundant paintings.
Another highlight of the show is the titular piece, Flying Awareness, also a polyptych made of six equally sized square canvases, arranged as an installation. Compositional paintings are characterized with variously colored backgrounds, behind the abstract formations that imitate flying motions, while the entire piece is crowned by the chromatically strongest square placed in the middle, above. Reading the piece as a whole allows another channel for interpretation, since many of the shapes do remind of birds or odd creatures, but the work can be also perceived as a group, rather than a tightly wrapped polyptych.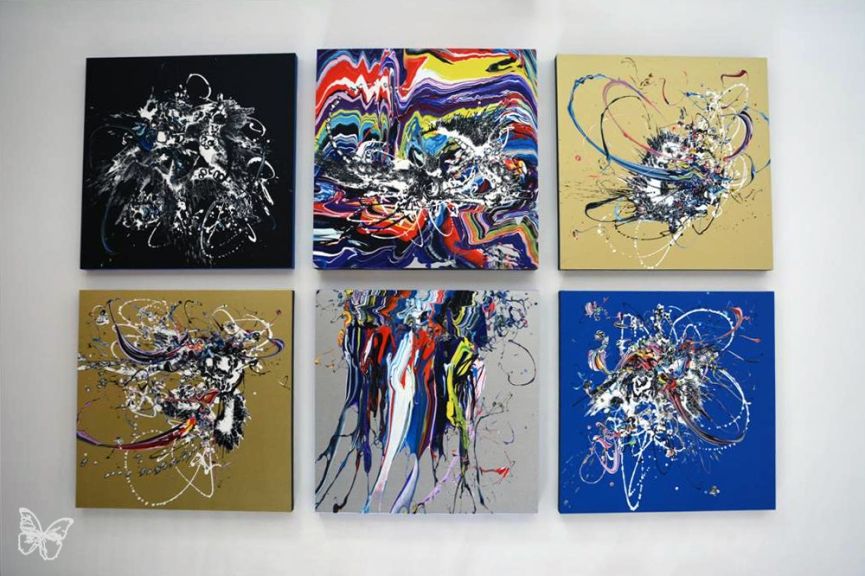 Pictorial Language of Katrin Fridriks
Although Katrin Fridriks has found her expression in the rather traditional painterly medium, her work strikes as more conceptual. She ponders on contemporary issues of visibility and surveillance, while rendering subjects of identity and freedom. Her visual language is full, rich to the point of overwhelming, although the aesthetics she employs is never transformed into kitch. Gazing upon the works of this Icelandic artist leaves one with a feeling of uncertainty – as if they have just gotten a lollipop from a doctor after a full exam, with a huge lump in the throat, strangely excited, without knowing if the result will be wonderful fun or the end.