Play Your Part
Brooklyn-based artist KAWS has his new solo show at Galeria Javier Lopez in Madrid. When we first reported on KAWS' new solo exhibition at the Madrid gallery there were no installation-view pictures available yet. Well now there are and we can play OUR part and present them to you. On display are seven large new paintings, 4 round shaped and 3 custom shaped canvas pieces. The new works combine elements from different phases in KAWS' artistic development, such as abstract forms and cartoon-like imagery.
Along with this show, KAWS will open a big exhibition at CAC Malaga in March 2014, his first museum solo show outside the US.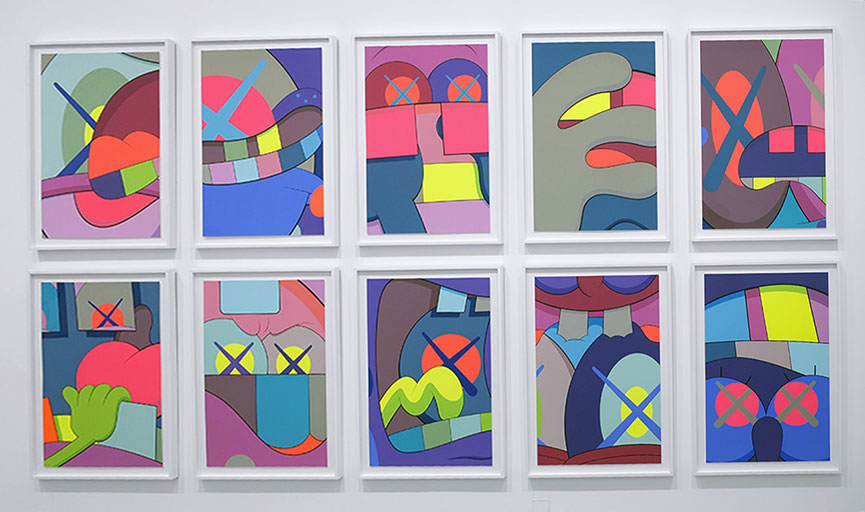 KAWS' Infiltration
In spite of his renown in sub-cultural circles, KAWS has infiltrated quite successfully the rarefied world of institutional art in recent years. KAWS is a well-known painter and sculptor who exhibits in museums and galleries internationally. "When I grew up, I never thought I could enter a gallery. I looked at them as these pretentious places that did not welcome me", says KAWS.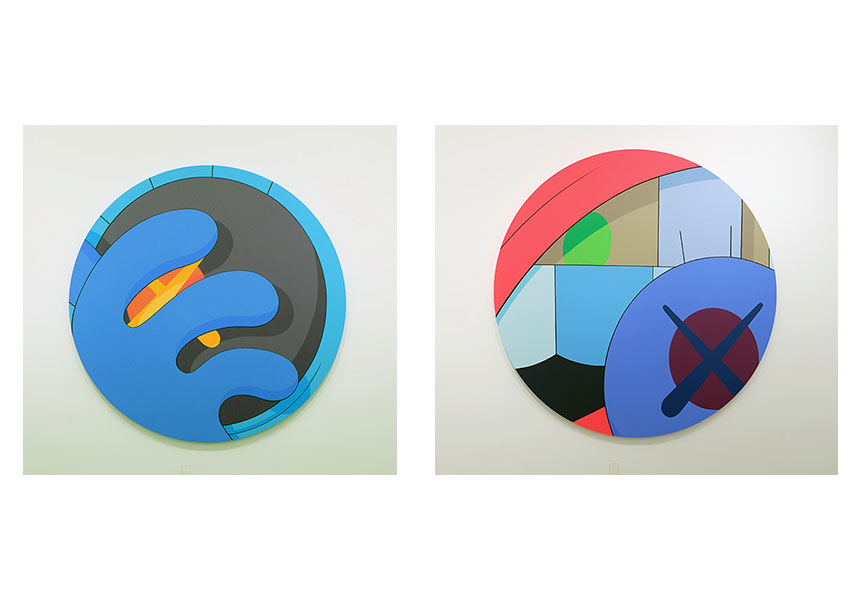 The Legacy of Warhol and Duchamp
KAWS's art began with Pop Art, being situated on both fine art and global commerce. He transforms iconic pop culture characters into thought-provoking works of art. His work possesses a sophisticated humor while utilizing a refined graphic language that revitalizes figuration with big, bold gestures and playful complexity. By producing fine art via thoughtful interplay with consumer products and collaborations with global brands, KAWS moves beyond the sphere of the exclusive art market to occupy a more complex, global market. For him there is no distinction between the making of the art and placing it in the wider culture. He follows a tradition of Warhol and Duchamp, who wanted to take art outside the confines of the museum and engage with the wider culture, sometimes in commercial ways, sometimes in subversive ways.
About Galeria Javier Lopez
The Galería Javier López opened its doors in London in June 1995 with a program of contemporary art. Since February 1996, when it transferred to Madrid, the gallery's goal has been to show a program that alternates between presenting the work of young artists and exhibitions by more established figures to give a complementary view of the scope of contemporary art. In November 2010, the gallery moved from the city centre to an exceptional building designed by renowned architectural firm Vicens + Ramos, situated in a privileged location right at the edge of El Pardo national park, in La Florida, Madrid. The dialogue between the architecture and landscape creates a unique environment where exhibitions are planned with an approach along the lines of a Kunsthalle, lasting longer to provide a complete picture of an artist's work.