KAWS talks Martin Wong Collection
The beginning of February was marked by a graffiti revival in New York, which came in form of Martin Wong Collection exhibited for the first time at Museum of the City of New York. The exhibition is titled City as Canvas, and it represents work by most important figures of the street art scene of the 80's, including Keith Haring, Jean-Michel Basquiat, Dondi, DAZE, Crash and many others. The artists from the collection are today considered pioneers of the craft who broke the ice for the upcoming generations, such as Banksy or KAWS.
City as Canvas will be on view throughout the summer this year, closing on August 24, 2014.
KAWS Top 10 List
NY Times talked to Brian Donnelly, a.k.a. KAWS about the collection, and the famous street artist who also paints, sculpts and designs selected the top ten of his favorite creatives represented in the Martin Wong Collection.
We give you this list in full, as KAWS gave it to NY Times.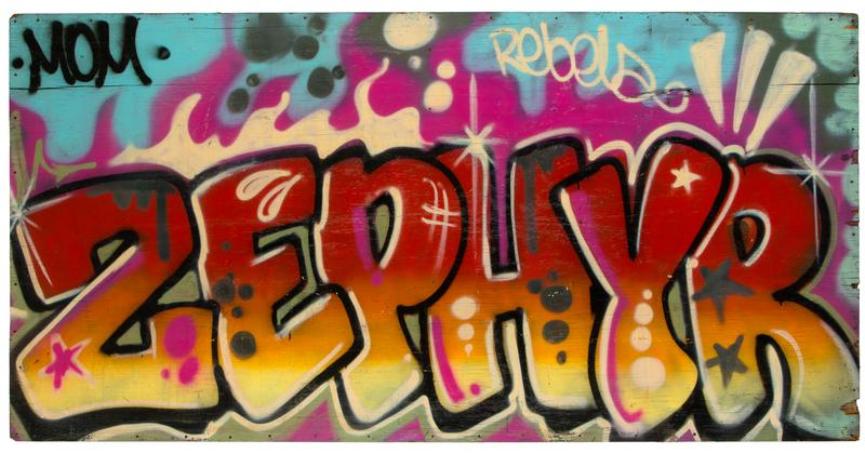 Zephyr (Andrew Witten) – I learned a lot by getting to paint and spend time with Zephyr in the '90s when he became interested in painting freight trains. For the legend that he was, he was very humble and generous with information and stories about what it was like to be doing graffiti in N.Y. in the '70s and '80s.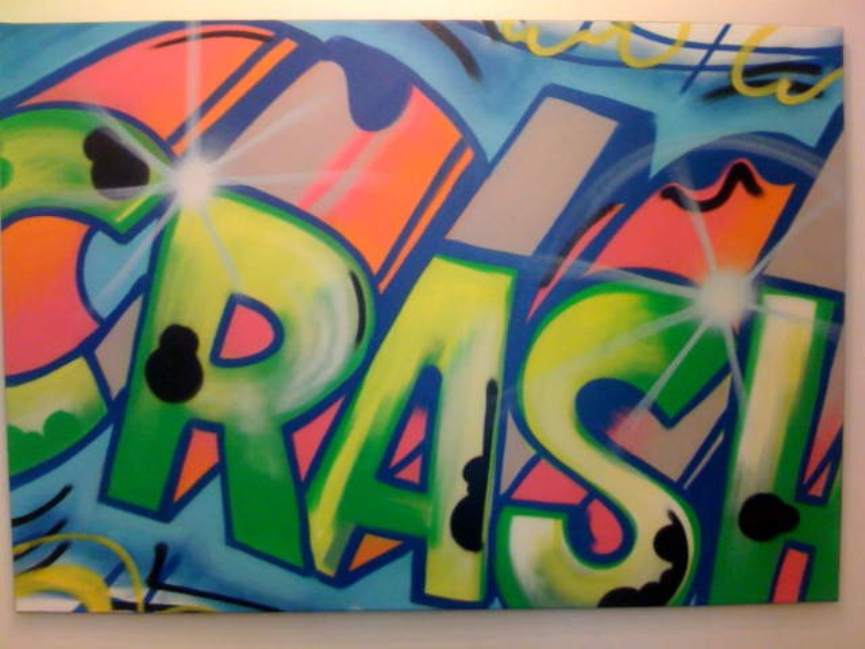 Crash
Crash (John Matos) – I never get tired of seeing Crash paintings. He is one of the few artists that didn't change his medium to make work on canvas.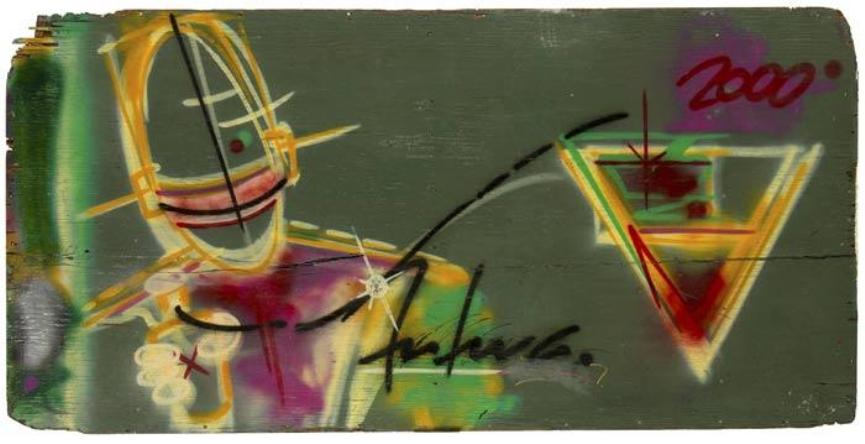 Futura – Futura has always been on his own path. His work translates seamlessly from the graffiti he was doing in the '70s to the design work he became famous for again in the Tokyo street wear and London music scene of the '90s.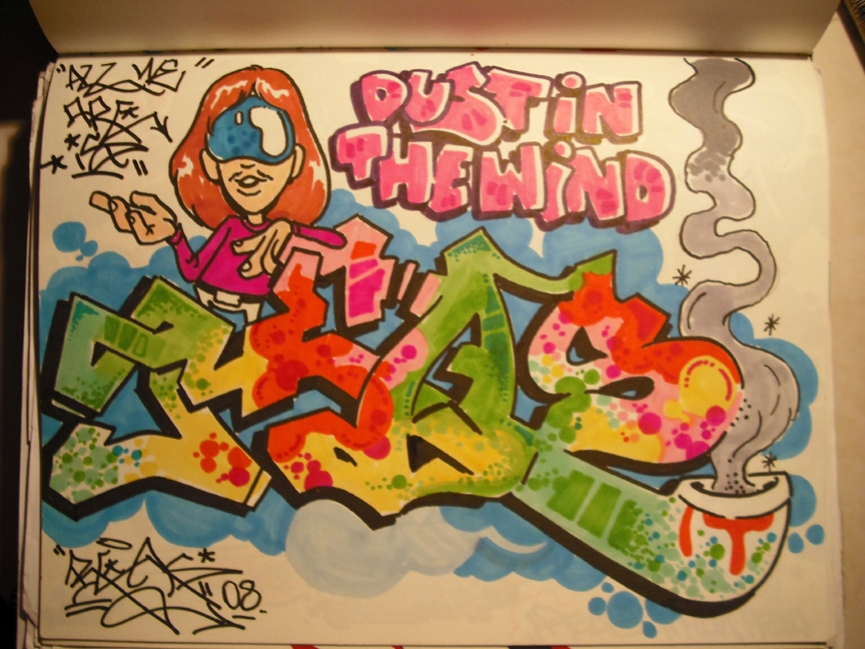 REAS (Todd James) – Seeing REAS in this black book makes you realize how young the participants of this art form were. REAS was 18 when he drew this, and he was already painting trains for six years.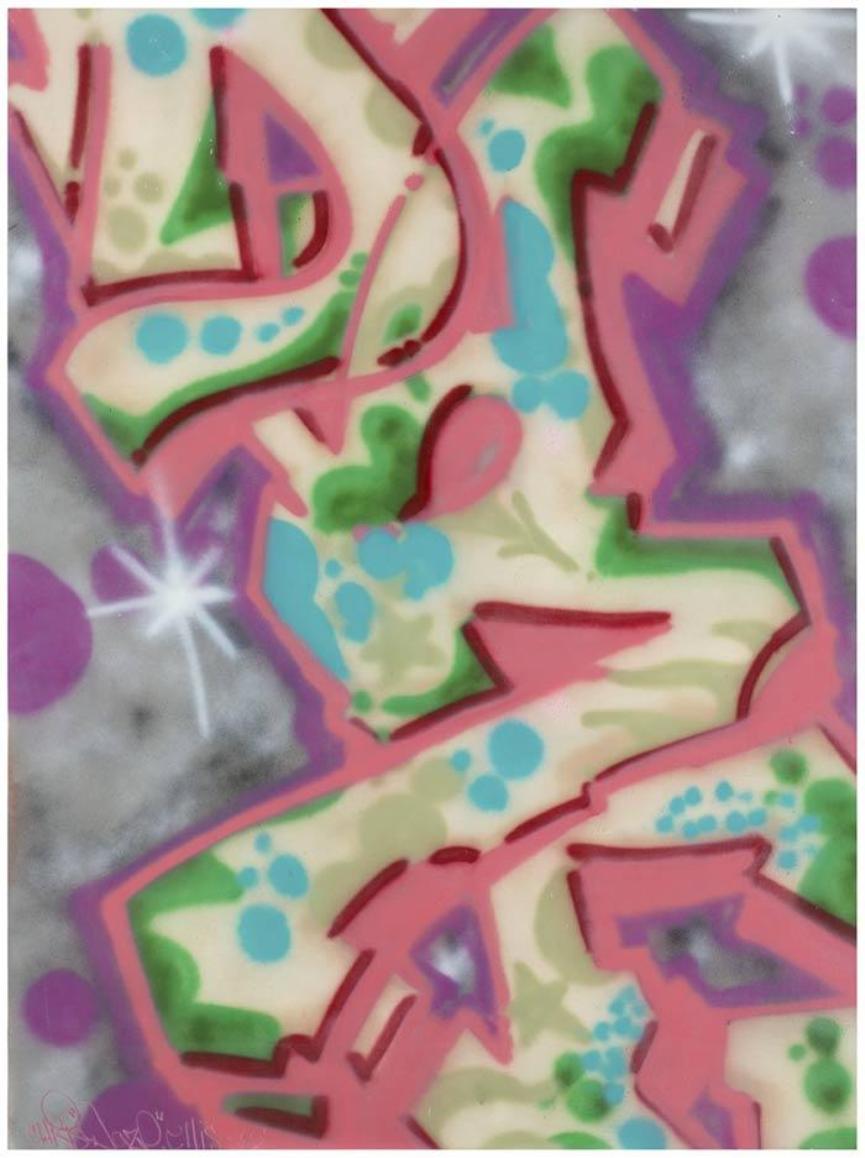 Daze (Chris Ellis) – Daze is still extremely prolific. This painting titled 'Transition' is a good example of what was on the minds of many of the artists at this time, who suddenly found themselves with outlets to show their work well beyond the trains and walls they began on.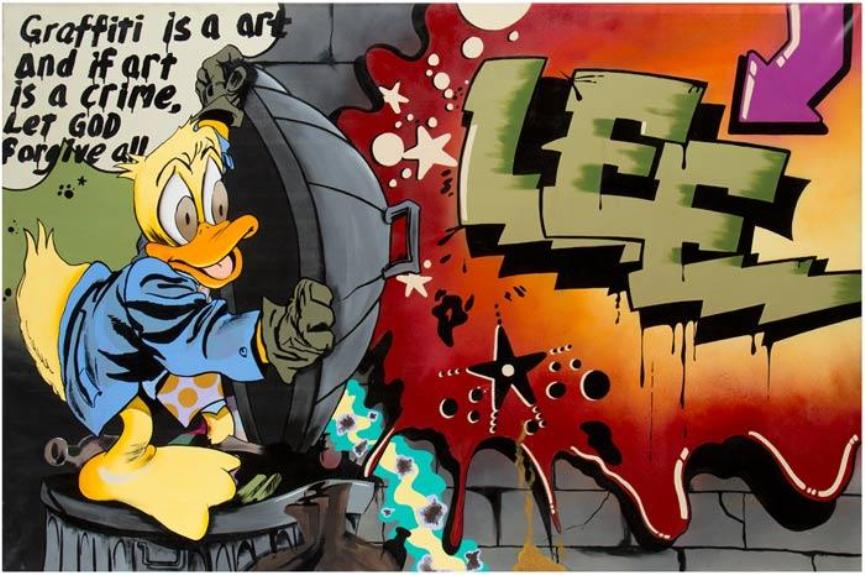 Lee Quiñones – I don't know a single graffiti artist that wouldn't love to own this double-page drawing. I could only imagine how happy Martin would have been to be able to look at this study for one of the few handball-court walls painted by Lee and immortalized in the book 'Spraycan Art,' by Henry Chalfant and James Prigoff.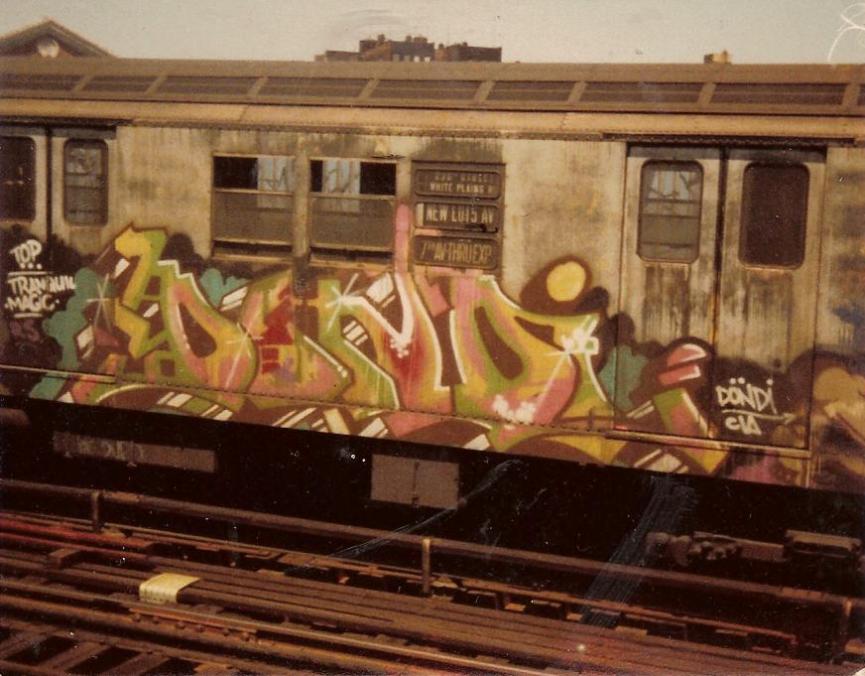 Dondi (Donald White)  – Dondi is such a legend. You can mention his name to any graffiti artist in any country and they will know the contributions he's made. When Zephyr introduced me to him, I was shocked at how down to earth he was. That short interaction bounces around my head till this day.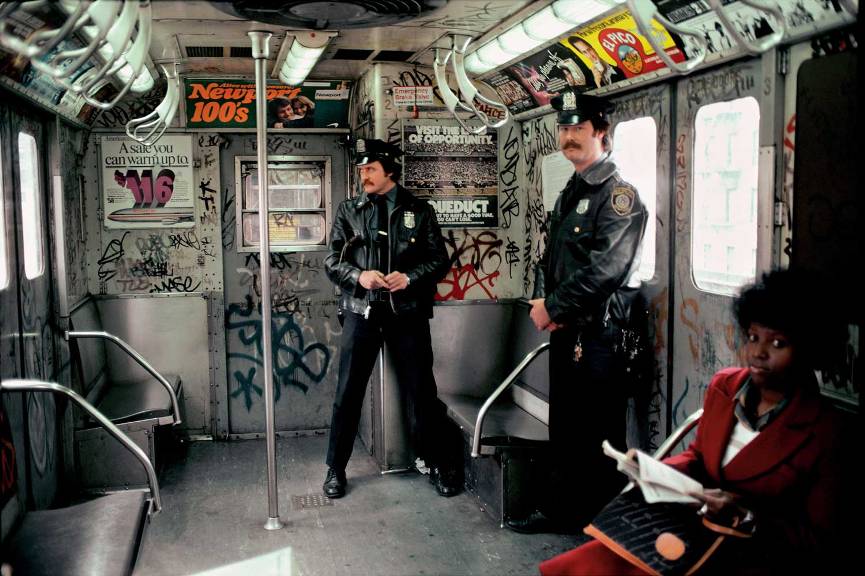 Martha Cooper – Without Martha Cooper, so much of this culture would have been lost. You really get a better understanding of the atmosphere and energy at this time through images like this one.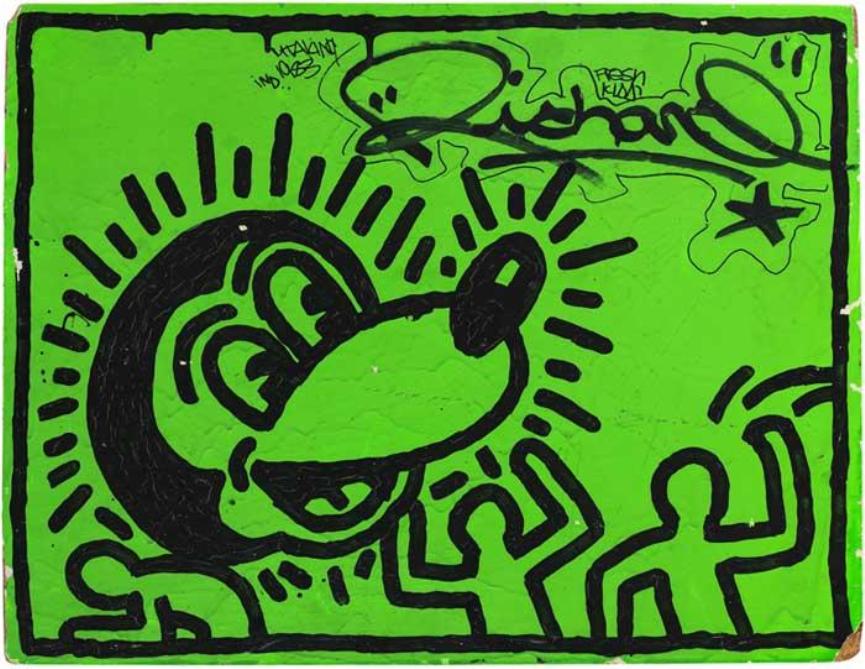 Keith Haring  – Keith's work was such an important bridge for a lot of young artists. His work has defiantly expanded my ideas of how art can communicate and exist in the world.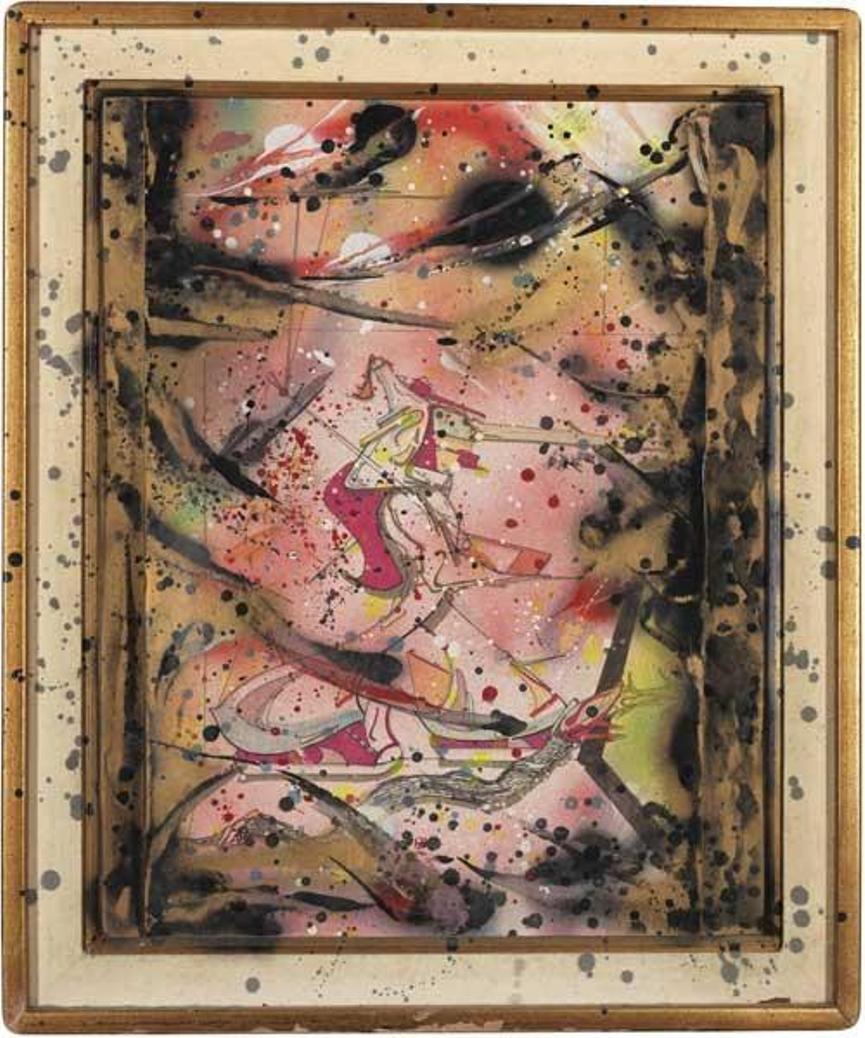 Rammellzee – Rammellzee is one of the most mysterious figures to come out of this culture. I always found his life-size costumes fascinating the way they draw you in but keep you at a distance like battle armor.
About KAWS
KAWS is a Brooklyn based artist and designer, famous for his limited edition toys and clothing. He started as a graffiti artist on the streets of Jersey City in the early 90's. He became internationally known for his billboard culture jamming. He began designing and producing vinyl toys in the late 90's, and they became a hit instantly. Since then, his fame seems to be constantly rising, as his products and artwork are always in demand. The most famous character created by KAWS is the Companion, a large grey figure, designed upon the image of Mickey Mouse, but greatly reduced and taunted.