Floating Together
If an object, a cherished heirloom, an ancient doll or a family treasure had a soul, would that be terrifying, or just -wonderful? An archaic Japanese belief called Tsukumogami says once an object reaches its centennial birthday, it becomes self-aware and thus – alive. Perceived as strange in the West, this Japanese idea is a part of fascination of an artistic couple, Kelly Tunstall and Ferris Plock, jointly known as KEFE, who share the love for Japanese tradition and culture. Their latest collaborative body of work, as well as their individual pieces, will be exhibited in a show at the Shooting Gallery in San Francisco this July, entitled Floating World: Part One, explicitly referencing the most famous Japanese printmaking school of Ukiyo-E, which translates literally to "pictures of the floating world."
The very idea of a world that floats proved interesting to the both creatives, in their visual search for an imaginary or parallel, shifting realm where no boundaries exist. Their pieces are depictions of Tsukumogami coming to life, of kaleidoscopic wonderlands, vivid in color and energy.
Floating World: Part One opens on July 12 at Shooting Gallery and it will remain on view until August 9, 2014.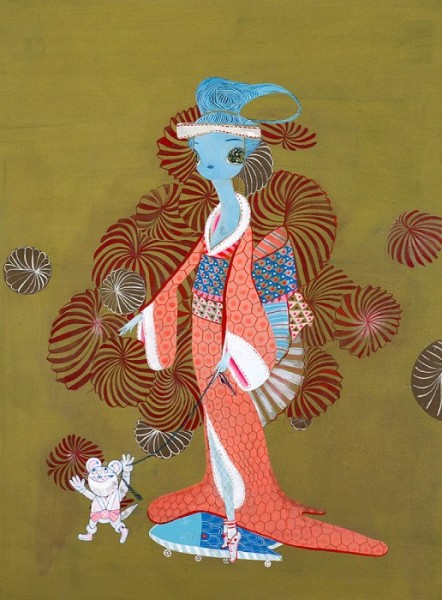 Lands that Float
There is something of a Disney's Fantasia in the Floating World of KEFE. As if jump-started by magic, things, buildings, dolls become alive, while vigorously interacting with one another. There is no communication limit between humans and animals, and neither between their new cohabitants who were asleep for a century. It's amazing how KEFE's newly vitalized creatures adapt to the found environment, dressing in fancy kimonos, carrying lady parasols, reminding us of certain type of humans, but still retaining their separate character. They stand for adjustment via mutation, release via odd practices such as bondage. They are contemporary representations of an ancient concept brought back in today's urban environment.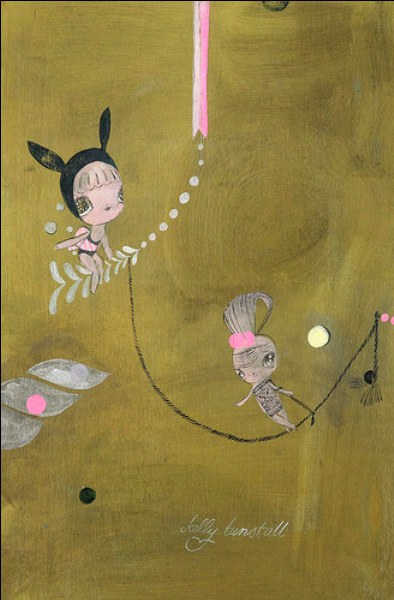 San Francisco Meets Japan
It's important to note another great influence in the collaborative work of KEFE, which is their environment – San Francisco, the Bay and the surrounding forests. The great urban area is suggested through dimmer undertones that support and stand in contrast with largely innocent subjects, accompanied with fragments of the artists' everyday, from legos, toys, keys, to references to Totoro (a beautiful creation of Hayao Miyazaki) and other animated and beloved characters. Floating World: Part One therefore contains a distinctively personal tone, delivering compressed narratives of the artists' family life in the city, telling it through the means and expression of a traditional Eastern artistic style.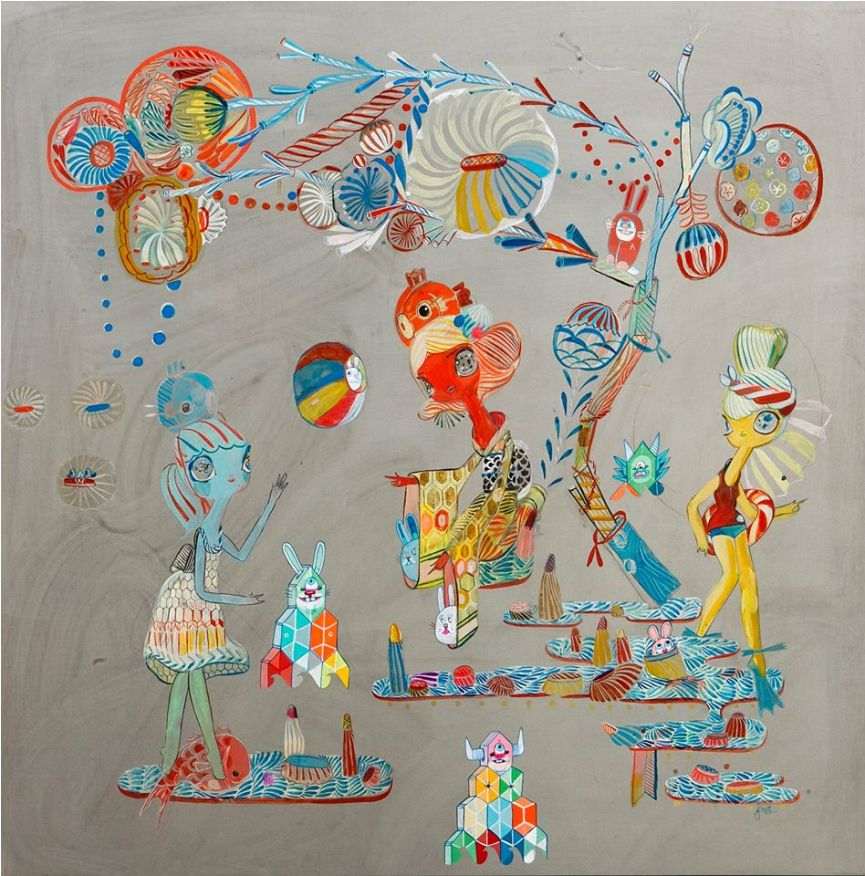 KEFE Style
Merging their personal approaches well, it can still be read which of the two creatives contributed to the piece and where. They use their feminine and masculine outlook to create the perfect balance in the visual energy of the works. Elongated female characters, mermaids, little twin characters and other beings come from the fantasy of Kelly Tunstall, which are matched by angular creatures of Ferris Plock, pertinent to his draughtsmanship of transformed Japanese warriors. Bound by the urban references of their joint living area, KEFE's work is lively, childish, rich and enchanting, as it awakens the imagination and the naivete, where everything is alive and exciting.