Legendary Graffiti Artists in Exhibition at the Nassau County Museum of Art
Get ready to step back into the past and the vibrant streets of New York City. The 1980's, time of prosperity and new hope for the American Dream, yet on the streets, need for the social change was expressed trough the mark-making, street and graffiti art. As an accompanying exhibition to the showcased works of Kenny Scharf, Nassau County Museum of Art, presents the works of Scharf's contemporaries of the exciting New York graffiti and street art movement, and among the many, Keith Haring's exhibition takes one of the spotlights. Glamorous Graffiti, re-introduce the very much present and influential works of different artists.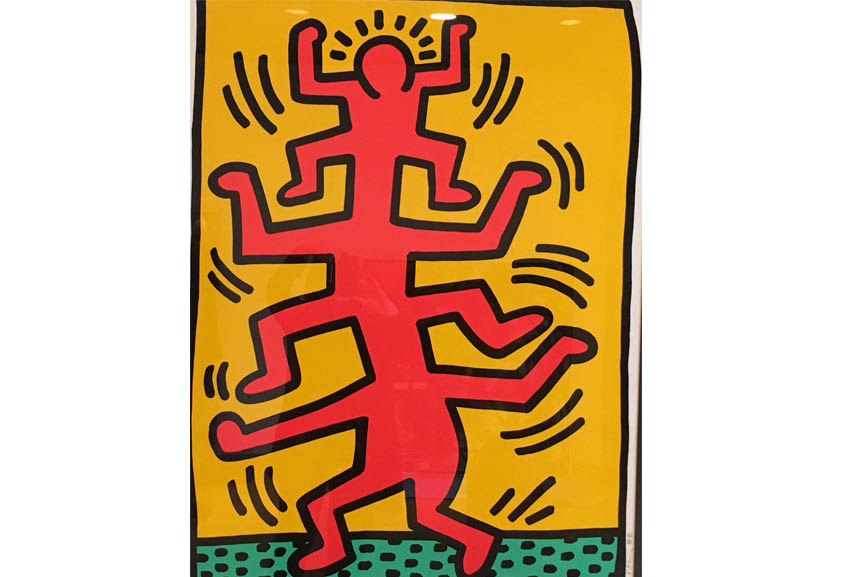 White chalk
In his attempt to find a unique style of visual communication, Keith Haring, often riding the subway trains, noticed one day a blank black square were a new advertising poster was waiting to be placed. That same day, the artist got out of the train and bought a box of white chalk, returned back to the subway and made his first subway drawing. These drawings, fragile just because of the material used to produce them, mark a very productive phase for Keith Haring in the period between 1980. and 1985. During this period, Haring produced hundreds of these public drawings. Always drawing them during the day, Haring learned to feel comfortable while drawing in front of people, and also developed the speed necessary to produce them. Drawing his line and with it creating different symbols, the human figure, dog, space ship, the artist himself was also surprised where the intuition and spontaneity would take him and his drawings.

Public Art
Early on, Haring was drawn to public art. Participatory nature of Christo's work, in particular, the artist's project Running Fence, and Andy Warhol's and Pop Art's merging of art and life provided the footsteps that Haring decided to follow in. Always on the side of life, his work expressed the political and social concerns of his time, yet always through a personal experience. Researching into the theory of semiotics, Haring used his images like words and produced works that expressed concepts of birth, death, love and war. The vibrant block of color, the stick-like figures, rendered with simplicity and removal of detail, entered into the commercial and advertising art scene as well. This branch, Haring expanded when he opened his Pop Shop. Seeing the store as an extension to his art, the artist painted the entire wall space with his work and decided to sell t-shirts, toys, and badges with his images. Seeing his life as art, and whatever he did as an addition to his artistic expression, Haring focused himself and guided his career always investigating new medias and scale.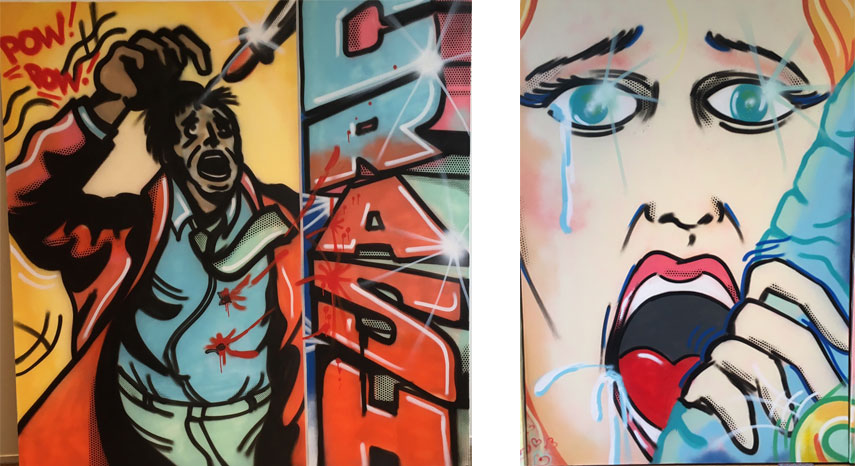 Keith Haring Exhibition at Nassau County Museum of Art
Glamorous Graffiti, a companion exhibition of the Kenny Scharf's show, will run at Nassau County Museum of Art, during the period between March 19 – July 10, 2016. Keith Haring's exhibition for this occasion presents five silk-screen prints of the artist's 1988 portfolio.
Exploring a range of many different artists and their styles, Glamorous Graffiti will also showcase the works of Jean Michel Basquiat, Lee Quiñones, Crash, Futura 2000, Toxic and many others. Aiming to educate even more the public about the 1980's graffiti and urban culture, films documenting this period will also be part of the exhibition. Paying homage to many different artists, that started the tradition that broke away from the institutional and that brought art to a wider audience, Glamorous Graffiti takes us back to where the modern man mark-making began.
Editors' Tip: Keith Haring: The Authorized Biography
Writer John Gruen tells the fascinating tale of Haring, his rise on the international art scene, as a celebrated graffiti artist of New York City. The book focuses and provides the reader with an insight into Haring's artistic talent, including his sculpture, painting, murals and graphic art projects. The fast lane life of New York City, with the familiar mix of sex, celebrity and drugs is also depicted in this tale and informs the reader of the world Haring lived and shared with other artists of his time.
All images courtesy of Nassau County Museum of Art and collection of Dr.Harvey Manes. Featured images in slider: Keith Haring – Growing suite, 1988, silkscreen.