Kelley Walker at Paula Cooper Gallery
What do chocolate, toothpaste, Whitney Houston's video How Will I Know and screen-printed paintings have in common? Kelley Walker would be the correct answer, but also a very crude way to describe his art. The American artist, who lives and works in New York City, had the honor to be compared with Robert Rauschenberg by art historian Robert Hobbs in an essay published on the occasion of his last solo exhibition at Paula Cooper Gallery. Using the power of advertising media, Kelley Walker's paintings appropriate iconic cultural images, digitally altering them to highlight underlying issues of politics and consumerism. Walker also creates sculptures from found objects, as well as installations. He sometimes produces collaboratively with artist Wade Guyton under the label Guyton/Walker.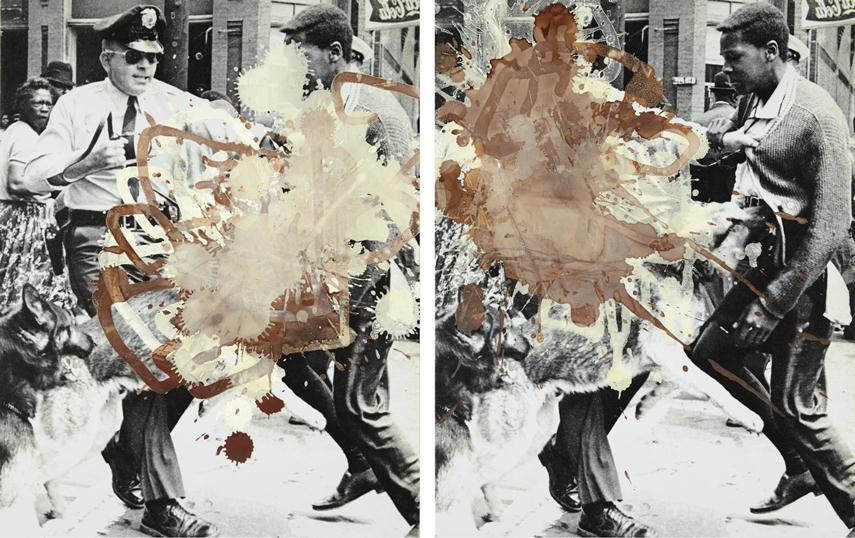 Paintings by Kelley Walker
Walker is most recognised for his Black Star Press (2006) screen-printed paintings based on photos similar to those used by Andy Warhol in his Race Riot works. Printed in large scale, and set at 90 degree angles, the images of racial unrest are smeared with abstracted patterns in symbolic white and chocolate. Walker's gestures mimic violence and contrast, merging ethical corruption and graffiti pop.
Walker began making his brick paintings in 2005, first entirely in silkscreen and later adding collaged printed material. Created between 2013 and 2014, Walker's large canvases of powdery silkscreened bricks to be displayed at Paula Cooper Gallery are lined and separated with fragments of pages from the Italian architecture and design magazine Domus.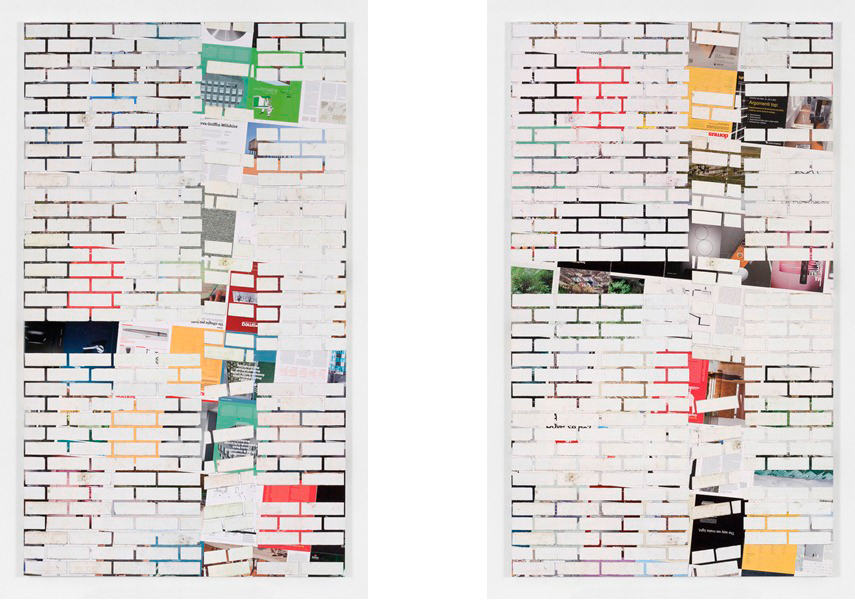 Another Brick In The Wall
Walker begins by scanning individual bricks, which he then arranges into a stacked alignment and silkscreens using a four-color process. He prints the silkscreens on canvas with uneven hand pressure. The resulting panels oscillate between illusionism and flatness, as each 10-foot (approx. 3m) canvas appears to be at once a brick wall and a variation of an abstract grid. Between the gaps, glossy pages stand in as the "mortar" and seem to emerge from behind the bricks, when in fact they are pasted on top of the canvas surface. Walker himself thinks of the canvas as having a mimetic relationship to the wall it might be displayed on, but also to the structure of the bricks and cinder blocks in the urban cityscape of New York, that he sees everyday through his studio window.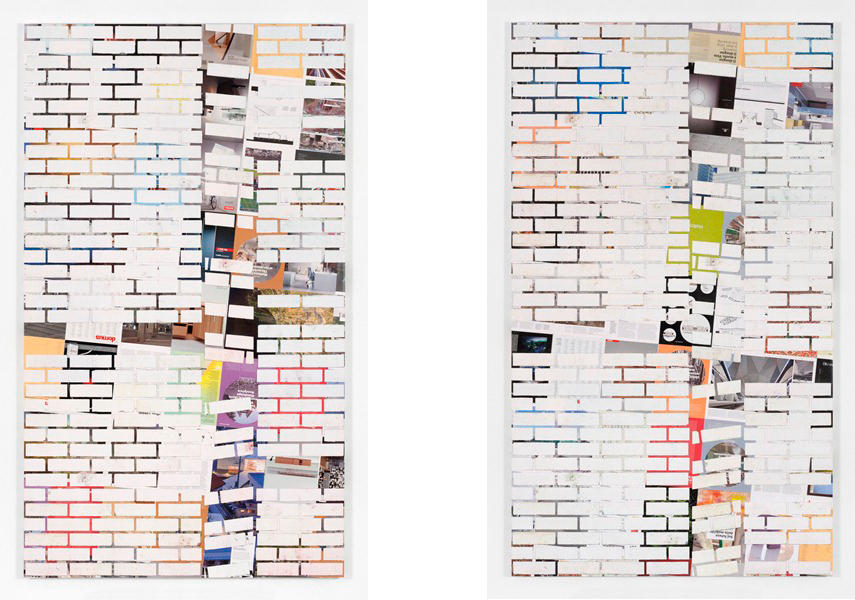 The exhibition at Paula Cooper Gallery
Kelley Walker's fifth solo exhibition at Paula Cooper Gallery in New York City will present a series of twelve brick paintings. Walker's cycle of twelve works corresponds to the publication's twelve monthly issues, as each painting draws from one issue of Domus magazine. The exhibition, then, creates a methodical timeline that spans the entire year of 2012, where each painting acts as an indexical temporal marker and a self-referential brick wall. An opening reception is scheduled for March 13th and Kelley Walker's paintings will be on display till April 18th 2015.
Make sure you stay informed about more exciting shows and artists by signing up for My Widewalls!