Comfort Zones and Routine Explored by Kelly Tunstall and Ferris Plock at SPOKE SF
There are a lot of interconnecting points between Kelly Tunstall art and Ferris Plock art, since this duo has been living and working together for over 10 years, under their collective name KeFe. Their latest collaboration comes in the form of an exhibition titled Closer at SPOKE SF, which was a direct result of their residency in de Young museum. Dealing with their mutual and common space by exploring interpersonal comfort zones and routines, these two San-Francisco based artists present their new and colorful, richly detailed universe through a series of paintings, drawings, and large-scale panels. Finding a mutual ground in the world of child-like fantasy, Tunstall and Plock turn their daily life into an artistic investigation.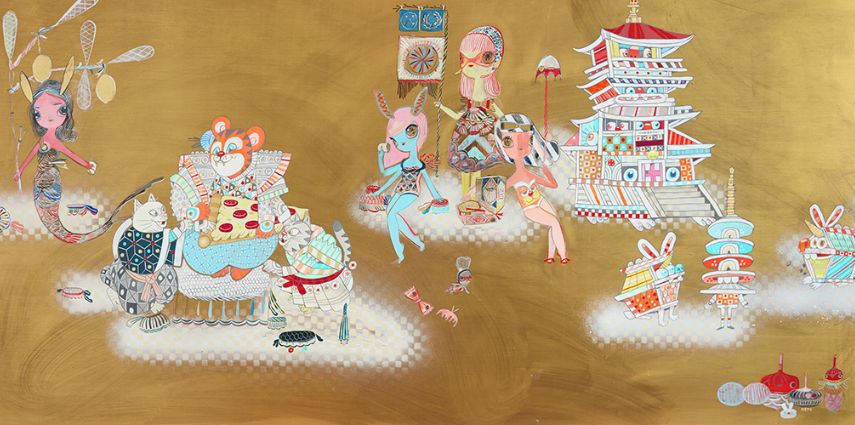 A Conversation Between Two Artists, Painters, Partners, and Parents
Kelly Tunstall and Ferris Plock create a conversation through their large-scale panels, a conversation about their daily routines, comfort zones and habits, which evolved from their common identity of being painters, partners and parents simultaneously over a long period of time. Processing both their personal environment, but also the shared local and global environment, they turn their art into a place of mutual understanding and support. Besides their intimacy and their insular bubble, they try to understand how they relate to the constantly changing life in Bay area, and all the other partners, painters, parents or groups of individuals who try to create collaborative areas. An important point in their collaboration is also the family circle which they expanded with children, whose fantasy world serves as an important inspirational point for both artists.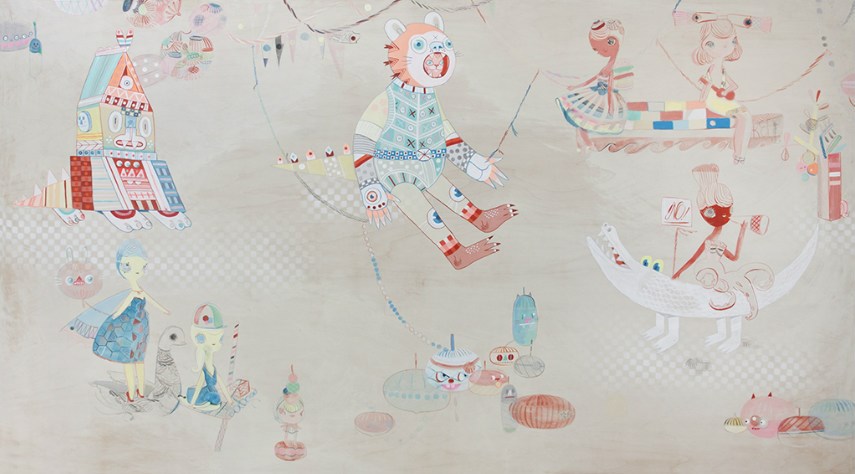 A Story Book of Fantasy Subjects and Universe Types
Both Kelly Tunstall and Ferris Plock have been working on their own and trying to develop their unique styles before the beginning of their 10 years long collaboration, a style which is still very distinctive and can be traced even within their collaborative works. These two vivid universes have collided into a common bubble where their child-like imagination takes over in the process of the creation of fantasy characters. Samurai tigers and houses with teeth communing created by Plock communicate directly with Tunstall's chic mermaids and become a layered language of understanding. Each story is rich with detail and color and invites the viewer to enter their intimate world, by communicating with the crocodiles and octopi-ladies, anthropomorphic houses and ukulele playing sailors.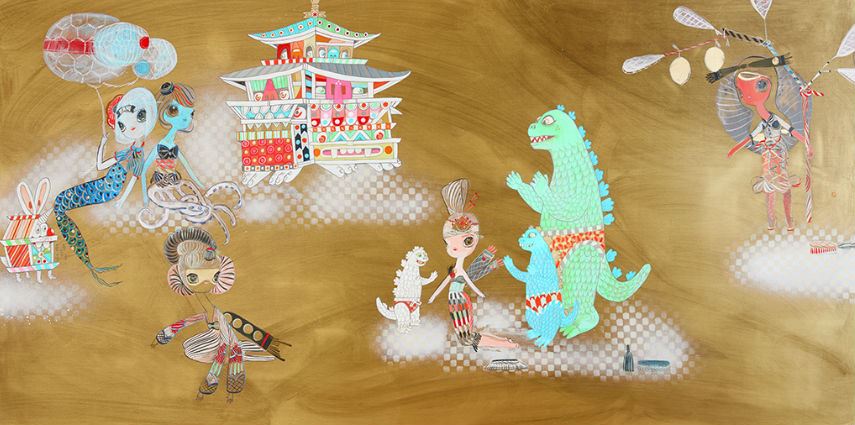 Kelly Tunstall and Ferris Plock Art at SPOKE SF
Understanding and broadening the comfort zones of our private and public places remains the essential point of the collaboration in art and partnership of Kelly Tunstall and Ferris Plock. Their unique approach to art and life becomes even more vivid and imaginative in their new exhibition Closer which will be on view from Saturday, April 1st till Saturday, April 22nd, 2017 at SPOKE gallery in San Francisco. The opening will be held on Saturday, April 1st from 6 pm to 9 pm.
Featured images: Kelly Tunstall and Ferris Plock – Closer 1, Left: Ferris Plock – Boombox Cat / Right: Kelly Tunstall – Fly Guard. All images courtesy of SPOKE SF.
Follow These Galleries
San Francisco, United States