Études
Thin and wide strokes, calligraphic elements, red accents reminiscing the Japanese flag intertwine in the pictorial exercises of Kenji Nakayama, entitled in a manner of Kandinsky – Études. The lyrically abstract effect dominates Nakayama's latest series of works, with the artistic focus revolving exclusively about basic visual components – line, color and texture. Currently on view at the Fourth Wall Project in Boston, Études is the first big solo exhibition by Kenji Nakayama in the capital of Massachusetts, and it will remain on display through May 18, 2014. The exhibition is curated by Kristen Wawruck, an art professional from New York.
Nakayama's Études
Études series consists of 49 abstract pieces on paper, displaying the art of pinstriping, which is a decorative technique Nakayama has been devoted to for ten years. Pursuing the mastering of pinstriping, Nakayama moved from Japan to the US, decoration a plethora of objects, from antique signs and motorcycles, to old saws. Execution of purely pictorial pinstriped artwork represents a deeper artistic investigation of the technique potential. The title of the exhibition derives from classical music, evoking the musical exercise dedicated to technical improvement and virtuosity. As such should be viewed this series of works on paper, composed on strict rules, trying to develop a higher aesthetics within the set rules of abstraction. The entire process evokes the processes of Kandinsky, who employed similar method to conjure some of his most known lyrical pieces.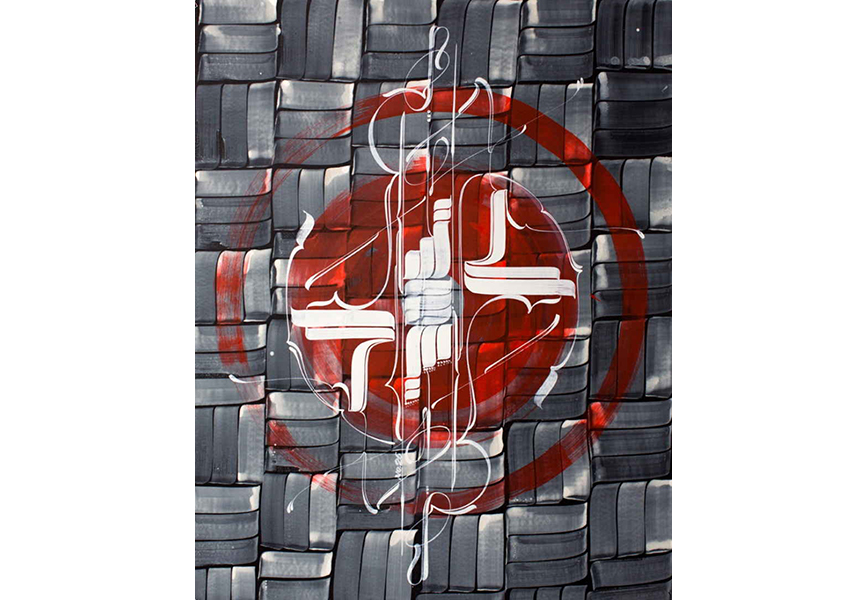 Symbolism of Études
Études were made on the course of last year, starting the summer of 2013. The collection discloses tiered artistic influences, from Edo prints and calligraphy, to familiar meanders, and allusions to the Japanese flag. All of the fragments are connected through cleverly devised linework and harmoniously accentuated portions of canvas. The number of works in the series bears a particular significance tied to the symbolism of the number 49 in the Zen Buddhist tradition. According to their beliefs, the spirit of a deceased dwells on Earth for 49 days before it crosses over to the other world. The 49th day after death is celebrated by the family and friends of the departed. Along with the symbolic etudes, Nakayama's pieces on recycled objects and panels are on show. These objects are adorned in new air by bright colors and metallic nuances, unveiling various cultural references to Medieval, Byzantine, Japanese and indigenous North American art. The pieces are harmonious and symmetrical, which is pertinent to the entire body of Nakayama's work.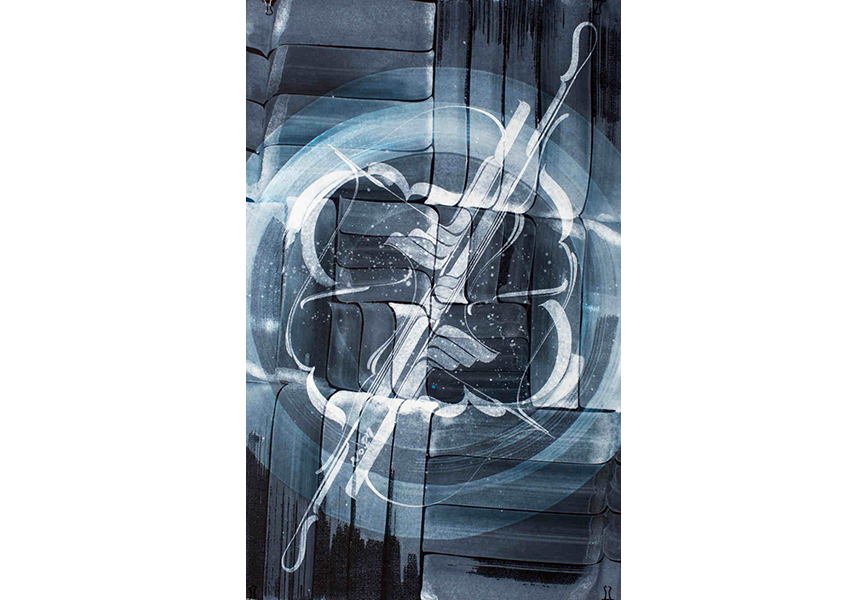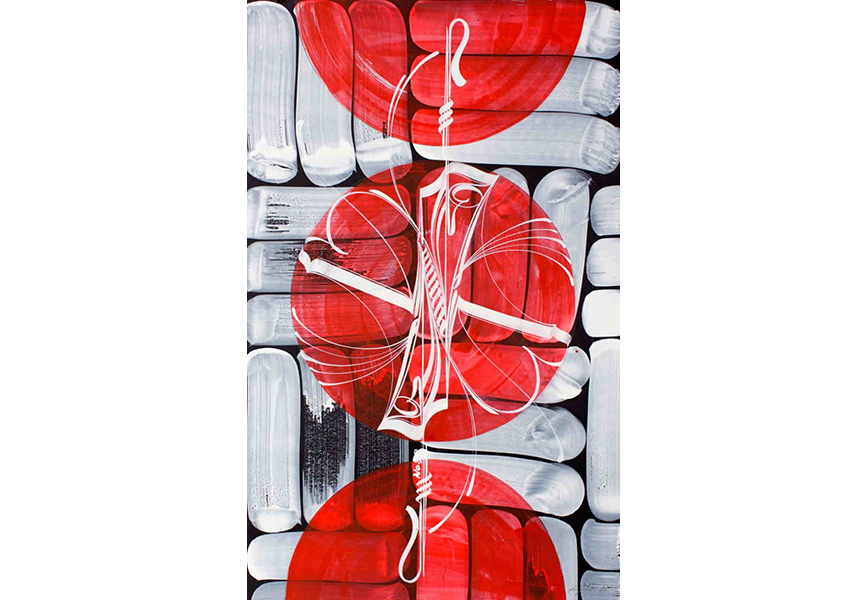 Kenji Nakayama
Born on the island of Hokkaido in 1979, Kenji Nakayama did not pursue artistic education at first. He is a mechanical engineer who experienced a change of ways after moving to Boston in 2004. In Boston, Nakayama studied traditional sign painting and started producing art. He is a wonderfully talented maker of pinstriped work, gilded letter forms and layered stencil pieces. All of his work is detailed and refined, often completed after several months. Inspiration comes to this spiritual Japanese after observing the changes in urban environment, or while enjoying music, solitude, humor and motorcycles.