A Continuous Motion within the Color Spectrum - Kool Koor at Galerie Martine Ehmer
It is a scientific fact that the human eye can see color within certain wavelengths – from some 400 nm to 700 nm, to be more precise. Because of this, we call it visible light, or visible spectrum. Colors of light that correspond to narrow wavelength bands (monochromatic light) are the pure spectral colors learned using the ROYGBIV acronym: red, orange, yellow, blue, indigo and violet.
Why are we talking about this?
Because the spectrum served as the inspiration for the iconic artist Charles Hargrove, better known as Kool Koor. For his second solo exhibition at Galerie Martine Ehmer in Brussels, where he is also based, he extended his research into the complex realms of colors. The result is a series of 28 canvases fused together and forming a single artwork. Depending on our point of view of the piece, we are able to see different variations of light and tone reflected in it, and within this chromatic web, we can recognize Kool Koor's signature lining and contrasting labyrinths.
On view until May 20th, 2018, [spek-trəm] is a unique journey into vibrations and colors, and it is also an excuse for us to have a chat with this extraordinary artist.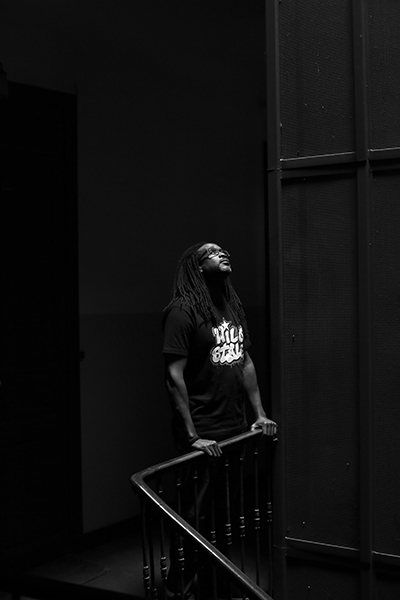 Kool Koor's Perfect Coexistence
Widewalls: On one occasion, you talked about your twisting structures as the result of "perfect coexistence". How has the depiction of this evolved over the years for you?
Kool Koor: For me it's all about balance and flow. Each line leads me to the next one. Without a plan coexistence is possible.
As the years go by, I find myself moving closer and closer to the essence of these lines. I call them labyrinths because they are maze-like in form.
Widewalls: As your work spans different media, how does each of them correspond to your practice? Are some more demanding than others? More rewarding?
KK: Everything is related. Regardless of the media, I want to transmit a feeling of movement.
Indeed some projects are more demanding and it's with those that I push myself into new directions. It's there that I get my adrenaline rush.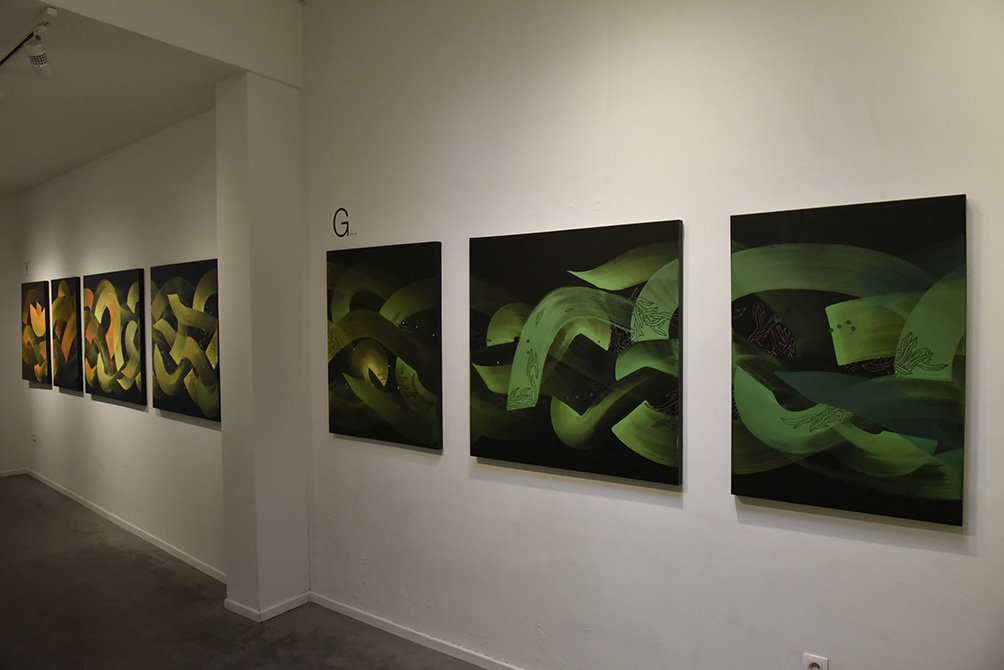 [spek-trəm] at Galerie Martine Ehmer
Widewalls: For your second solo show at Galerie Martine Ehmer, you turned your eye to the visible spectrum, pun intended. Where did this idea come from?
KK: I wanted to make an installation in the gallery. This was my plan from the beginning. I allowed my self several months to reflect on what that show would be.
First I saw the space, then the horizontal canvas on the walls and finally the idea of the [spek-trəm] afterwards.
Widewalls: What can you tell us about the process of execution of these artworks?
KK: The process was to paint in a continuous motion, five canvases at a time being connected and progressively moving through the color frequencies.
Widewalls: You are based in Brussels, where the show is taking place. How did you end up there?
KK: I was invited by the first gallery in Belgium to make a group show on Graffiti Art in 1984. That show featured Basquiat, Haring, Crash, Daze, etc..
The gallery invited me to Brussels to do a solo show in 1985. After that I returned every year on several occasions and step by step I got settled in the country.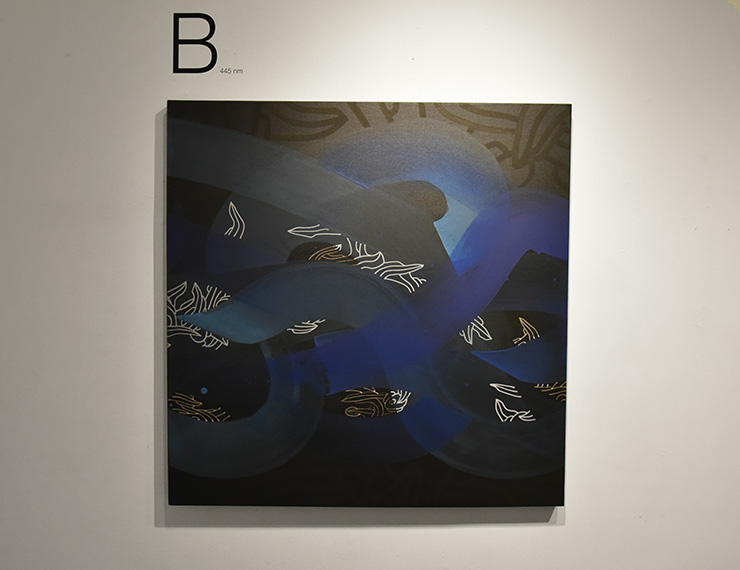 Moving Around
Widewalls: We caught a glimpse of you at the 2018 Urban Art Fair. What are your thoughts on the movement today? Any artworks that caught your eye?
KK: I feel the movement today is evolving at a very face pace. Many young artists and picking up on techniques and are pushing to find their own identity inside the culture.
I find myself drawn to things that remind me of the complexities found in nature, however at the same time I like things that reflect patience.
So to answer your question: yes… there were a few things that caught my attention.
Widewalls: What's next for Kool Koor?
KK: I'm currently working on a mural project in Brussels this month, I will be painting Le Mur Mulhouse also this month. Beyond that I will be working on a few other exhibitions planned for the year… again, something new is coming,,, Stay tuned!
All images courtesy the artist.