Kunstrasen Takes Over the Street Art Place Gallery in Gaeta
Defining himself as a studio artist primarily, Kunstrasen is surely an exemplary creative belonging to the eclectic urban contemporary movement. Still, he does extend his work towards the outdoors, where he elaborates his easily relatable visual language and communicates with a wide range of people, from children to adults and back. This month, Kunstrasen will find himself in Gaeta, Italy with a comprehensive exhibition of artworks that made him famous to a broad public. Specially for the exhibition entitled "It's Your Hell, Not Mine", the artist created two silkscreens to emphasize the German – Italian collaboration with the Street Art Place gallery, which began at the Memorie Urbane street art festival.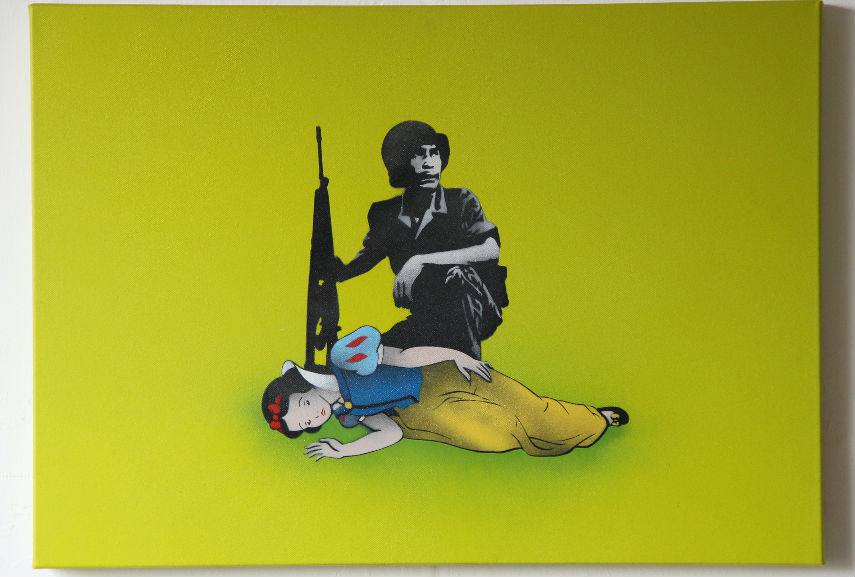 Kunstrasen and The Language of Stencil
The art of Kunstrasen is stencil based and it possesses a recognizable style, clearly deriving from the legacy of street and urban art. Therefore, his work transposes perfectly onto the outside walls, even though the original idea and visual solution are born in the studio. Abundance of color and imagery borrowed from pop culture demonstrate the innate playfulness and add to the sarcastic tone of the artist. Behind all the cheerful fun, there is a much darker, stronger tone, which critiques the contemporary society and in particular, our proclivity to neglect the weak, to lose our brains to the superficial and to admire the unknown, conveying rather directly that the hell we live in is ours, he only depicts it. Numerous artistic influences are visible, such as Lucio Fontana and his torn canvases, to Damien Hirst and his art of colored dots.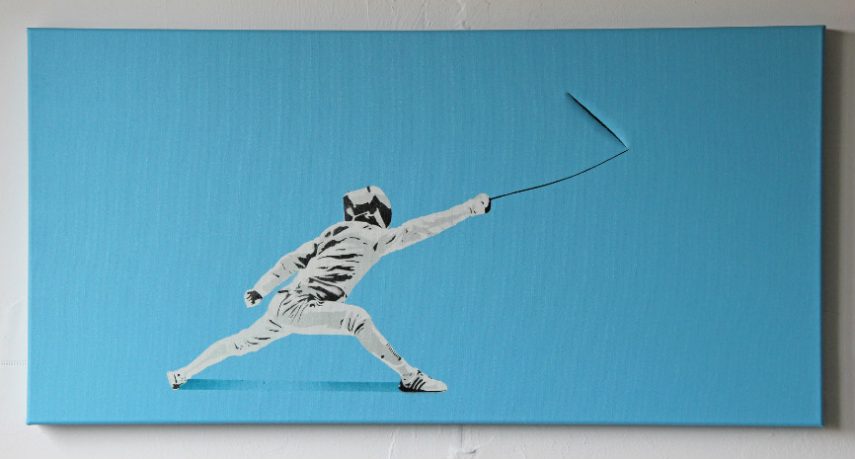 The Meaning of Kunstrasen
When viewing the art of Kunstrasen, we must bear in mind the original meaning of his tag. It comes from the German word "Kunst", meaning "Art" and "Rasen", which firstly translates as "synthetic grass". The art of something synthetic, which is inherently natural, might be the perfect summary of Kunstrasen's expression. He gathers the images we all know and places them in a synthetic, made environment, alluding to various issues of the contradictory reality we dwell in. The second part of his name can also translate as "speeding", which might refer to his hasty stencil technique, and to the dynamism of the world he comments on. Finally, the "speeding of the heart", which would be a literal translation of the German "Herzrasen" is the tachycardia provoked by the consumption of art experienced by the creative, which affects and shakes up his very human core.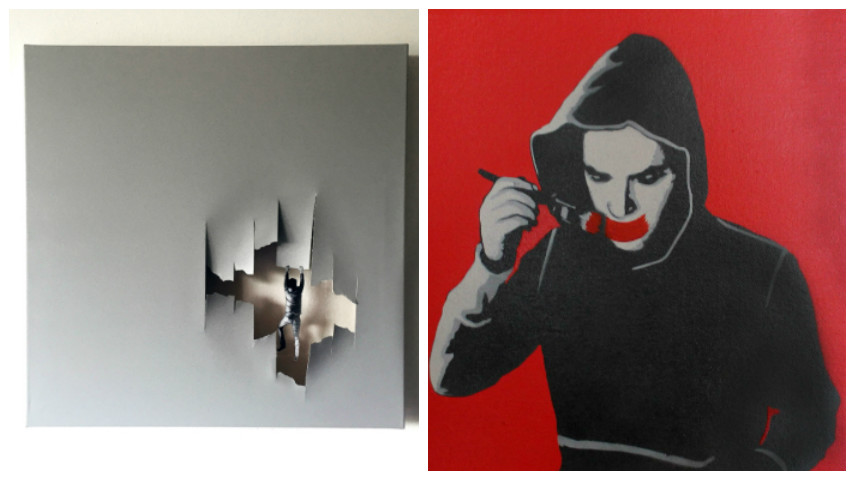 The Exhibition at Street Art Place
Another Kunstrasen's vision of contemporary condition embodied in the exhibition "It's Your Hell, Not Mine" will open on October 8, 2016 at the Street Art Place Gallery in Gaeta, Italy. This interesting exhibition will remain on view from October 9 to November 6, 2016, offering two specially created silkscreen prints, as well as other original and print work by Kunstrasen, to all collectors and art enthusiasts.
All images courtesy of Street Art Place gallery, Gaeta