Kurar Graffiti Enter Exhibition Space with the Next Street Gallery
You might remember seeing Kurar as part of our Most popular contemporary artists of November 2015 list. One of his pieces also ended up in our comprehensive Street Update #100 a while back – a stencil entitled A Girl & Tv, created in Berlin for Urban Nation group shows. The French graffiti artist seems to be quite fascinated with the phenomenon of television, so much so that he dares telling us that it rules our lives. For his big solo show opening at Next Street Gallery in Paris, Kurar will present us with a new series of artworks, in form of paintings, sculptures and installation, all revolving around the topic of TV and the way it is still an inevitable, omnipresent factor of our everyday life.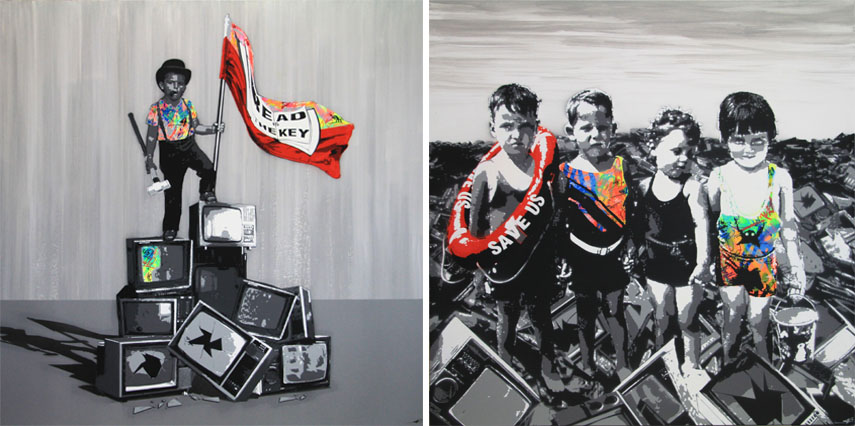 The Art of Irony and Truth
To talk about Kurar is to talk about a mysterious, but very talented artist born in a French city of Clermont-Ferrand, who chose his moniker by playing with the word Curare, describing a very poisonous substance extracted from a South American plant. This alone is enough for us to be intrigued, but then he goes on to amaze us with his graffiti and stencils. Kurar started painting in the late 1990s, at a time when we couldn't have talked about a street art scene, in France or anywhere else. For a decade to follow, he developed a unique style, working in 3D lettering, volume and colors, through the means of graffiti, stencils and collage. But perhaps what's more interesting than his technique are his topics. Kurar fearlessly tackles some sensitive issues that the world deals with today, and he does it with a pinch of humour and in the manner of a wake-up call.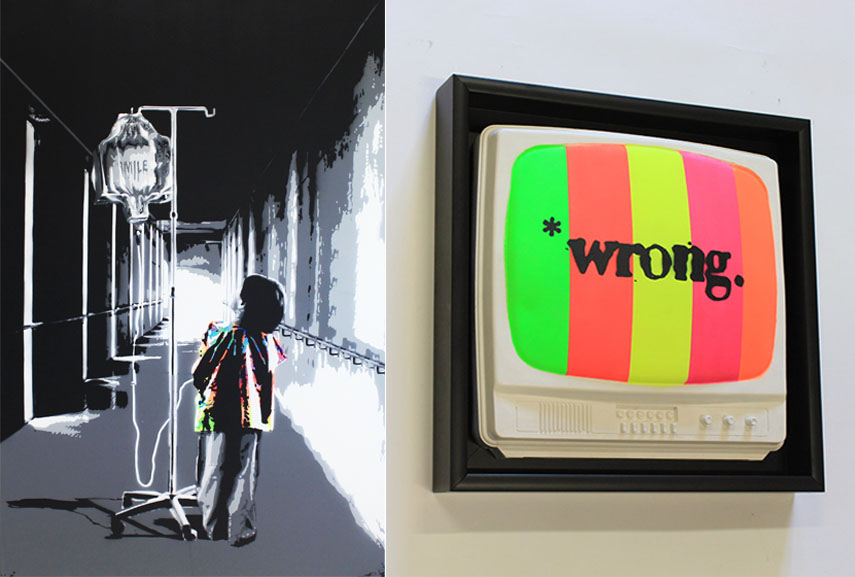 TV Rules Your Life
In Kurar's own words, his works on canvas encourage us to "put our vision of society into perspective." Through his clever art, the artist addresses political, economic and social problems, war, religion, alienation and mass consumption, painting a direct, raw, provoking yet poetic picture of situations we'd maybe rather not talk. On many occasions, he uses the concept of childhood to convey his strong message, something that has become a frequent sight in his practice. He presents it as a symbol of innocence and wraps it up in satire, in juxtaposition with not so naive reality. Embedded with black humour and nostalgia, the art of Kurar has been relevant and consistent throughout its entire existence, and the idea of a broadcasted image influencing the behaviours of so many members of our society is something that will now take the central role in his artistic production.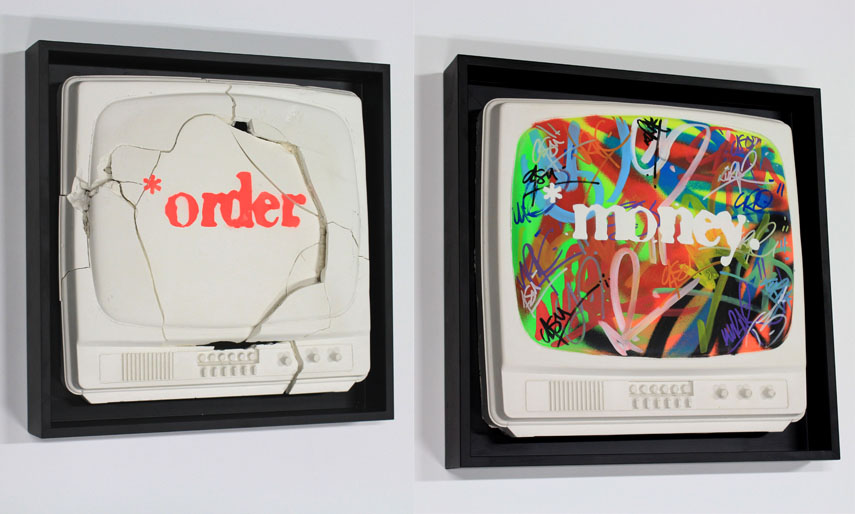 Kurar Exhibition at Next Street Gallery Paris
How does mass communication through television affect our lives? The answer lies in a new solo exhibition of works by Kurar in collaboration with Modus Art Gallery, entitled TV Rules Your Life. The show will be on view at Next Street Gallery in Paris, France, from March 10th through April 1st, 2016. The opening reception is scheduled for March 10th, from 7pm to 9pm, and the artist will be present.
Featured images: Thank you god to give us TV. Acrylic and aerosol on canvas, 146x97cm; ERROR TV – BRAIN; ERROR TV – GOVERN; ERROR TV – PLUG IN; ERROR TV – RULES; Left: ERROR TV – NOCIF / Right: ERROR TV – BULLSHIT; Exhibition installation views. All images courtesy the artist and Next Street Gallery.