L'Atlas and TANC Exhibition at Hotel Windsor Geneva - iDroom Urban Art Project
Established in the Windsor Hotel, located at the heart of Geneva, iDroom gallery's aim was to bring together the wall and the canvas in one place and create unique surroundings specialized in urban contemporary art. Their moto is an invitation to Live the urban experience! The gallery is very open and inviting towards artists, and as of September 2015, they proudly announced the creation of artists' room in Windsor hotel by the most prominent names in street art. Two Paris-born artists, L'Atlas and Tanc are joining forces for their show starting on September 3rd. Simply entitled L'Atlas & Tanc, the exhibition will feature unique work of L'Atlas' pictorial world floating between abstraction and optical art, and the subtle blend of color, line and rhythm found in the artwork of Tanc.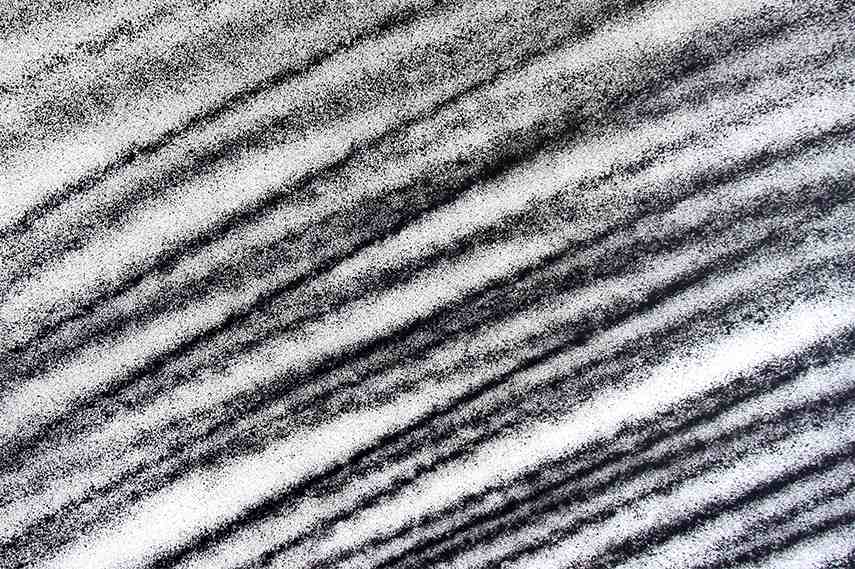 Tanc Composing the Paintings
Centered around the study of the line, Tanc finds his strength in discovering ways of how to make his name vanish in order to uncover an original abstract pictorial language. His careful calligraphic strokes result with a multicolored abstract paintings, which would be hard to define and put in a single mold. Even though the artist reached this point in his development as a result of the chronic practice of graffiti, his work now rests somewhere between Action Painting, graffiti and optical art. Tanc's multilayered artwork is intricately built upon from a repetition of a single gesture, the superposition of his lines creates the visual depth and a persistent retinal impact. Much like electronic music, the artist composes his paintings by adding another and another layer. Even though Tanc's creative process seems slow, it resonates with persistence, progression and ultimately, a full sensory experience, especially when looking at the artwork while listening to some of his music compositions.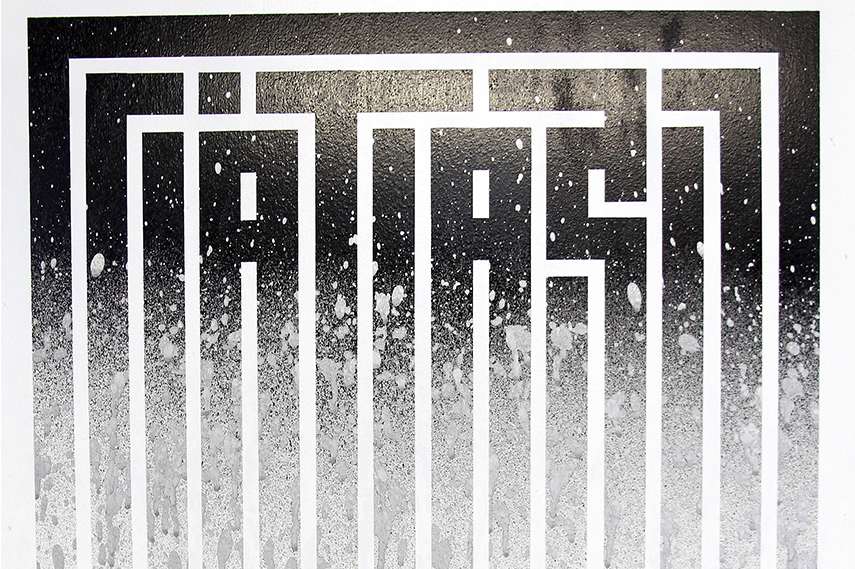 Universal Urban Language by L'Atlas
Taking his name from Greek mythology, while he was finishing his archaeology studies, L'Atlas combines influences from Ancient Greek, Arabic calligraphy and modern tag. He wonders how universal urban communication would look like, and strives to create the ultimate urban language by using the words of the city itself. As the artist once said that now street artist is a kind of a trend, where anyone who just puts two stickers up on the street instantly becomes a street artist, he combines working with canvases and displaying in galleries with creating in the streets and doing large-scaled artworks. L'Atlas finds inspiration in mysticism and travel, and his artistic approach is marked by books of astronomy and geography from his childhood. After compasses and labyrinths that he used to mark the floors and walls of the cities, he turned to kinetic art and geometric abstraction.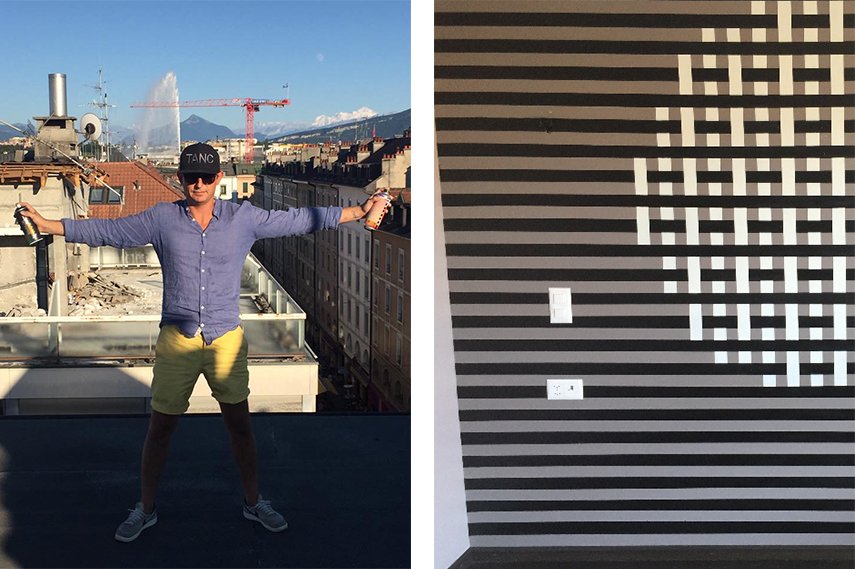 L'Atlas & Tanc at iDroom Gallery
Both artists hailing from the streets of Paris will combine their unique influences and techniques for this show. L'Atlas & Tanc exhibition starts on September 3rd and will remain on view until October 2nd, 2015, at iDroom Gallery, Geneva. From calligraphy and optical art to abstraction, works of the two creators mix various techniques and ideas to form the final product. The creative process may seem simple and easy enough, but in truth it takes a lot of time, effort and skill to achieve such depth, precision and style. Once again, street artists find their way into galleries, so enjoy the work they've created for this show.
All images courtesy of iDroom
Explore the language of urban art with a free sign up for My Widewalls!