Artist of the Week - Laszlo Moholy-Nagy
Partly due to the recently opened show at the Guggenheim, partly thanks to his long and well-served role of a mediator between art and science, Laszlo Moholy-Nagy is our new artist of the week. Incidentally, we have been talking about the Bauhaus a lot lately, and his name is one of the first to be associated with the movement. It could even be said that the character of Moholy-Nagy was the very embodiment of the Bauhaus' intents (if it is ethically appropriate to attribute these intents to a single person) – he used to be very open and clear about his attitude toward art and its relationship with technology, genuinely versatile as an artist, and also capable of relating all of the different genres to each other naturally and logically, achieving mutual benefit for all the arts and sciences involved. Laszlo knew the way that science is able to help art progress, and was not fearful of novelties and experimentation, which is exactly what the school was all about. Ultimately, even though Moholy-Nagy continued his career after he had left the Bauhaus, associating the artist with the school (especially if we address it as a school of thought) seems inevitable, almost intuitive.
Icon of Modernity
In terms of genre and style, the art of Laszlo Moholy-Nagy was progressive and comprehensive, but rarely ambiguous, as his pro-industrial attitude was quite clear from the beginning. He came to the Bauhaus to replace Johannes Itten in 1923, which also helped the public categorize the essence of his future work, one that was substantially different from everything that Itten stood for. That said, given that Itten was an admirer of the Eastern culture and expressionism, Moholy-Nagy was all the opposite, kind of a symbol for the Western industrial legacy, or in other words, an icon of modernity. Moholy-Nagy was a painter, a sculptor, a designer, a print-maker, engaged in typography and graphic design, which made him overlap the two and create a "typo-photo"; however, what he is best known for today is his contribution to photography. He was one of the first people to produce a sort of "cameraless" photographs, also known as photograms – photographic images made without a camera, by placing various elements on the surface of a light-sensitive material (the other great artist you've heard to have done this is Man Ray). He was also experimenting with gelatin, and he used it for silver prints, in photography and screen printing as well.
Future Present at Guggenheim Museum in New York
There is no doubt that Laszlo Moholy-Nagy was an influential artist – back in the time when he was a professor in Germany and later in Chicago, so much that even today, his work aspires to be iconic. It is perhaps not that easily recognized, as that of other great masters, but this is a consequence of the interdisciplinary approach to art which makes his art border on science and experimentation, leaving less space for his own visual style to grow. Above all, he was an educator, meaning that his own itinerary branched into hundreds of other directions, followed by younger generations, and therefore we cannot even begin to imagine the actual range of his influence. Nevertheless, the oeuvre of Laszlo Moholy-Nagy offers quite a lot itself, probably even more than you can imagine, and fortunately the exhibition which is currently on view at Guggenheim Museum in New York is regarded as very inclusive and thorough. One of the most interesting pieces is the large-scale Room of the Present installation, an artwork which has never been translated from paper to reality up until now. Moholy-Nagy: Future Present retrospective exhibition is on display from May 27th until September 7th, 2016, at Solomon R. Guggenheim Museum in New York.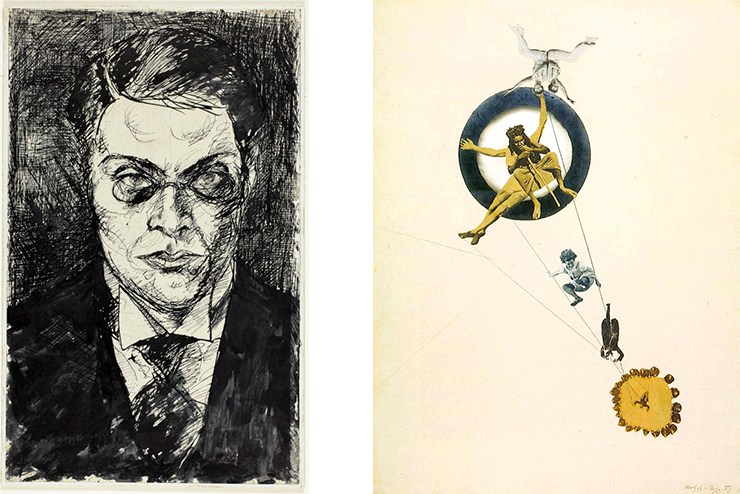 Featured images in main slider: Laszlo Moholy-Nagy portrait via lefistnoir; Two portraits of Lazlo Moholy-Nagy in Chicago via The Charnel-House. All images used for illustrative purposes only.