Lauren Marx at Roq La Rue
Seattle art gallery Roq La Rue is excited to announce opening of the exhibition by emerging artist Lauren Marx. Young St Louis artist will showcase her illustrations inspired by zoology, mythology and cosmology bringing together these different disciplines into a unique mix of fantastic and scientific. The Show in Roq La Rue Gallery is titled American Wilderness and features Lauren Marx's vision of the creation of the world.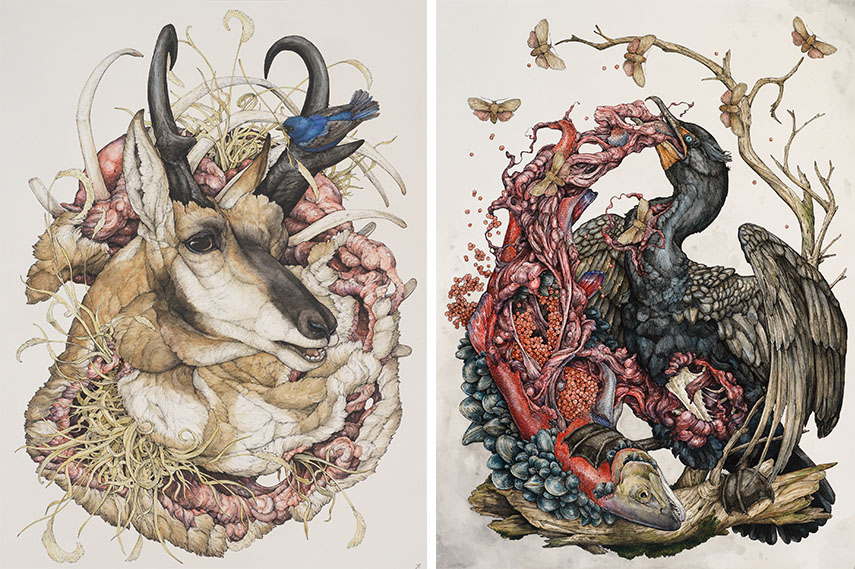 Lauren Marx's Fantasy Worlds
Upon first gazes one gets immersed into the fantastic worlds Lauren Marx creates. Her interest and passion for animals originates from the early childhood and frequent visits to the local Zoo together with hours of watching National Geographic's Mutual of Omaha. These influenced Lauren Marx to develop interest in biology and start collecting bones, feathers and books. Her field of interest gradually expanded to zoology, cosmology and mythology. Strong mark of scientific illustrations is also very notable is Lauren Marx's work, coupled with the Baroque-like atmosphere. Marx utilizes mixed media to its fullest potentials that enables her to fuse these chaotic elements taken from the nature and organize them with great deal of harmony between all the parts and meticulous details. This way Lauren Marx manages to unite diverse recurring fragments into visually appealing and exciting entities. Influence of Walton Ford, famous American artist whose work is always connected to animals, is noted in Lauren Marx's illustrations.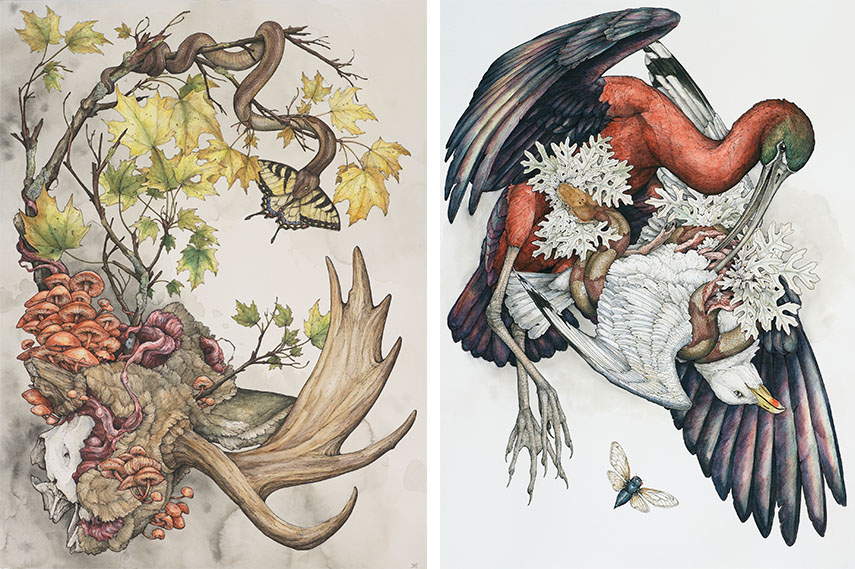 American Wilderness at Roq La Rue
Lauren Marx's beautiful works actually speak of life cycles, their continuation and flow. She often depicts scenes of death and birth intertwined with fantastic seldom opposite symbols. Some might find Lauren Marx's work morbid but what she really conveys is that life evolves in cycles, birth and death interlace and overlap merging into one large continual. Decomposing animals portraits are part of the process of constant change from dying to the rebirth. Lauren Marx's decaying animals are twisted and blended with plants and black holes, nebulas and other space elements conveying a clear message that everything in this universe is interrelated. According to Lauren Marx, her obsessions with different disciplines finally merge into one drawing in Spring 2012 in "Galactic Collision. The theme from that work became her main focus ever since. Lauren Marx's work is also influenced by Caitlin Hackett, Mike Shinoda and Edward Gorey. Have a look at some artist dealing with zoological themes such as Nychos, Borondo and his Memento Mori and Damien Hirst, Alexis Diaz and graffiti artist ROA.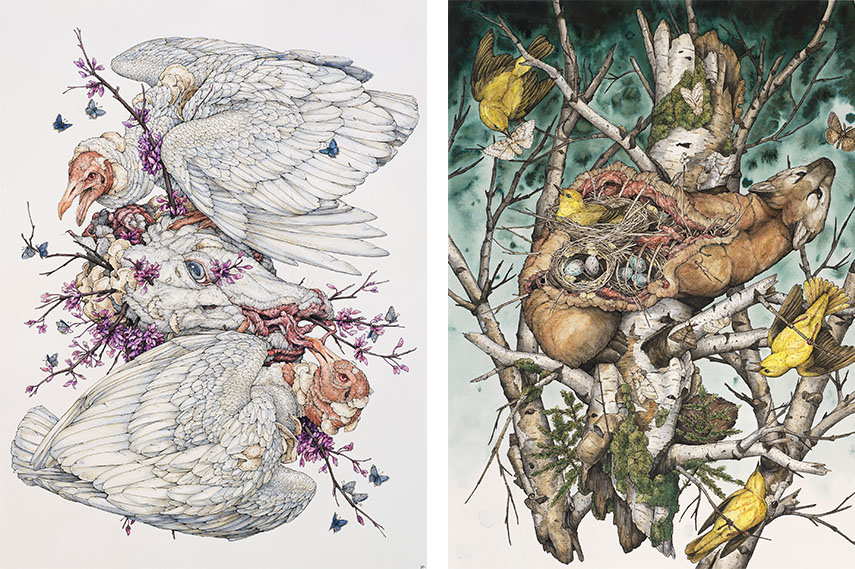 Lauren Marx at Roq La Rue
Although still very young Lauren Marx displays great deal of talent and a clear vision of what she wants to accomplish. She connects animals to the cosmos and turns them into god-like embodiments of galaxies, nebulae, black holes and similar. One could easily see bird as a symbol of stars in the decaying Universe in constant state of flux and a grotesque-like growth. Lauren Marx's amalgamation of different influences and elements is featured in her upcoming exhibition titled American Wilderness that opens on May 7th 2015. American Wilderness will be on view in the Roq La Rue Gallery in Seattle until May 30th 2015.
Sign up for My Widewalls and stay informed on contemporary art worldwide.
Featured Images are Courtesy of the Roq La Rue Gallery.