Artist of the Week - Levalet
For the majority of street artists, it is the energy of the city that dictates and generates the way in which their art is formed. This relationship between the artist and the city that they are based in is a unique bond which cannot be recreated or imitated. However, when it comes to the cities which everybody falls in love with, such as Paris, it is hard to choose a single point of observation and to focus on specific occurrences. For Charles Leval, also known as Levalet, it is precisely this vantage point that makes the difference. His art is closely related to Paris, no doubt about that, but it is very specific in its intent. His interventions correspond to the inimitable urban landscape of the French capital, being concerned with the social aspects and the common topics from everyday life at the same time. Levalet feels the spirit of Paris in his own way, which helps him create his urban interventions in a site-specific manner. Being an internationally acclaimed young creative with a career on a constant rise, Levalet has certainly earned being Widewalls' artist of the week for the second time.
Public Interventions
Engaging in public art is a responsible duty. An artist has to be aware that a lot of people are going to receive the message that they are sending, and this is a principle which should be respected by anyone who wishes to expose their ideas publicly. With this awareness, Levalet shares his thoughts on many different subjects, but he always pays attention to the character of the place that he is about to take over and re-appropriate. He works across various genres in general, but when it comes to street art, he uses the paste-up technique most often. His illustrations are always done in a realistic manner, making the spectator compelled to react to them, perhaps even touch them and see if they are real. None of his paste-ups are there by accident – you can be assured that the entire process was designed who-knows-how-many days before the project was realized. Levalet leaves nothing to chance. He takes photographs and measurements and makes a series of sketches before the work is done. Perhaps this is the reason why his artworks turn out to be so unique and successful – they have been studied each step of the way.
Everyday Life Circus
It should be noted that this particular diligence and devotion must be related to Levalet's genuine interest in art, as well as his background and professional engagement. Like many other street artists, Levalet used to be fascinated with the graffiti movement at an early age. Consequently, when he was only 17 years old, Charles Leval started studying plastic arts in Strasbourg, and thanks to this passion, he is now a professor of plastic arts. This has helped him get in touch with a myriad of media, such as photography, drawing, even video animation. Being surrounded by a great number of different positive impacts, Levalet has managed to find his place within the art world at large, even though "making a living from his art" used to seem impossible to him. This officially happened when he started exhibiting in galleries, in 2013 – and thanks to this expansion of his practice, we are now able to see his works in a gallery space as well. His upcoming exhibition will be hosted by Openspace Gallery in Paris, and it starts this Saturday (May 7th). If you're wondering what to expect, you can read all about it here on Widewalls, but we can assure you that his gallery work is as comprehensive and witty as his outdoor interventions are.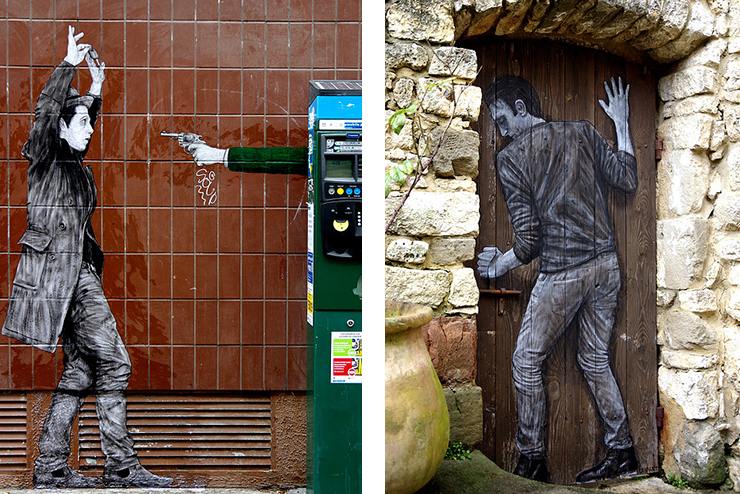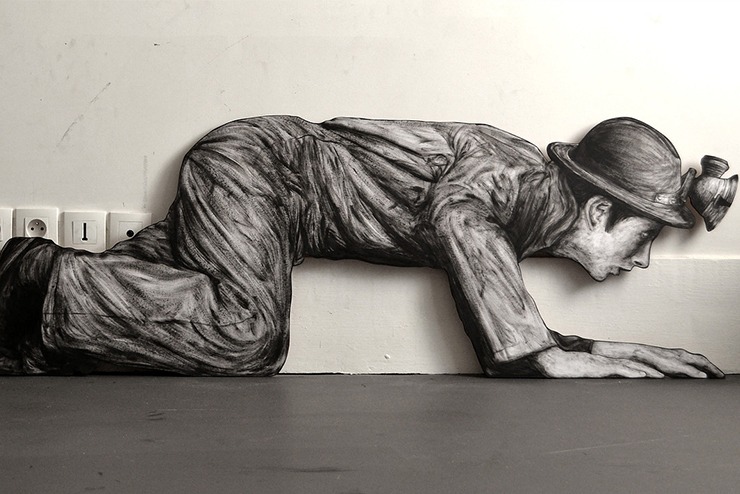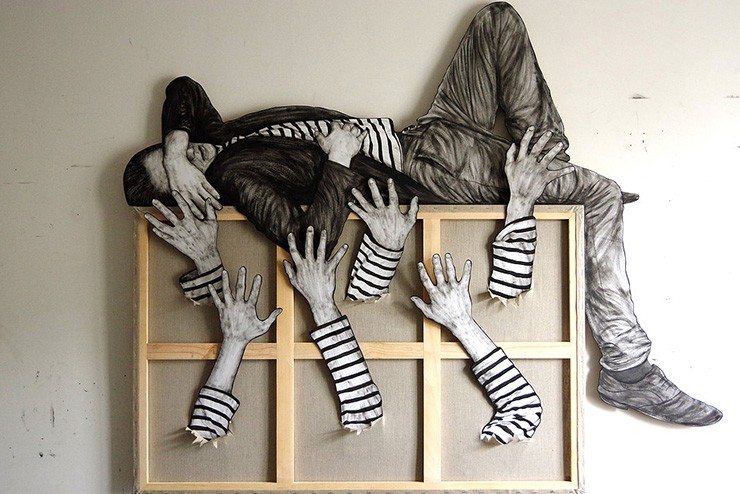 Featured images in main slider: Levalet, ® Francois Xavier Laurent, image via instagrafite.com; Levalet – Crash test, Paris, 2015; Levalet – Le Marchand de Sable, Paris 2014. All images used for illustrative purposes only.
Follow These Galleries
Paris, France

Paris, France

Paris, France