Nobodies from Levalet Street Art Coming to Galerie Brugier-Rigail!
All that's left are outfits as reflections of social ranks in the new Levalet street art exhibition titled Nobodies, coming soon to Galerie Brugier-Rigail. This multidisciplinary artist, who initially worked as a producer, scriptwriter and director, now shows his creative spirit in the fields of drawing and installation art. Concerned about creating a visual and semantic dialog with the present environment, he envelops his characters with absurdity and places them within the public space. His latest series Nobodies explore the ideas of rediscovering and acclaiming identity in a dehumanized digital era.
Is Everybody a Nobody?
Creating an interesting dialogue with the traditional art history, which is constantly obsessed with the presence of a body, Levalet's new series disregards this idea completely and uses the absence of a body as the most important conceptual point. The identity becomes a central issue since it is not being shaped by the uniqueness of a character, but by the social, promotive and institutional norms. Made out of heavy prejudices, these identities reflect on our position within a system that determines human value based on the professional status or social rank, making the intrinsic quality of our characters invisible. In this absurd imaginary world, the Nobody and the Everybody become identical, since their essence lies in the absence of a real human being.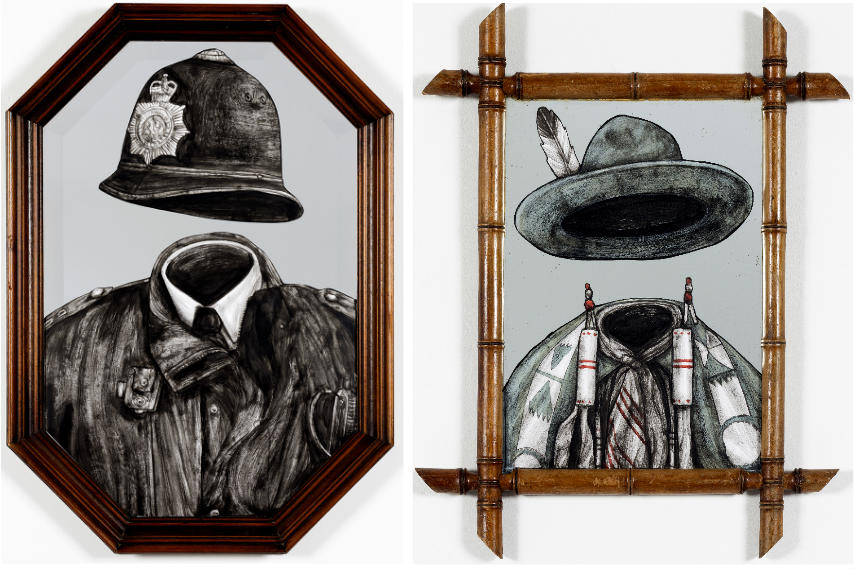 The Dehumanized Digital Era
The phenomenon of dehumanization was born already with the Industrial era, in which the savior and the destroyer become identical by losing the human face and identity, existing only as uniformed machines. This has only been amplified during the digital era and the rise of consumerism leading us more and more to turn the attention onto ourselves and the way we present our identity in the virtual world. The use of social networks creates and maintains the illusion of our existence which is manifested by sharing personal information as an intangible affirmation of the Ego. It is therefore also turning to ideas of communitarianism and drifting into totalitarianism.
Levalet Street Art at Galerie Brugier-Rigail
Blurring the distance between visibility and invisibility, Levalet allows us to enter a truly contemplative state while observing his deeply philosophical works. The artist makes possible the seemingly impossible – a disembodied human representation. Dive deep into these new drawings by Levalet, echoing the Cubist and Surrealist variations in his new series Nobodies, presented from 20th of April till 6th of May, 2017 at Galerie Brugier-Rigail in Paris. The vernissage will be held on 20th of April at 18h.
Featured images. Levalet – Faire Ses Classes 3, 2017, Faire Ses Classes 4, 2017, Faire Ses Classes 2, 2017, Les Oublies 2017, Synchrone, 2017. Copyright: Levalet Bruno Pellarin. All images courtesy of Galerie Brugier-Rigail.
Follow These Galleries
Paris, France

Paris, France