Intimacy and Vulnerability in Cobalt Blue - Lisa Brice at Stephen Friedman Gallery
Stephen Friedman Gallery has recently opened its first solo exhibition of works by South African artist Lisa Brice. Brice is known to the British public for her participation in the remarkable group exhibition Making and Unmaking, curated by Duro Olowu at Camden Arts Center in London last year.
The show at Stephen Friedman features a series of gouaches lining the walls of the gallery in a compact display. In these works on paper, which keep the immediacy and the closeness to ideas typical of drawings, the artist returns to her main subject matter, painting images of women in rich cobalt blue.
The artist uses the pigment straight from the tube, modulating light and shade with the single color alone. To Brice, blue has a personal meaning. It reminds her of Carnival in Trinidad, where she initially did her residency in 2000 in a group, which included fellow artists Peter Doig and Chris Ofili, often re-visiting the country ever since. The Blue Devils, traditional characters in the Carnival masquerades in Trinidad, are usually male performers who paint their clothes and skin blue. The ebullient energy of the color from those celebrations is overturned, transformed into the melancholic figures – all female – that occupy Brice's gouaches.There is probably no better color to suit the intimacy and vulnerability of her subjects.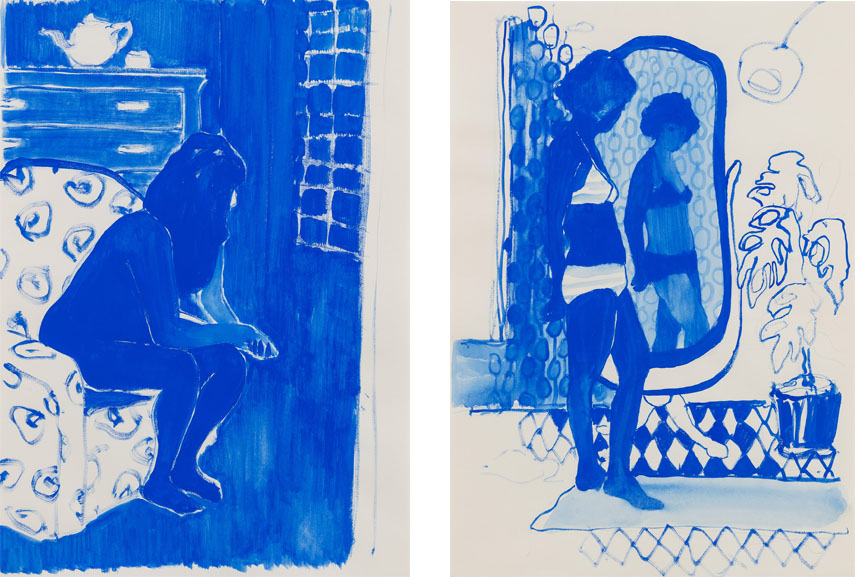 The Imposed Intimacy of Unknown Bodies
These are girls, women, teenagers, maybe models, prostitutes, mothers. They hide from unwelcome gazes, while they undress, they wink (are they really winking?) to us, they are alone, they stand in groups, they are lonely. Some of them come back in different settings, now isolated, surrounded by the whiteness of the paper, now maliciously hidden behind too light curtains. They spitefully offer up their bodies for viewing, they are too busy looking at their reflections to notice that we are invading their spaces, their lives, their presences.
The narrative content that at times claims influence over the figures is sublimated by the depth of blue, which unifies the series of works and compels us to look at at the body of work as a whole as well as singular pieces.
There is at play, here, a conscious insistence on the act of looking. Brice's figures are often partially concealed by doors, repeatedly veiled by the transparency of curtains. Very frequently, they engage with mirrors, looking at themselves and being looked at, at the same time. Their awkward, inelegant poses don't do anything but to reiterate the invitation to our gaze to linger on them. We become voyeurs, however reluctant, witnesses of the imposed intimacy of unknown bodies.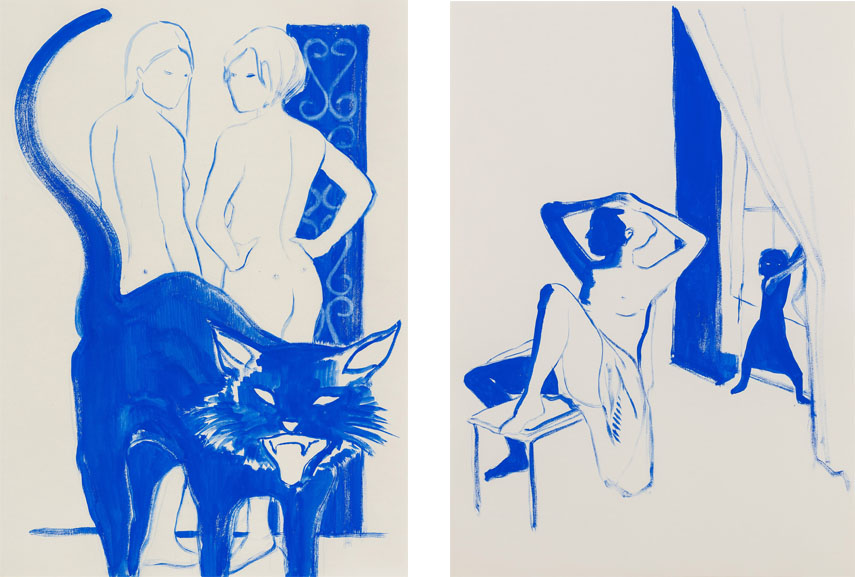 From Pierre Bonnard to Manet
Art history is too voluptuously filled of similar imagery for Brice not to be tempted to borrow some. In particular, in these gouaches there is a clear attraction to those artists that, roughly at the end of the 19th century, unapologetically started to depict female nudes in the banality of their everyday lives. From the young women in tubs by Pierre Bonnard and Edgar Degas to Toulouse Lautrec's clumsy prostitutes, Brice revisits the catalogues of gestures and affectations, also quoting quite literally fragments from Balthus and Manet.
What might have turned into a pretentious and anachronistic exercise becomes instead a smart act of self-reflection on the language and the tropes of painting. If Brice's blue figures recall the typically modernist dynamics of power between models and artists, their substance lay somewhere else: in the subversive act of presenting these nudes to a public that is today extremely aware of racial and gender roles and self-presentation through social media.
Featured images: Exhibition View, Lisa Brice @ Stephen Friedman Gallery, San Francisco, 2017. Courtesy the artist and Stephen Friedman Gallery.