Love Lock: The Cycle of Violence
An American artist whose expression is large influenced by prison iconography, Jesse Hazelip, is having a solo exhibition titled Love Lock: The Cycle of Violence at Jonathan LeVine Gallery in New York. The opening is scheduled for January 11, and the show will run through February 18, 2014. This exhibit will present all new works created by Hazelip, and it is his first solo show in New York. The limited edition two-color screen print will be released and available for purchase during the opening evening. The show will include a large installation by Hazelip, built on site out of plexiglass, which alludes to the confining nature of a jail cell by adopting the exact same measurements of a solitary prison unit, which are six by nine feet. The artist will occupy this improvised cell at the opening reception, and his fellow visual artist and musician, Bianca Casady of CocoRosie will keep him company, in this installation based performance art piece.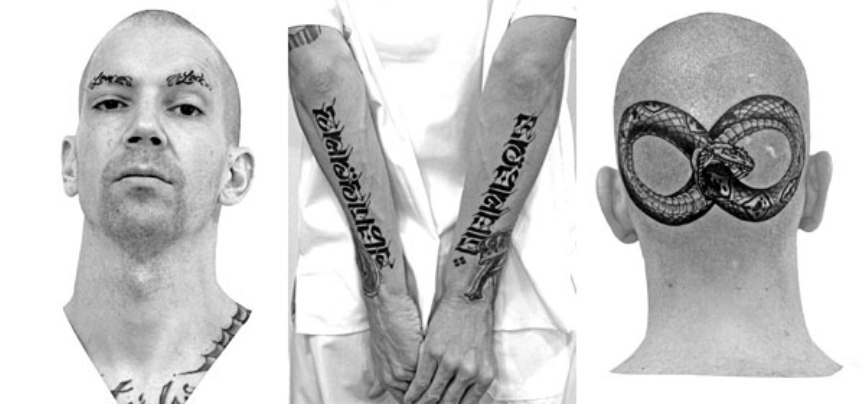 Jesse Hazelip – Tattoo
Prior to this exhibition, Jesse Hazelip has undergone extensive preparation, which delves into the realm of body art. He shaved his head and eyebrows in order to make room for three new tattoos designed to correspond conceptually with the show, all executed by tattoo artist Matthew Montleon. The back of Hazelip's head is now adorned with an elaborate image of ancient Ouroboros, which usually signifies the eternal cycles of nature, here represents the cycle of never ending violence that keeps happening within American prisons. His eyebrows are now lettered with exhibition title, Love Lock, which was inspired by a name of a detention complex situated in Nevada. The artist's forearms are now tattooed by a stylized writing that stated Nique la police, meaning Fuck the police when translated from French. This overtly political statement tattoo is readable when the position in which an arrested person or an inmate have when being handcuffed, with arms crossed on the back.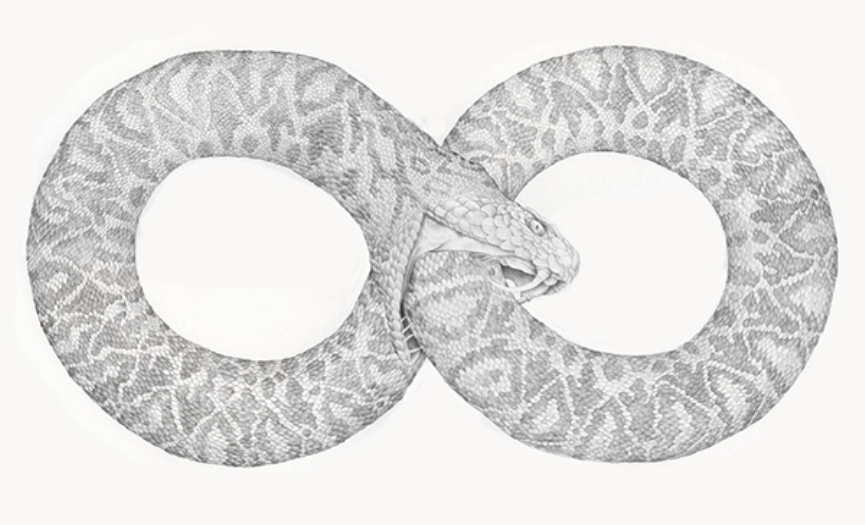 Jesse Hazelip – Artwork
Among the artwork showcased at the exhibition, scrimshawed bull sculled will be present, as well as Hazelip's mixed media works on wood found in a deserted prison, along with ink study drawings on paper. There are some works produced in collaboration with an artist's friend who is currently imprisoned, James Allison. Principal subject of Jesse Hazelip's art is the exposure and exploration of corruption and violent practices present in the American prisons. His animal characters are personified with according insignia in order to put an emphasis on the abusive labor procedures and discrimination within jail circumstances.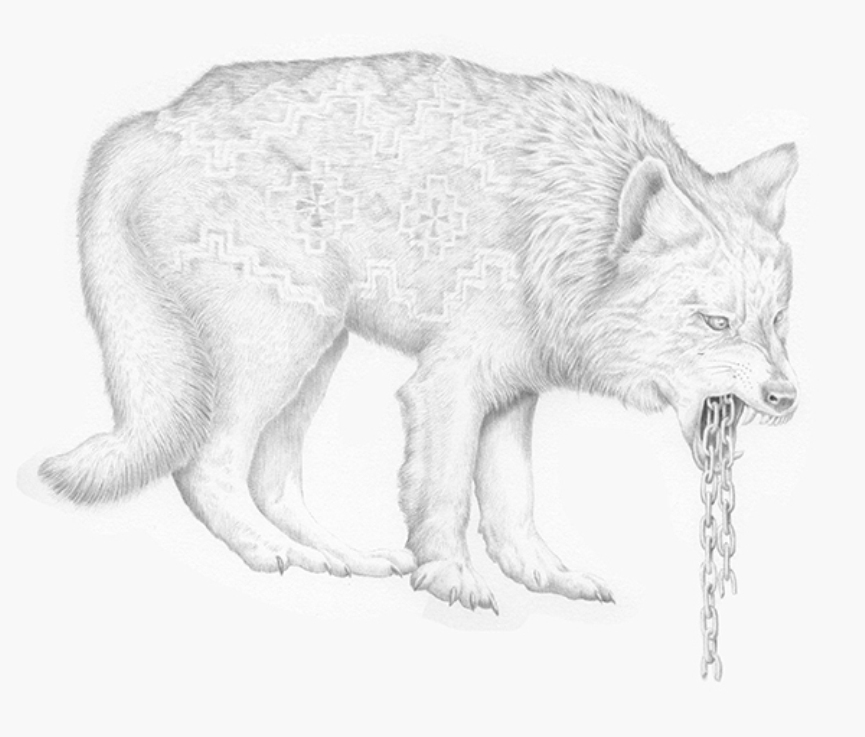 The Wolf
The image of wolf is a symbol of collective mental state of a pack commonly encountered among inmates, that often choose to join various selective groups or gangs in order to gain protection, receive certain status on the confined premises and ultimately – to survive. Highly critical of a prison system, the artist portrays it as a vulture preying on the weak and the underprivileged. A 36 year old artist, Jesse Hazelip, was born in Colorado and at early teens he moved to California. This is when he first started writing graffiti. Working on his street art for so long, he perfected his drawing, style and individual expression, and created an elaborate signature imagery drawn from the history of his native state, infused with Native American symbolism.
Follow These Galleries
Jersey City, United States

Portland, United States