Turner Prize-Winning Lubaina Himid Debuts in a US Museum
In political terms, the 1980s were marked by the presence of the British prime minister Margaret Thatcher and the American president Ronald Reagan. The two political figures imposed remarkable measures to straighten up the economies of their countries, as well as to maintain their leading roles in a broader geopolitical sense.
Although the discourses of the two leaders sounded promising, the reality was not. In the UK, the growing social tensions were mostly characterized by the racial issues so it is not strange that a large number of socially aware artists started gathering in groups in order to criticize the racialism inbuilt in the institutions, which was even more enforced by the class discrepancies caused by Thatcher's neo-liberalist government.
The most prolific was BLK Art Group formed in 1982 by four influential conceptual artists (Keith Piper, Marlene Smith, Eddie Chambers, and Donald Rodney), which had a great influence on others such as the renowned Turner Prize-winning artist Lubaina Himid. In general, her entire painterly based practice is embedded in a critique of colonialism and its lasting effects, as well as to the preservation of the invisible histories of the British African-Caribbean community.
This month, the New Museum will display new works made by the artist, and this exhibition will be Himid's first solo museum show in the United States.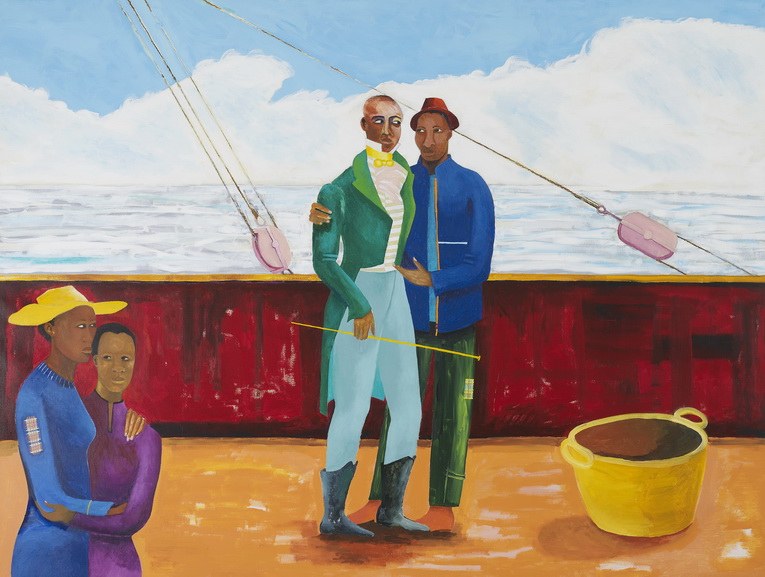 The Engaged Practice of Lubaina Himid
This highly regarded artist is best known for making visible the histories of marginalized communities; by using different media (spanning from painting, over the sculpture to textile and sound), Himid critically articulates the invisibility of people of color in a public sphere. By employing vibrant coloring and various other cultural signifiers of her community, the artist examines the complex mechanisms of segregation.
Himid often cities notable authors such as Audre Lorde, Essex Hemphill, or James Baldwin, or underlines static and idyllic compositions with commands and instructions.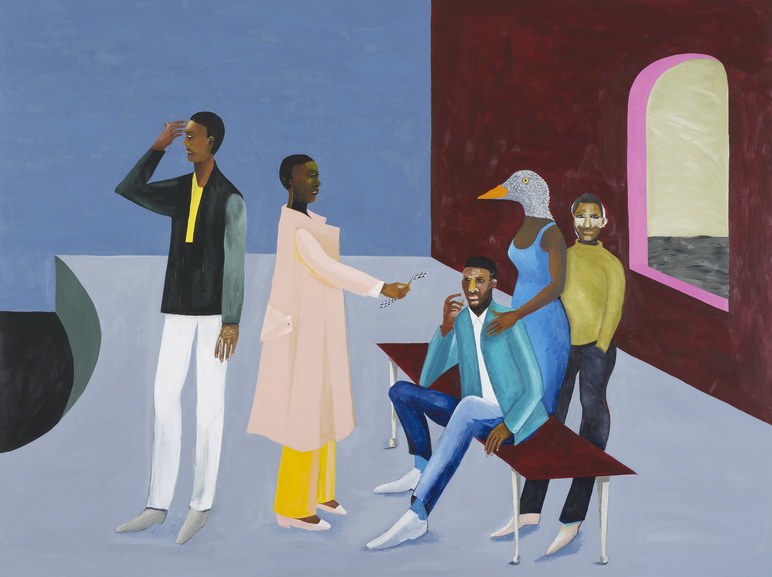 The Selection of Works
Here it is important to state that the exhibition's title refers to discourse of health and safety manuals, yet it operates as a cynical and therefore subversive statement. The shown works on display will explore the tension between fragility and instability or danger and safety present in the contemporary public sphere.
The installment will include recently produced paintings, sculptures, and sound pieces. The central work will be a large scale wall installation titled Old Boat / New Money (2019) consisting of thirty-two painted wooden planks aimed to tackle the invisible legacies of colonial exploitation. It will be extended by a new sound work the artist made in collaboration with Magda Stawarska-Beavan, evoking maritime sounds.
On display will also be nine new paintings on metal featuring various tools; these works were inspired by the designs of East African textiles and are playing an homage to the poetics of health and safety manuals offering instructions for survival. Another sound piece of the artist's spoken thoughts contrasted with a soundscape of tools will be installed in the gallery's stairwell.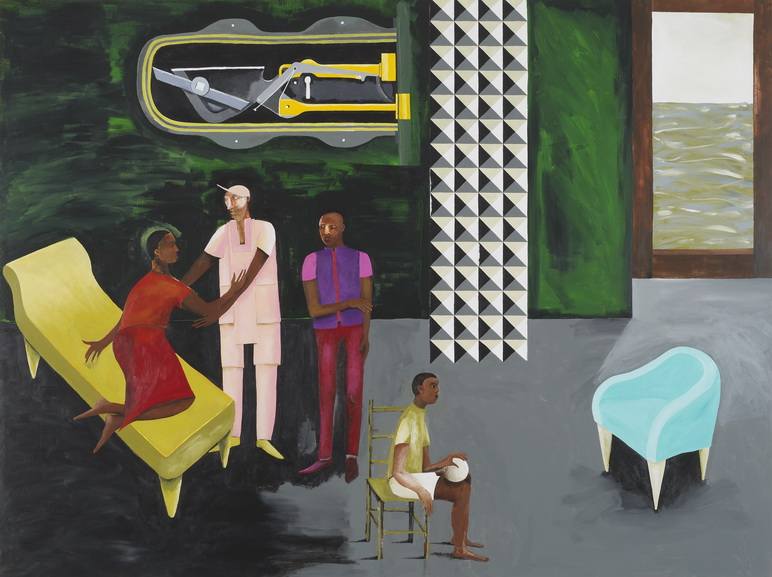 Lubaina Himid at the New Museum
The upcoming exhibition will be accompanied by a fully illustrated catalog consisting of the interview with Himid, conducted by Natalie Bell, the exhibition curator, as well as newly commissioned essays written by Jessica Bell Brown and Fred Moten.
Lubaina Himid: Work from Underneath will be on view at the New Museum in New York from 28 June until 6 October 2019.
Featured images: Lubaina Himid – Why Are You Looking…, 2018. Acrylic on paper, 28 3/8 x 40 1/8 in (72 x 102 cm). Photo: Gavin Renshaw; Lubaina Himid – There Could Be an Endless Ocean, 2018. Acrylic on paper, 28 3/8 x 40 1/8 in (72 x 102 cm). Photo: Gavin Renshaw; Lubaina Himid – Tenderness Only We Can Bear, 2018. Acrylic on paper, 28 3/8 x 40 1/8 in (72 x 102 cm). Photo: Gavin Renshaw. All images are courtesy of the artist and Hollybush Gardens.