Ludo Presents 10 New Artworks and Tattoo Designs in Amsterdam!
Marking the long-awaited return to Amsterdam, the Paris-based artist Ludo will be presenting work at The Garage where a new exhibition of his artwork will be held alongside an accompanying tattoo parlor. The show is titled The Ten Commitments and it will focus on his interpretations of why we make promises, both to ourselves and others. The work of Ludo (Ludovic Vernhet) is often referred to as Nature's Revenge as it explores a world where biotechnological beings merge with plants and animals, a blending that offers some amazing visual results. Through these hybrid organisms, the artist wishes to reveal the opposites that cohabit our world. Aside from being recognized for his stunning creatures, Ludo's art is also instantly recognizable for its signature style of black, white and neon green.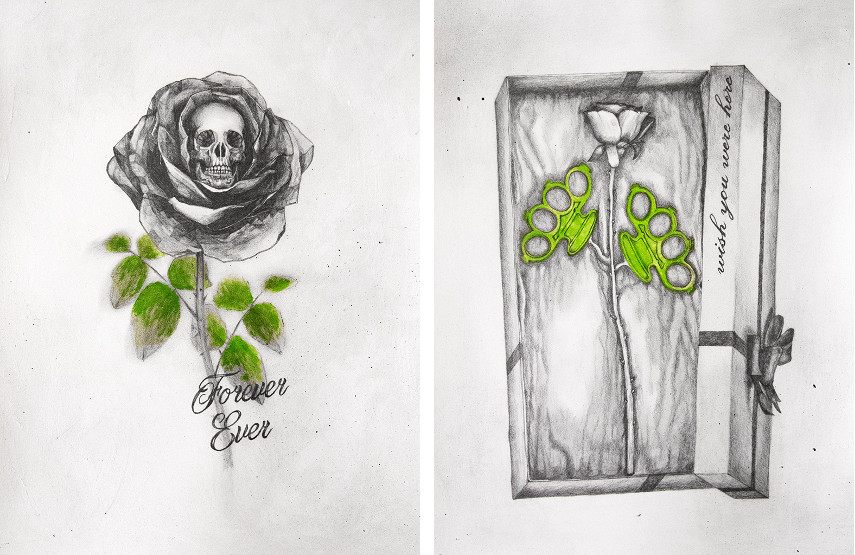 The Ten Commitments
The Ten Commitments will present ten new artworks and ten tattoo designs all somehow connected to the inner life of humans beings interpreted through the idea of divine laws. For this particular series, Ludo was inspired by the fact he regularly meets people with a diverse range of wishes and dreams, yet a vast majority of them never attempt to commit to their goals, instead allowing them to linger on as their lives pass before their eyes. Taking the rose as its central emblem, The Ten Commitments relies on this iconic symbol to explore the promises we make to ourselves and those around us. Ludo has a very simple yet effective message that he wishes to turn into a leitmotif of the show: "Be happy, be depressed, be romantic, be naughty, be rich… at least go for it! Life is short and there will be enough time to remorse in our graves."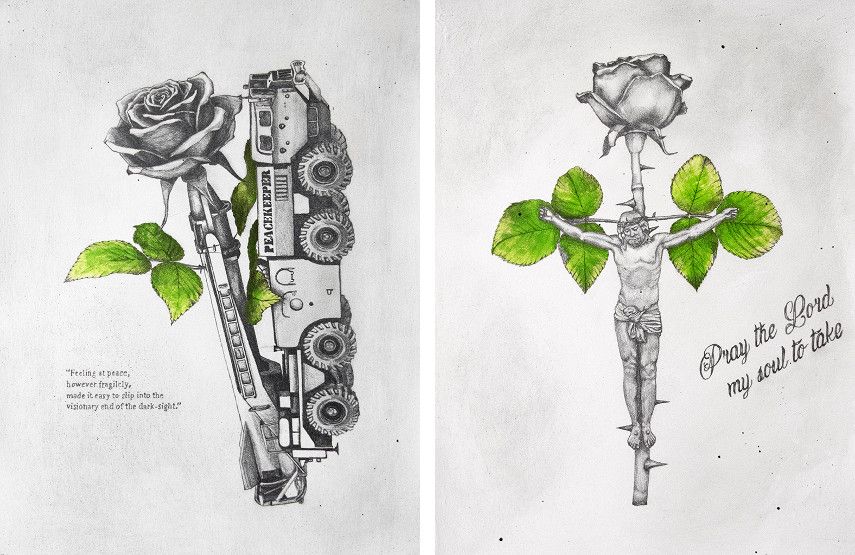 A Tattoo Opportunity
Gathered around the roses, everything that can be found in The Ten Commitments treats the iconic flower as a central theme. Soldiers at Iwo Jima are raising it from the ground, snakes curl around them, Christian symbolism is adapted to the roses, an atomic blast is placed on top of a flower, etc. Ludo did a great job of incorporating roses into such compositions and really deserves a respectful nod for his creativity. However, The Ten Commitments show will be taking things a bit further than simply basking in the visuals of Ludo's art – the exhibition will provide a chance to get a tattoo from the Paris-based artist himself. Once you choose one of the prepared designs, tattoos will be created with black ink and uniquely finished with Ludo's signature green. It will be a personal reminder to go for it, following in the spirit of The Ten Commitments show.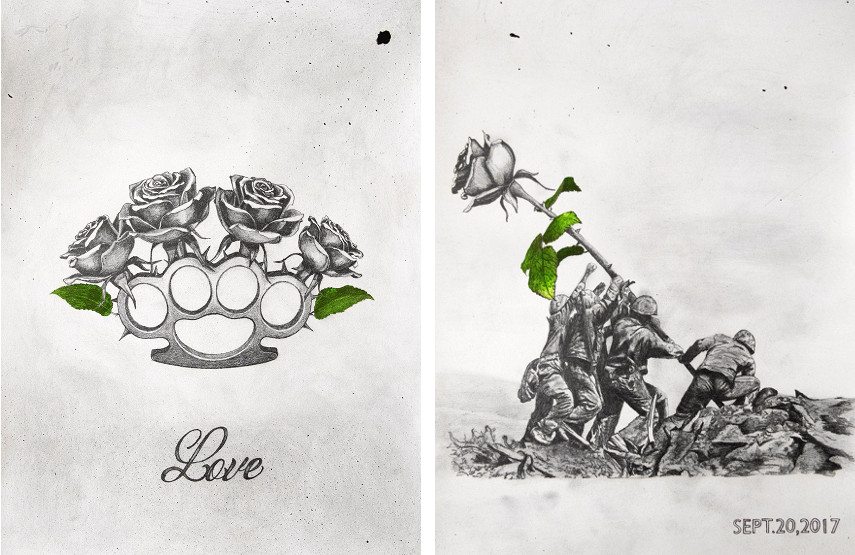 Ludo Art Exhibition at The Garage
Ludo's latest Amsterdam exhibition will be a unique show offering a new series of his works that you can place on the wall or onto your body, depending on how far you're willing to commit. The Ten Commitments will take place between the October 13th and October 15th 2017 at The Garage in Amsterdam, The Netherlands. Tattoo appointments will be available throughout this time.
Featured images: Ludo – In Greed We Trust, 2017. Pencil & Oil Paint on 300gsm Arches Paper, 41 x 31 cm (detail); Fall Rise Part I & Fall Rise Part II, 2017/ Diptych, Pencil & Pencil & Oil Paint on 300gsm Arches Paper, each 41 x 31 cm; Portrait of Ludo, Photo by Søren Solkær. All images courtesy of The Garage.
Follow These Galleries
Amsterdam, Netherlands

Paris, France

London, United Kingdom