Luftwerk and Kate Joyce Exhibit at Matthew Rachman Gallery in Chicago
INsite ONview is the title of the exhibition that has just opened at Matthew Rachman Gallery in Chicago, Illinois. The visitors of the show will have an opportunity to see artworks by Luftwerk and Kate Joyce. The whole exhibition is based on the installation by Luftwerk entitled INsite, from 2014, and photography of the same installation by Kate Joyce. This amazing mixture of Luftwerk's installation that examines the philosophy of architecture and space, and Joyce's photography, will be on view at Matthew Rachman Gallery. All the visitors will be able to enjoy in a truly unique show of a dynamic installation, and its documentation, interpretation and representation.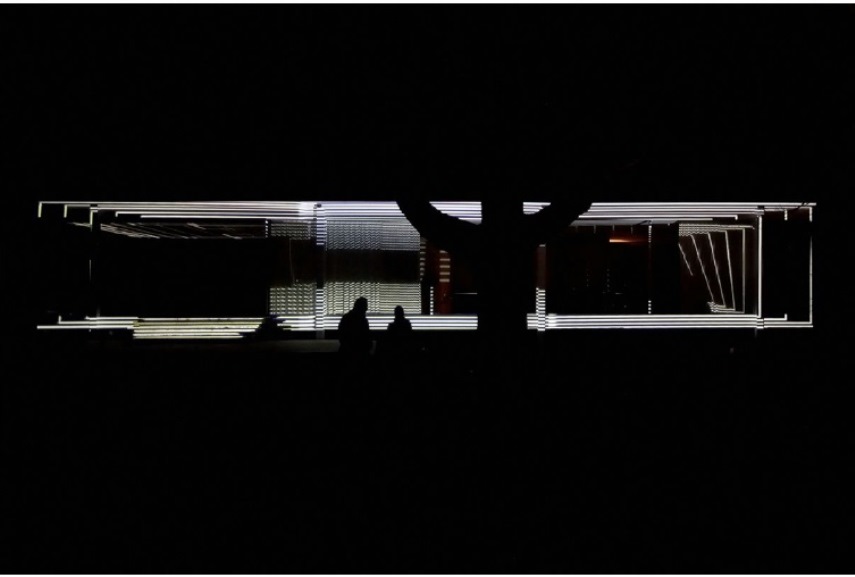 Luftwerk and Kate Joyce
Luftwerk is the artistic vision of Petra Bachmaier and Sean Gallero. Luftwerk's art practice focuses on the exploration of what makes a space a "place" and how art plays a vital role within urban and natural environments. With each individual project, Luftwerk discovers and accentuates the unique connections between architecture, environment and the communities which interact within these places, transforming their experiences of space and site through light and sound. Luftwerk had created immersive light art installations at landmarks such as the AT&T Plaza in Chicago's Millennium Park, Frank Lloyd Wright's Fallingwater in Pennsylvania, Mies van der Rohe's Farnsworth House in Illinois, and most recently Tampa's Kiley Garden. Luftwerk installations open new aesthetic conversations within public spaces and landmark structures, encouraging viewers to perceive the environment, histories, and concepts surrounding them. Kate Joyce is Chicago-based visual artist. She photographs the built environment and its connection to our lives (take a look at our article about the evolution of contemporary photography). Her work combines emotional awareness with attentiveness to geometry, story and rhythm. Joyce's work is in the collections of The Museum of New Mexico, the JPMorgan Chase Art Collection and Duke University Perkins Library Special Collections & Rare Archive.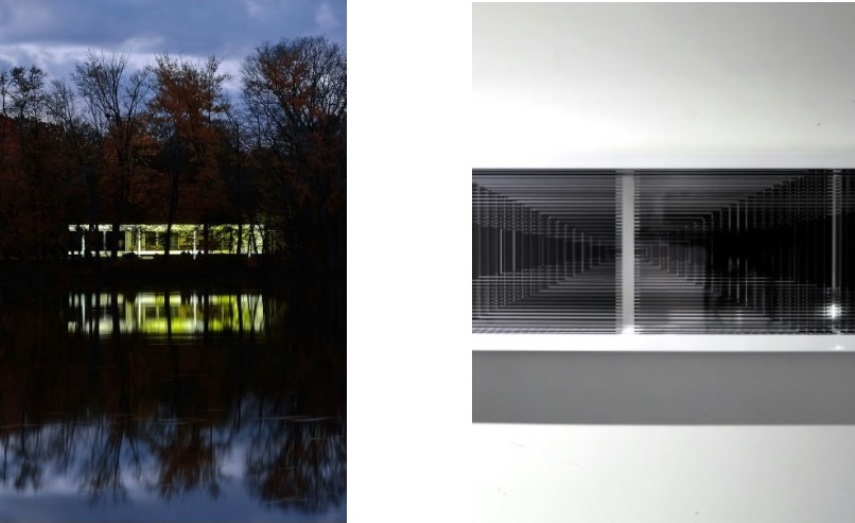 INsite ONview
Back in October, 2014, Lufwerk transformed Mies van der Rohe's historic Farnsworth House into a revelatory canvas of light and sound through their installation titled INsite, resulting in a reanimation of our understanding and appreciation of an iconic architectural space (if you like installation art, you might be interested in works by 2wenty or Andrei Molodkin). The four-night installation acted as an exploration into Mies van der Rohe's architectural philosophy through a dynamic display of light, video-mapped in such a way as to engage the structure of the house, the fluidity of its transparent glass walls, and the organic where natural form meets man's geometry. Kate Joyce made photographs of the installation, and these artworks (installation and photographs) will be exhibited at Matthew Rachman Gallery.
Luftwerk and Kate Joyce at Mathhew Rachman Gallery
The Matthew Rachman Gallery is presenting Insight ONview – an exhibition featuring artwork by Luftwerk and photography of the 2014 installation of INsite by Kate Joyce. INsight ONview is an exhibition of limited edition photographs and dynamic, kinetic ephemera based on the installation, its documentation, and further musings on the storied house. The exhibition has been opened on September 11, and will be on view until November 8. 2015, at Matthew Rachman Gallery in Chicago.
If you want to be informed about new development in the world of contemporary art, sign up for My Widewalls! It's free of charge!
Featured Image: Luftwerk – Reflection #3 , 2015, INsite video still, edition of five
All Images courtesy of Matthew Rachman Gallery.