Beautiful Crash by M-City
Fascinated by the modern urban panorama, M-City has even taken the moniker evoking his prime source of inspiration. His large scale murals exploit the vast wall surface by emphasizing its monumentality through rugged, angular, machine-like forms depicting various traits of the life of metropolis. Strong contrasts of his main palette allude to Russian Constructivism and its visualizations of the world, especially to Tatlin's Monument to the Third International, perhaps the most emblematic sign of the progressive utopism. Having painted numerous murals across the world, M-City, one of the most famous Polish street artists today, is moving on to Rome this month.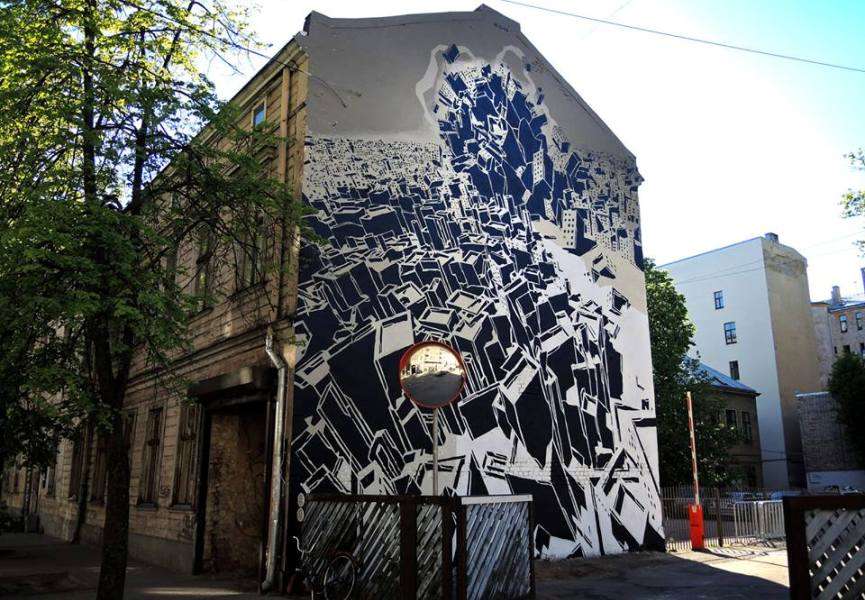 Political Muralist
Focusing on the city itself, as the key character of his huge narratives, M-City depicts countless variations on the story of urban evolution. This Polish artist is predominantly inspired by two ideas, video games, and geopolitically related problematics, where the geographical motives art influential in certain political actions. By marrying these two concepts, M-City conjures a simulacrum of our present, pertinent to every city he's been painting in.
Postindustrial Landscape
Roman exhibition by M-City is entitled Beautiful Crash, hosted by the Varsi Gallery, and curated by Marta Gargiulo. The works to be showcased are consistent with the pictorial expression of the artist, depicting views of factories, bridges, tunnels, chimneys, roofs, courts. Heavy, industrial iconography typical of the artist's oeuvre actually originates from the very views he was subject to as a child, looking onto the electrical plant in his hometown, which polluted the whole neighborhood with a layer of thick smoke coming out of it tall, imposing chimneys. The personal level of the story is contained in the fact the artist's father used to work in the said plant, and the little Marius (Marius Waras is the real name of the artist) visited it often as a child. M-City does not stop at mere repetition of visuals, but adds elements of imagination, science fiction or possible future.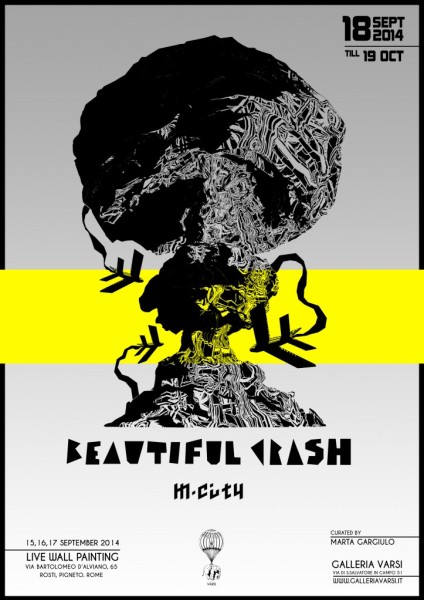 Beautiful Crash Exhibition
Structure and organization of the plant thus made an unerasable visual imprint into the artist's mind, definitively influencing his entire body of work. Another layer of inspiration came from PC video games graphics, angular and simplified, of simple, clear, basic colors. Building on the two ideas that affected him the most, M-City created a vast collection of murals and studio work, created with stencils, for the precision and size, as his style has evolved into a more colored area, from the largely black and white sphere it dwelled in earlier. Postindustrial landscape of our reality, even if invisible, is according to M-City intrinsic to every systematically planned urban area.
M-City is a global muralist and he took part in some of the major events such as painting of the street in Gdansk, Street Art Festival in New Delhi, Nuart Fesival and, more recently, Djerbahood, to mention only a few.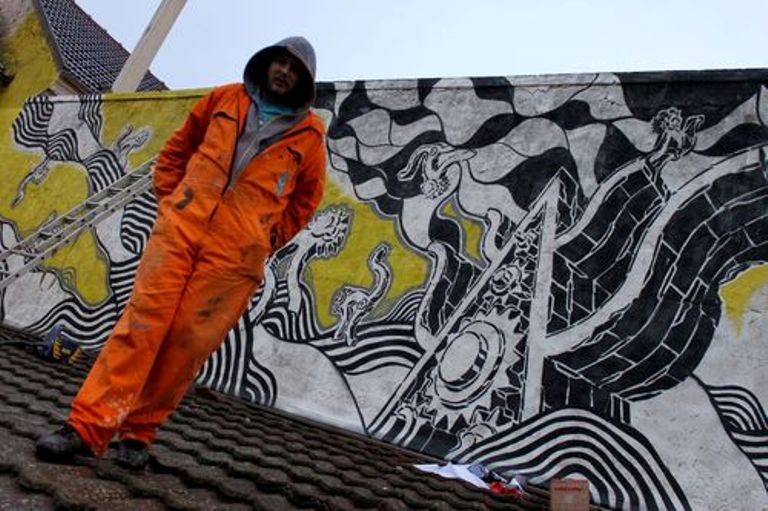 In addition to exhibiting his latest artwork at Varsi Gallery, M-City will be painting the wall in an area of Rome called Pigneto on 65 Via Bartolomeo D'Alviano, joining a greater urban reparation project, allowing the lucky locals to see him paint, from September 15 to 17, 2014.Beautiful Crash is scheduled to open on September 18 at Galeria Varsi in Rome, running through October 19, 2014.

[mc4wp_form]