Artist of the Week - Mademoiselle Maurice
In Japan, there's a legend that a wish will come true if you make a thousand origami cranes. We don't really know how many things Mademoiselle Maurice wished for, but some of those must have come true by now. The remarkable French street artist makes street art out of folded paper. It sounds quite simple, and at its core it is, but when you take a look at the size of those tiny papers and the delicacy with which they are treated, the intricate nature of her projects starts to show. She uses the traditional Japanese origami technique to modify small segments of paper, and then puts them together to draw bigger pictures. The beautiful clusters of colorful paper brighten up the walls all around the world, and make the grey and the concrete serve as background for her works of art. When you take a look at these astounding murals (to call them so, since they are perhaps closer to being public installations), you see that they consist of hundreds, sometimes thousands of pieces of paper. And what's interesting is that Mademoiselle Maurice was self-taught: she used a book to learn how to fold paper! Practice obviously makes perfect, and today she is a master at what she's doing. We can only sit back and enjoy the lovely creations that she makes. Luckily, they come to galleries too!
Origami and Embroidery in Street Art
Comparing visual arts to poetry sometimes sounds pretentious, and yet in this case it is completely appropriate. Let's try to be bold, and refer to Mademoiselle Maurice's style as girly. What does a girly girl do in the world of street art? She plays with the possible notions of lace, embroidery and origami, but not in a very usual way. Mademoiselle Maurice uses five different designs: the bird, the crane, the flower, the boat and the wind (which are elements typical for origami). This is her visual language, and depending on the size of the working surface, she usually uses between 800 and 1500 elements. It sounds, and looks, like a lot of serious effort. But let's talk about practical issues – isn't paper a fragile material, easily transformed and wiped out by the rain? On that matter, the artist says that her intention is to make ephemeral pieces of art. As a result, she doesn't allow herself to take everything too seriously. In art, just like in life, most of the things are constantly changing and lasting for a short period of time. She also says that she often recycles pieces of her work, and uses them to complete other installations. In the end, the thing that matters the most is the way that people receive these visual fairy-tales, and how she manages to touch people. The way that she approaches the public is always undoubtedly positive.
Rainbow Spectrum comes to Galerie Mathgoth Paris
Mademoiselle Maurice has a very interesting show prepared for us, and it is opening tomorrow, at Galerie Mathgoth in Paris. This date is important to Mademoiselle Maurice, in terms of her relationship with Japan, which played an important role in her life. Five years ago, on this exact date, a tsunami struck the city of Fukushima and had terrible consequences which left the whole planet speechless and devastated. In a symbolic manner, the upcoming exhibition reflects on Japan through various modes. The audience will have an opportunity to see much of Mademoiselle's work, through photographs, models and sketches, but also through site-specific installations. One of the most important messages that she is trying to send is a reminder to reconsider our closeness to nature. Therefore, she speaks about the aboriginals, who live in such perfect harmony with their natural surrounding. Mademoiselle Maurice deploys geometric shapes and vivid colors to contrast their balanced world with ours, which is saturated with industrial heritage and ignorance towards nature. Get to know about the origami birds, who are free, just like the aboriginals, and see more of the French artist's beautiful works in her Rainbow Mutant Nation exhibition in Paris. It will be on view from tomorrow, March 11th.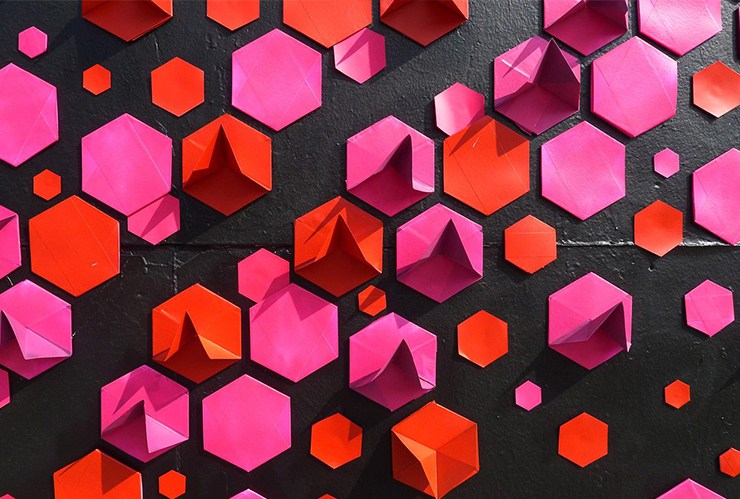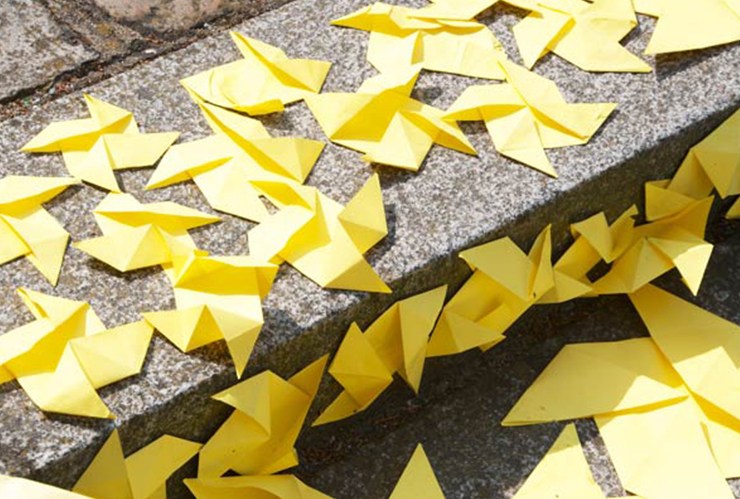 Mademoiselle Maurice Origami Street Art
Featured images in main slider: Mademoiselle Maurice, portrait, via o.nouvelobs; Mademoiselle Maurice for ARTAQ Festival, 2013. © HUGUENIN Thierry; Mademoiselle Maurice – Nuit Blanche. All images used for illustrative purposes only.