[caption id="attachment_354701" align="alignright" width="445"]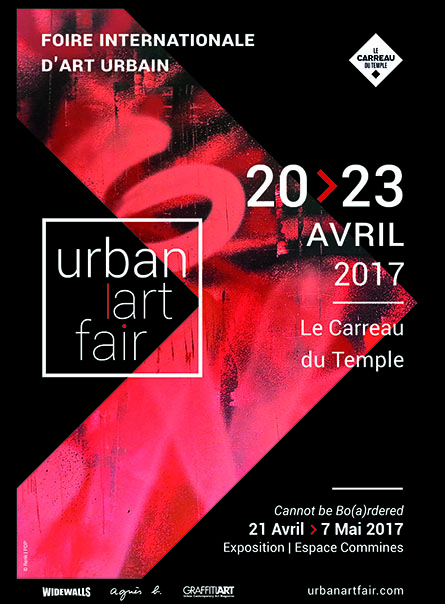 Urban Art Fair Paris 2017[/caption]
Widewalls LIVE at the 2017 Urban Art Fair in Paris
After a very successful debut last year in Paris,
Urban Art Fair
returns even stronger this April! Gathering
over thirty French and international galleries
specializing in today's most exciting art movement, the event will take place at
L'Espace Commines
. Last year, it attracted more than
20,000 visitors
and was deemed
a huge success
by critics, buyers, sellers and the public. Among the exhibitors, we have returning galleries such as Galleries Bartoux, Galerie Brugier-Rigail, David Pluskwa Art Contemporain, Green Flowers Art, Joël Knafo Art, PDP Gallery, Vroom & Varossieau, Urban Spree and Urban Art Gallery; while the newcomers include Pretty Portal, Galerie Mathgoth, Galerie Openspace and Galerie Géraldine Zberro, among others. There is no doubt that Urban Art Fair will once again bring the most renowned names today, including
Cope2, Toxic, Seth, Erell, Bault, Popay, Quick, London Police, Cranio, Banksy, Keith Haring, Obey, Nowart, Monkey Bird
and many more...  
Urban Art Fair Paris 2017 - Better than Ever
Apart from the numerous artists exhibited through group works, installations, solo shows and original collaborations, such as four hand pieces by Zenoy and Blek le Rat exhibited by Galerie Ange Basso, Urban Art Fair will also offer a rich accompanying program. A novelty of the 2017 edition includes
Graffiti Art Cover Collection
, an exhibition organized in partnership with Graffiti Art Magazine which will present around ten iconic pieces that were on the cover of this publication.
A cycle of screenings around urban art history
will take place from the 21st to the 22nd of April in the Auditorium of Le Carreau du Temple: from the beginning of the graffiti in NYC to contemporary muralism. Every projection (free entrance) will start with an introduction by art historian Christian Omodeo and will be followed by a conversation. Finally, the
Cannot be Bo(a)rdered free exhibition
, lasting from April 21st through May 7th, 2017, will welcome visitors in L'Espace Commines. Using skateboards as a main medium, it explores popular subcultures through the works by thirty artists and collectives from Singapore, Malaysia and Indonesia. French artists will be invited to collaborate and enrich this exhibition.  
The 2nd Edition of Urban Art Fair takes place from April 20th through 23rd, 2017 in Paris.