With annual editions in London, New York and Marrakech, 1-54 is the leading international art fair dedicated to contemporary art from Africa and its diaspora. Initiated in 2013 by Touria El Glaoui, it draws reference to the fifty-four countries that constitute the African continent, initiating contemporary dialogue and exchange.
Inaugurated in February 2018, the Marrakech edition broadened the reach of the fair and further diversified its portfolio of exhibiting and promoting gallerists and artists that are connected to Africa. The fair is coming back to Marrakech this February for its second edition, bringing together 18 international galleries coming from 11 countries. Taking place in a city which is home to one of the continent's most dynamic arts scenes, 1-54 Marrakech 2019 aims to build on its creative energy fostered by its artists, galleries and institutions.
In addition to the rich gallery program, the fair will present the 1-54 FORUM talks programme as well as a program of Special Projects.
Mrs El Glaoui, Founding Director of the Fair, commented:
We are thrilled to be returning to Marrakech for the second year with such a strong line-up of both new galleries and old friends. It's an exciting moment to form deeper connections to this culturally rich city and give visitors a great insight into its thriving art scene.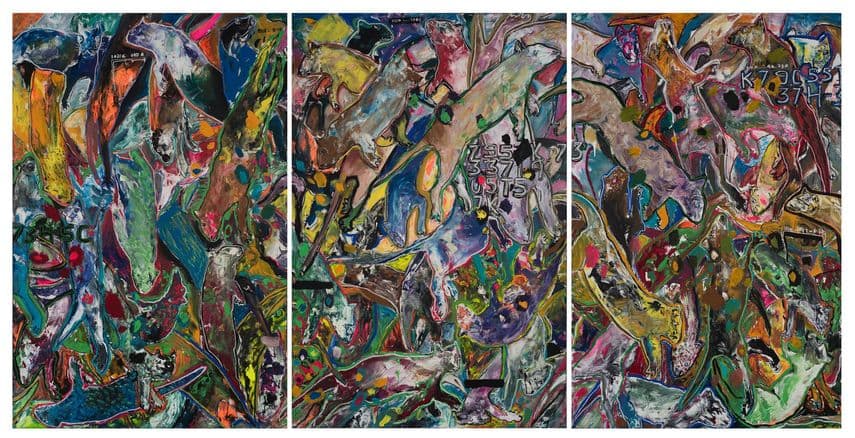 1-54 Contemporary African Art Fair Marrakech Exhibitors
For its second edition, 1-54 Marrakech will welcome 18 leading galleries from Côte d'Ivoire, Denmark, France, Germany, Italy, Morocco, Nigeria, Senegal, South Africa, the United Kingdom, and the United States which will present 65 artists coming from Algeria, Angola, Belgium, Benin, Burkina Faso, Canada, Côte d'Ivoire, Democratic Republic of the Congo, Egypt, France, Germany, Iran, Italy, Mali, Morocco, Nigeria, the Netherlands, Senegal, South Africa, Sudan, Trinidad, Tunisia, the United Kingdom and the United States.
The selection includes seven galleries from Africa: Galerie Cécile Fakhoury from Abidjan, Côte d'Ivoire and Dakar, Senegal, providing a new take on the creativity and outstanding artistic diversity in West Africa; Goodman Gallery from Johannesburg and Cape Town, South Africa, working with artists who are at once contemporary, influential and strive to shift perspectives and engender social transformation; L'Atelier 21 from Casablanca, Morocco, a space dedicated to plastic arts; Loft Art Gallery from Casablanca, Morocco, representing the biggest names in local modern art while supporting very promising contemporary artists; LouiSimone Guirandou Gallery from Abidjan, Côte d'Ivoire, an unavoidable place of artistic emulation; and newcomer galleries Retro Africa from Abuja, Nigeria, a community of art enthusiasts, curators and collectors; and Siniya28 from Marrakech, Morocco. There will be five more newcomer galleries: Galerie Nathalie Obadia from Paris, France and Brussels, Belgium; Galerie Poggi from Paris, France; Goodman Gallery from Johannesburg and Cape Town, South Africa; In Situ - fabienne leclerc from Paris, France; and Katharina Maria Raab from Berlin, Germany.
The List of Exhibitors
1-54 FORUM
The fair's extensive talks and events program, 1-54 FORUM, will present artist talks and panel discussions with international curators, artists and cultural producers. In addition to the program at La Mamounia, it will host sessions around the city at ESAV, Musée Yves Saint Laurent Marrakech and Le 18, a multidisciplinary art space.
Titled Let's Play Something Let's Play Anything Let's Play, it will be curated for the first time by art historian and curator Karima Boudou. This year's edition will take the life and work of African American Surrealist, painter, jazz musician and poet Ted Joans as its point of departure, providing a rich ground to discuss the intertwined narratives of surrealism in Africa and its diaspora.
Karima Boudou explained that the FORUM will "delve into the extensive participation of artists, poets, musicians and filmmakers of African descent in the international surrealist movement, both past and present."
I am looking forward to continuing 1-54 FORUM's legacy as a space for testing ideas and sharing urgent debates within and outside the cultural field.
Program highlights include a conversation on Ted Joans' relationship with surrealism by lecturer Joanna Pawlik; an introduction to poets Tchicaya U Tam'si and M'barek Ben Zida; screenings of work by filmmakers Kara Walker and Louis Van Gasteren; panel discussions on sound and archives within the Netherlands' jazz history in the context of Morocco; talks on Maghrebian Surrealism and the Surrealist movement in Egypt; an artist talk with digital illustrator and artist Vince Fraser.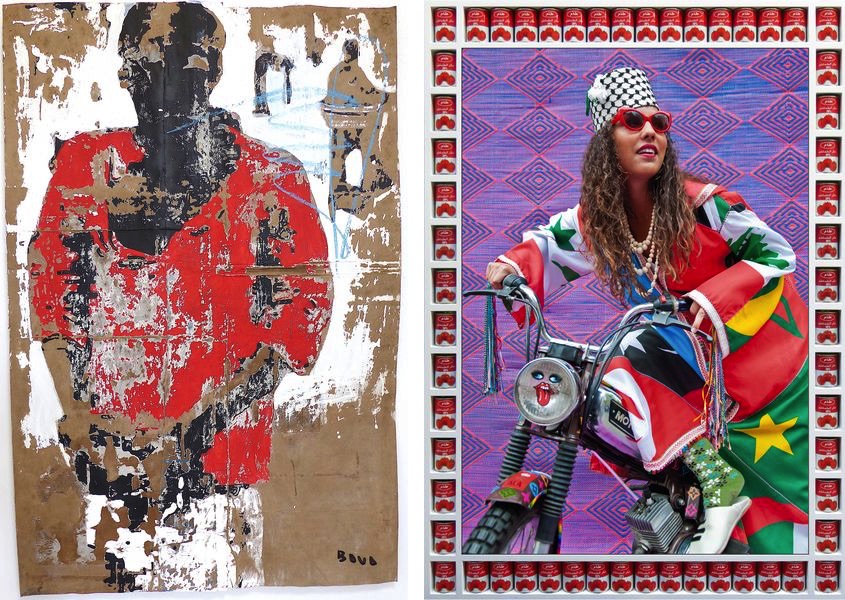 Special Projects
1-54 Marrakech will partner with institutions at the forefront of the Moroccan art scene for the Marrakech Special Projects program.
The Musée Yves Saint Laurent Marrakech will present the first exhibition of renowned American artist Brice Marden in Marrakech, a city he discovered many years ago and one in which he continues to regularly visit and work in. Taking place across the patio of Dar Moulay Ali, Perspective de séduction, commissioned by L'Institut Français de Marrakech, will be a new site-specific installation by Beirut-based artist Amine El Gotaibi. Coinciding with the fair, DADA will launch a new exhibition space dedicated to contemporary practices, presenting an installation by the Nigerian artist Emeka Ogboh, LOS – RAK. The exhibition Material Insanity at the Museum of Contemporary African Art Al Maaden will showcase some of the most exciting artists currently working on the continent and its diaspora.
In the Salon de Thé at La Mamounia, L'Atelier 21 will present a selection of works by Moroccan artist Saâd Ben Cheffaj, one of the founders of modern painting in Morocco. Montresso* Art Foundation, an artist residency and art space based in Marrakech, will present its second edition of IN-DISCIPLINE, an itinerant support programme dedicated to creation and diffusion, while Comptoir des Mines Galerie will present two projects, African Poetries and Hybridizations, across two locations in the city.
The Location of 1-54 Marrakech 2019
Practical Information
1-54 Marrakech 2019 will take place at La Mamounia from February 23rd to February 24th, 2019. The VIP Preview will take place on Thursday, February 21st from 10:30 a.m. to 6 p.m. and on Friday, February 22nd, from 10:30 a.m. to 6 p.m., while the Press Preview will be held on Thursday, February 21st, from 2 to 6 p.m.
The doors of the fair will be open to the public from 11 a.m. to 8 p.m. on Saturday and from 11 a.m. to 6 p.m. on Sunday. 1-54 Marrakech is free and open to all.
For more information, visit the official website of the fair.
1-54 Marrakech 2019 | Teaser
Featured image: Maurice Mbikayi - Facade 1, 2018. Courtesy the artist and Officine dell Imagine, Milan; Wonga Mancoba - untitled, 2012. Courtesy the artist and Galerie Mikael Andersen; William Kentridge - Drawing for The Head _ the Load (Twelve Birds), 2018. Courtesy the artist and Goodman Gallery; Dominique Zinkpe - Untitled, 2018. Courtesy the artist and In Situ - fabienne leclerc; Athi-Patra Ruga - ... A Vigil for Mayibuye (from the Exile series), 2015. Courtesy the artist and In Situ - fabienne leclerc. All images courtesy of 1-54 Marrakech.