When we talk about shocking art, we usually refer to artworks that managed to insult someone. Because the very nature of art, asking of artists to explore a great variety of topics, it is only inevitable that a part of them will deal with concepts like religion and sex. Others will shock simply because they're daring, brave, or because they like to push some buttons. Ever since Courbet's L'Origine du mode or Duchamp's Fontaine, the world witnessed many pieces of the arts which caused quite a stir, and when it comes to shocking Contemporary art, we can't not talk about the Sensation exhibition, which took place at the Royal Academy of Arts in London in autumn of 1997, before touring to Berlin and New York. With artworks on loan from Charles Saatchi's collection, the show was like the meeting point of everyone who had a lot of that "viewers discretion". The first four artworks you will see on our list of shocking art were exhibited in it, but they're only a part of it, so make sure you check all of them out.
Scroll down and get shocked by art.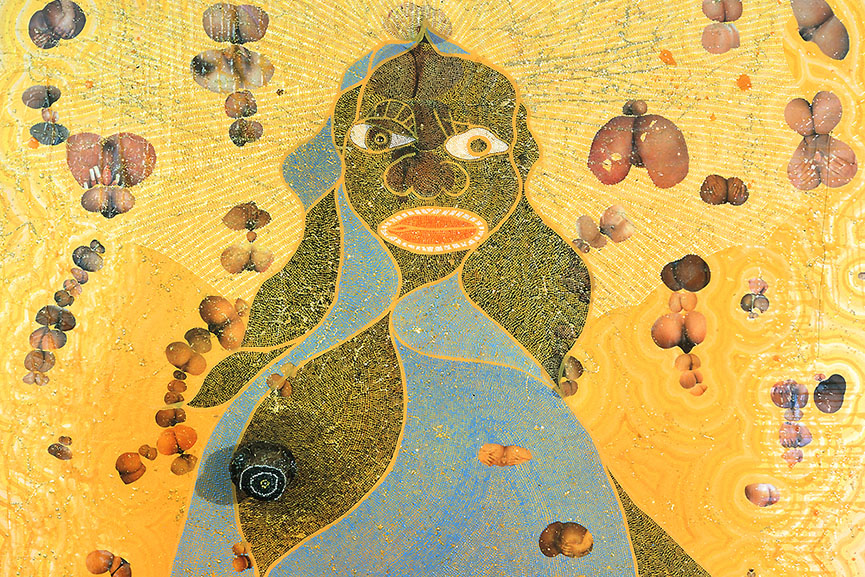 Chris Ofili - The Holy Virgin Mary
The first black artist to ever win the Turner prize in 1998, Chris Ofili can owe it all to his 1996 The Holy Virgin Mary. This large mixed-media painting depicts a black woman wearing clothes attributed to the Virgin Mary. Now, because depicting Madonna as black isn't enough, he also added an elephant dung, map pins and surrounded her with cut-outs from pornographic magazines, which are perhaps only notable once you really pay attention. Nevertheless, the shock that this work caused reached all the way to former US Secretary of State Hilary Clinton and then NYC mayor Rudy Giuliani, who called the painting "sick". Naturally, it was proclaimed "blasphemy", although the artwork actually draws attention to the degradation of black women in modern society. Chris Ofili has also described the painting as "a hip hop version" of the Virgin Mary.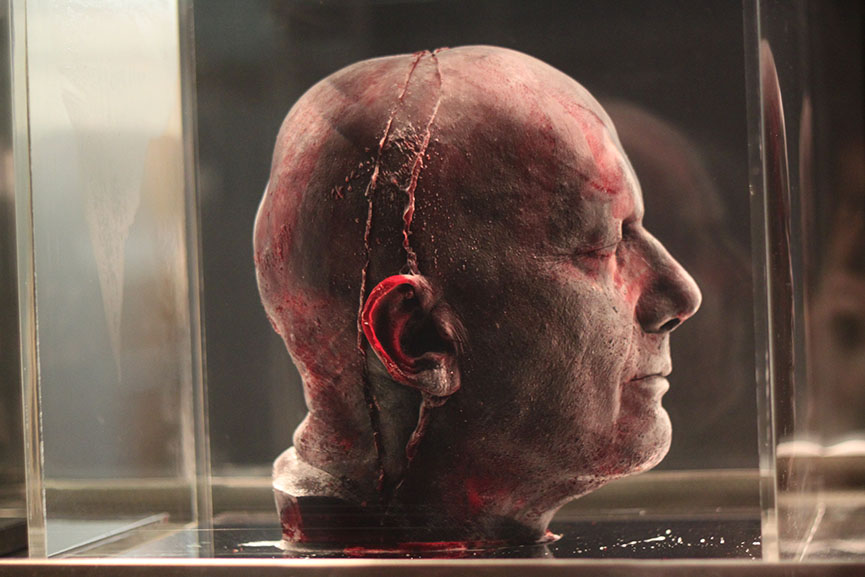 Marc Quinn - Self
Since 1991, every five years, Marc Quinn has been making a frozen sculpture of his own head, made of 4,5 litres (or nine pints) of his own blood, taken from his body over a period of five months. Kept in a special refrigeration unit, it serves as a record of the artist's own ageing process and physical deterioration. When it was first exhibited, shortly after creation, it caused gasps of repulsion and disgust, but if you don't know the art of Marc Quinn, which continuously deals with themes of life, death, immortality, longevity, and in a quite controversial manner too, then the surprise comes as no surprise. He is also known for using other unconventional materials for his works, such as ice and faeces. His pieces continue to sell more than well amid their shocking nature - or perhaps exactly because of it.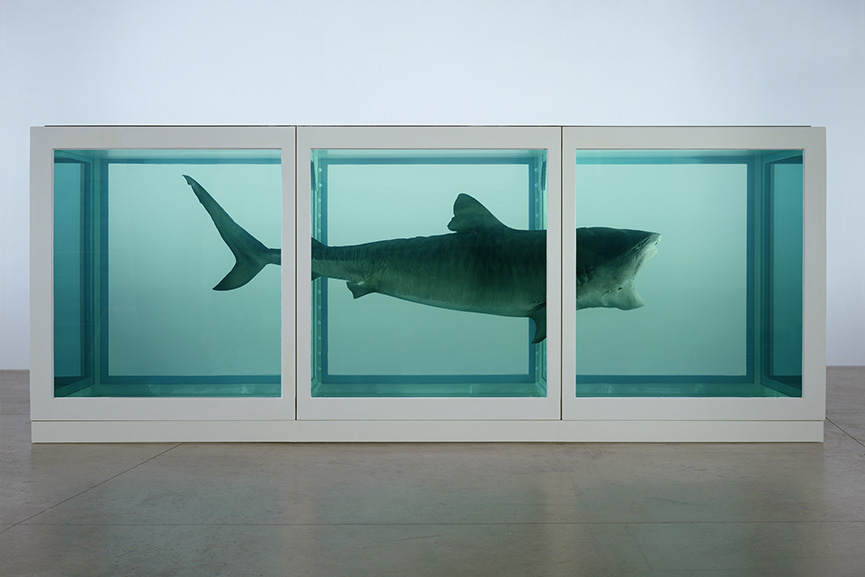 Damien Hirst - The Physical Impossibility of Death in the Mind of Someone Living
Now, among all the things that Damien Hirst did in his career, this could be the highlight. The 1991 piece The Physical Impossibility of Death in the Mind of Someone Living is a 4,3 meters (14-foot) long tiger shark preserved in a formaldehyde tank (due to deterioration, the original was replaced with a new specimen in 2006). Commissioned by Charles Saatchi in 1991, who wanted Damien Hirst to make whatever artwork he wanted, it cost more than $70,000 to produce, as the shark was caught in Australia by commission and, well, the chemical process is a rather great expense. The artist is known for his use of animals for artistic purposes, but this piece in particular had everyone wonder if defining art may have gone too far into delusion. I'm sure that, if you asked a Brit about it, they'd remember it as "that time a dead shark became art".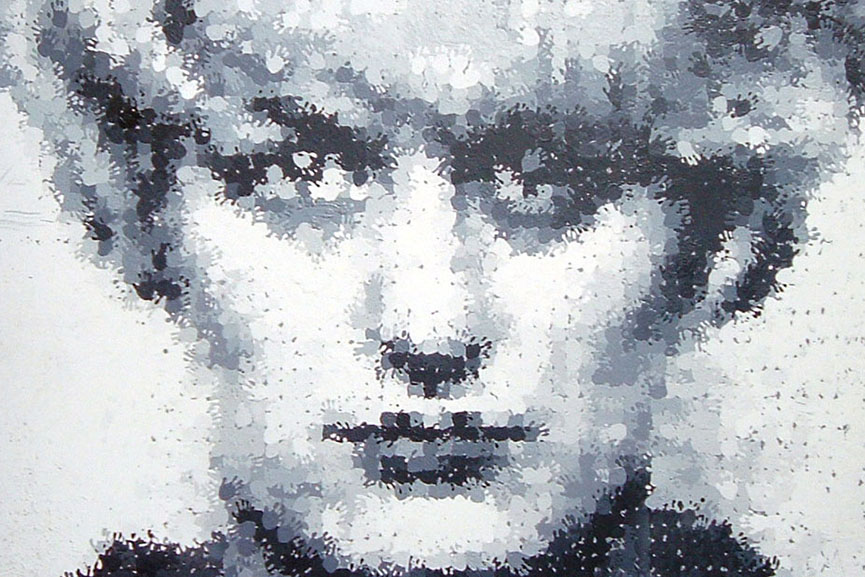 Marcus Harvey - Myra
It happens almost on a daily basis that a shocking news inspires the creation of a related, just as shocking artwork. That's what happened in 1995, when artist Marcus Harvey created Myra, a portrait of a child murderer Myra Hindley, who killed five children aged between 10 and 17 in 1963 and 1965. Maybe it wouldn't be so shocking if it weren't entirely made of children's handprints. During its exhibition at the Royal Academy of Art in London in 1997, the visitors were very angered by it, having thrown eggs and ink at it on the first day of the show. Even Myra Hindley herself was not happy about it. She wrote a letter from prison demanding that the artwork be removed, as it showed "a sole disregard" and insensitivity towards the families of child victims. Hence, Marcus Harvey's work was, to say the least, uncomfortable.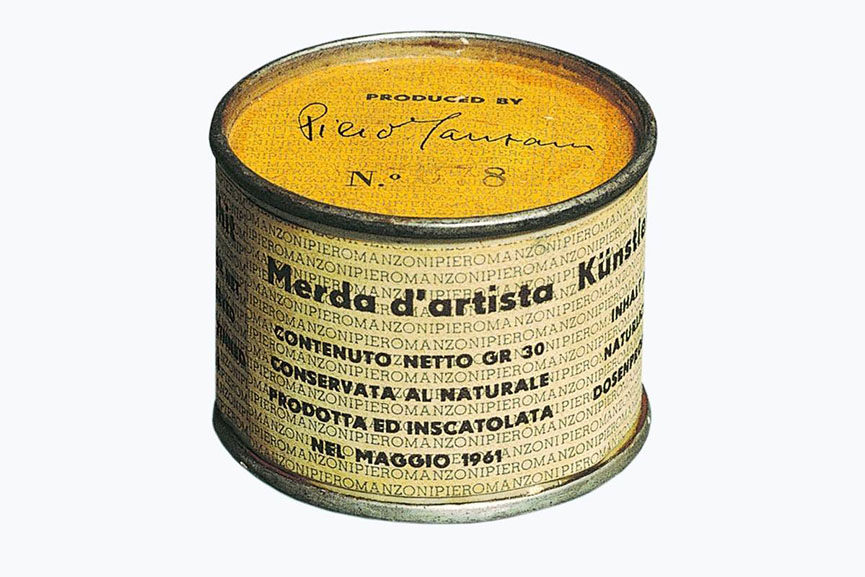 Piero Manzoni - Artist's Sh*t
When I say that Italian artist Piero Manzoni produced this piece of art in 1961, I mean it quite literally. Artist Sh*t is exactly what you think it is - 90 tin cans, each filled with 30 grams (1.1 oz) of faeces. "Freshly preserved", as stated on the.. er, product, the artwork was priced based on the current value of gold, and at one point, its selling price reached as much as $100,000. Isn't this a proof that anything could be art, and one that sells too, you Damien Hirst haters? The most interesting fact of this all is that no one dared to actually open one of the cans and see if there's really artist's poo inside, so I guess we'll just have to believe the label, as it is surely more convenient that way. If I tell you that the inspiration for the piece came from Piero Manzoni's father's critique that his son's art is "shit", then I'm sure you'll only appreciate it more.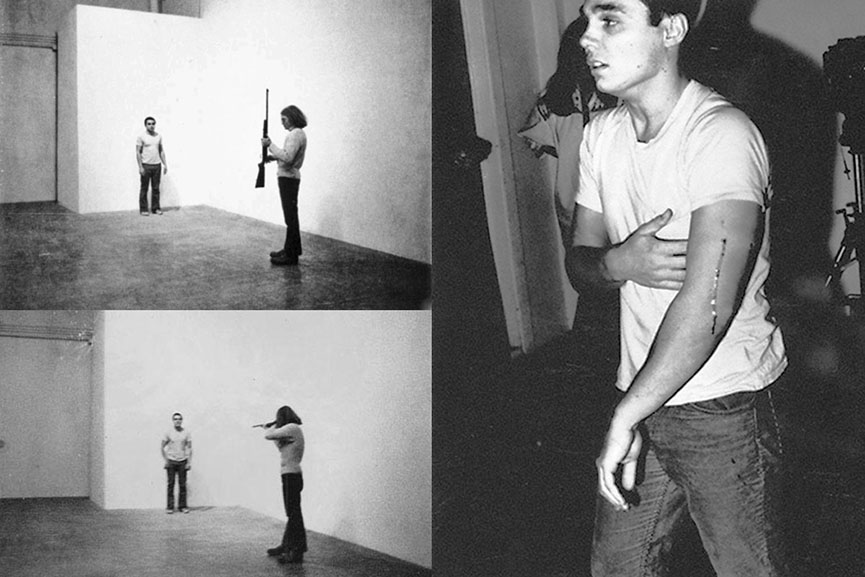 Chris Burden - Shoot
Among the performance artists who were literally ready to die for the sake of their art (let us remember Marina Abramovic and her Rhythm 5, or even Rhythm 0 acts), there was Chris Burden, who in 1971 got shot as part of an art piece. As we had to see it to believe it, it was all caught on video, where we see his assistant shooting from a proper (and real, as it turned out) .22 rifle from a distance of about 5 meters (16 feet), shooting the artist in his left arm. After it happened, Chris Burden looked quite stunned, perhaps because, well, it was more painful than he thought, which was, on the other hand, his precise point, as it was the time of war in Vietnam and riots on the streets of American cities. The artist, of course, recovered, only to continue shocking people with pieces like Trans-Fixed.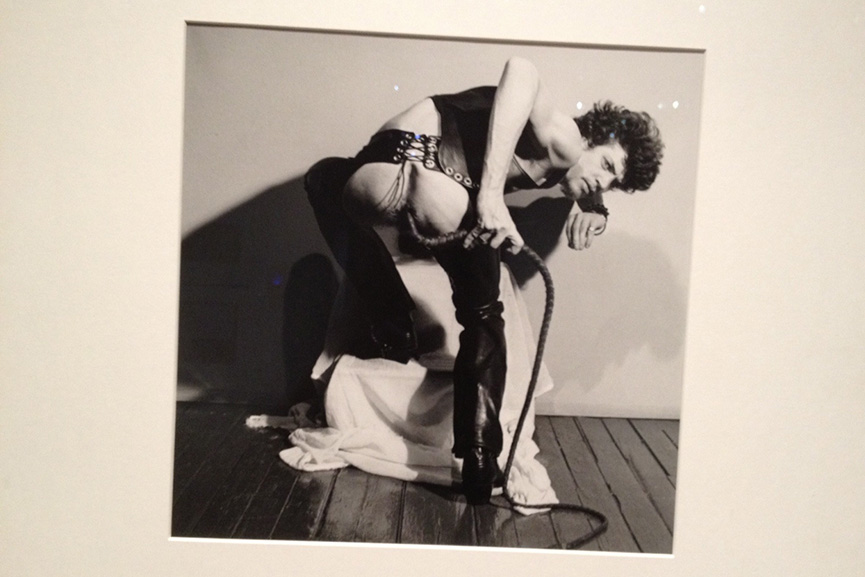 Robert Mapplethorpe - The Perfect Moment Exhibition
When it comes to Robert Mapplethorpe, it wasn't just one photograph that had some jaws drop, but a whole exhibition of them. The Perfect Moment was a traveling show of the artist's provocative works which depicted homoeroticism and sadomasochism. It was 1989, the year of his death, and the images on view were the ones he had taken shorty before that. The Corocan Gallery of Art in Washington D.C. withdrew from hosting the exhibition after previously agreeing to it, stating that the works were offensive and obscene - the show included photographs from his X Portfolio, which featured images of urophagia, BDSM and a self-portrait with a bullwhip inserted in his anus. This kind of spotlight brought a real culture war in America, over the free speech topic, but also increased the value of Robert Mapplethorpe's photographs by double, at least.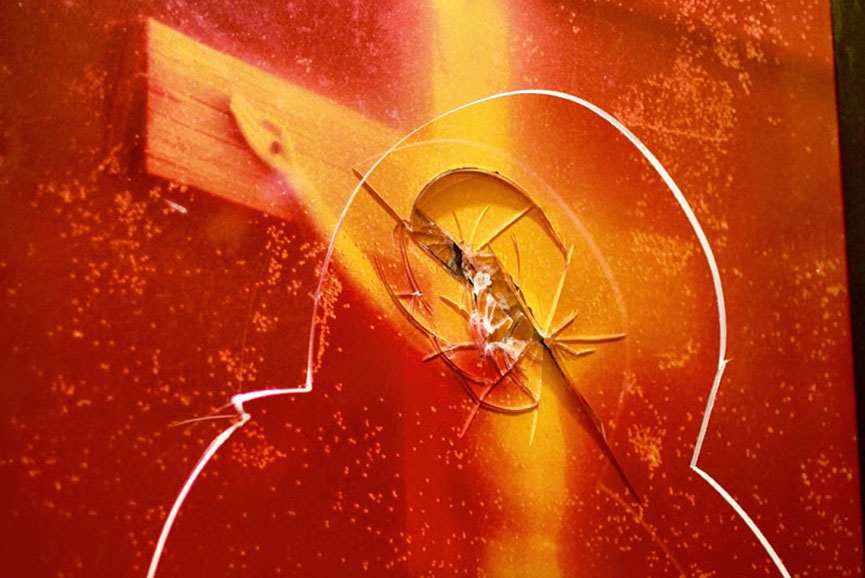 Andres Serrano - Piss Christ
One of the most famous shocking artworks is certainly Andres Serrano's Piss Christ, a 1987 photograph of a crucifix submerged in the artist's urine. Part of a series of photographs of Jesus and his cross, immersed in various body fluids too, such as milk and blood, the image deeply offended Christian believers and even got condemned by the conservative US Senators, while getting a couple of art prizes at the same time. That the work can still cause quite a stir even today shows the fact that in 2011, French Catholic fundamentalists destroyed a print of the photo while it was on display at the Collection Lambert in Avignon. Andres Serrano explained that it all actually condemns the constant misuse of the image of Christ and calls out the hypocrisy of some of the believers who twist his words to their advantage.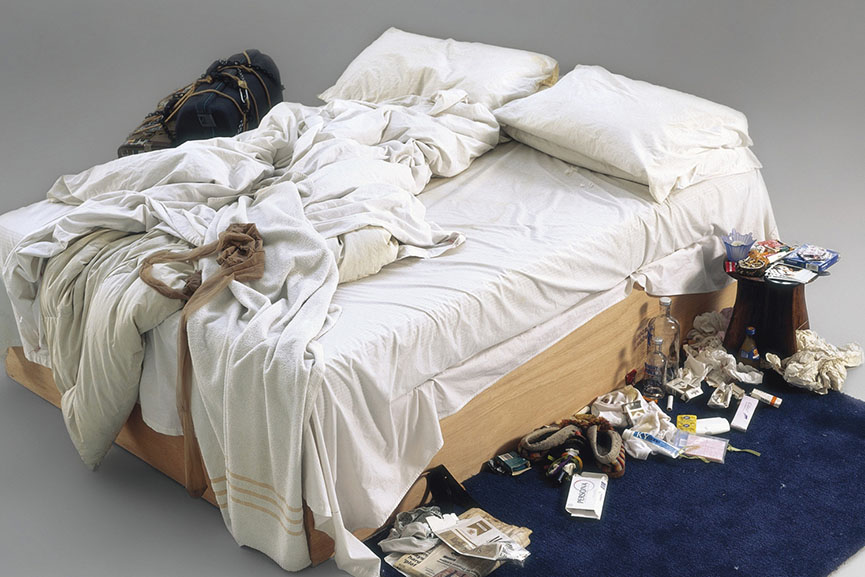 Tracey Emin - My Bed
Torn between this piece and Everyone I Have Ever Slept With, I went with My Bed simply because it's still out there, as the former got destroyed in a fire in 2004. My Bed is an actual bed-cum-installation in which Tracey Emin basically lived for several days, depressed over her failed relationships. As a result, around the bed there's dirty underwear, used condoms, liquor bottles, trash, and as such was condemned "obscene" by the general public - even "sluttish", and by an art critic too, given that the work was, ironically, fighting this kind of prejudice. That the piece was also intriguing demonstrated two performers, who had a pillow fight on it for fifteen minutes before security guards took them away. Earlier this year, the installation returned to Tate Britain, after fifteen years.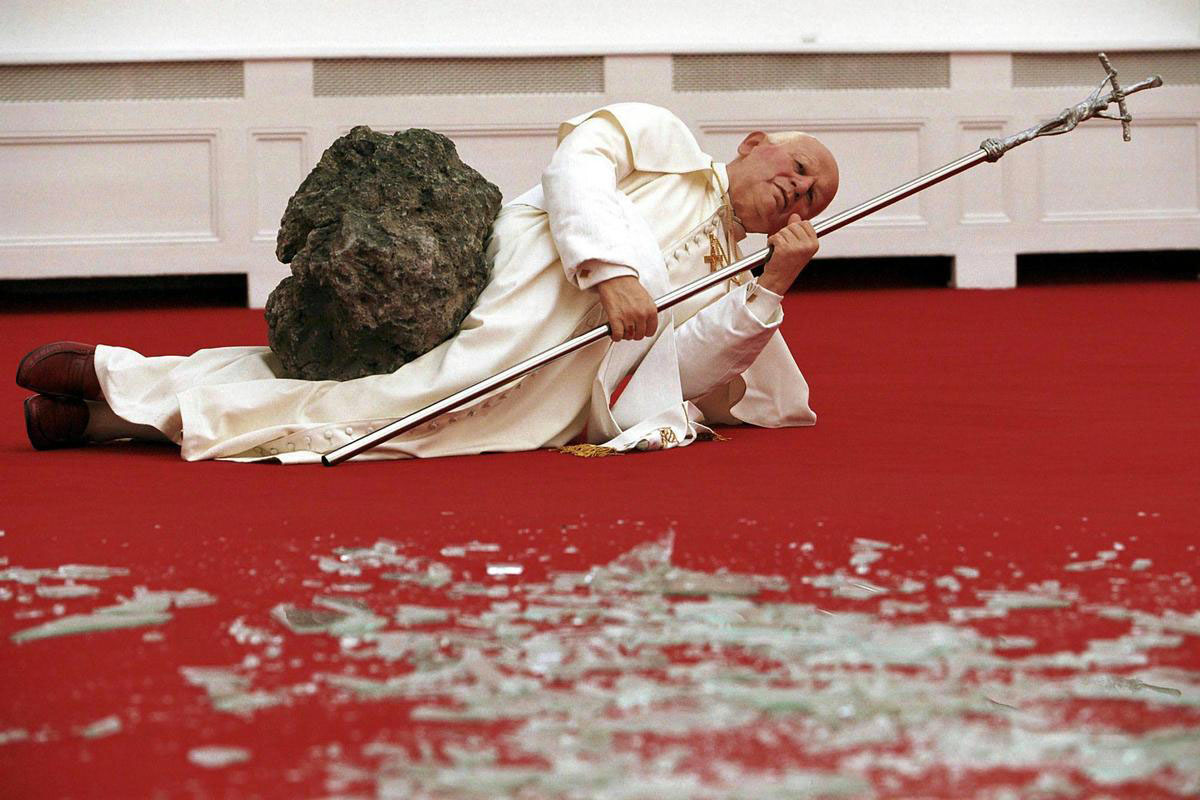 Maurizio Cattelan - La Nona Ora
Another Italian who likes to have our eyebrows raised is Maurizio Cattelan, and among many of his tongue-in-cheek works, there's La Nona Ora (The Ninth Hour). In it, we see a life-size sculpture of then Pope John Paul II lying on the ground after being hit by a meteorite, with small pieces of glass scattered around him. You'll guess, it was considered blasphemous, and in 2001, while on display in Poland, it was vandalised by a religious group. It was exhibited at the Royal Academy in London as part of the prestigious Apocalypse show, and was sold at Christie's for as much as $886,000! Satirical, to say the least, the artwork only follows the reputation of "the art scene's joker" and the maker of realistic wax figures of historic figures such as Hitler (who, in his piece, was on his knees praying), but also himself.
Like shocking stuff? See the biggest art scandals here!