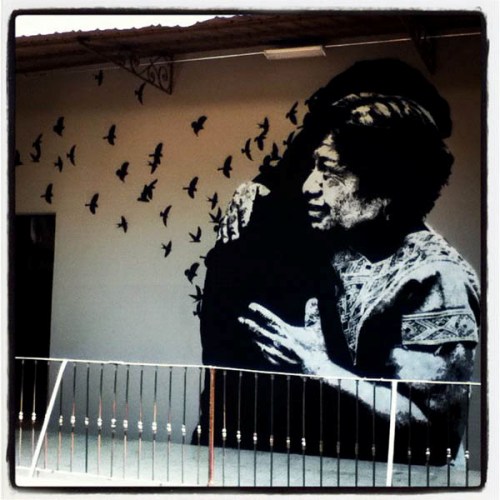 When we talk about the "need for democracy", we shouldn't be oriented towards that almost innate feeling of this being a simple hollow truism and a sentence for propaganda. If there is a notion for which we could say that represents a politically charged expression, then it is surely democracy. However, democracy is merely a word. From it's origins to today's (mis)conceptions, it has been transforming its meaning to the point of grave complexities. This is why "democracy" has to be reinvented every time when it becomes a symbol for the transformation of a society or a banner for the fight for freedom. In this regard, we have an almost perfect example for a politically charged art expression for the end of our 10 favorites. Members of the Mexican art collective Lapiztola Stencil represent a young force behind most of the street art that can be seen on the streets of Oaxaca today. Following teachers' strikes in this southern Mexican state in 2006 which were violently suppressed by the country, as well as political repression, grinding poverty, the perils of migration, threats to indigenous people and environmental damage, the group of young artists gathered around the same idea and began adorning walls of the city. The exhibition entitled Democracia real ya!, meaning "real democracy now!" will feature works by members of the Lapiztola art collective.
Democracia real ya! opens February 6th at Mezzanine Gallery in London and will stay on view until February 25th, 2015.
Only days away from the beginning of 2015 – be prepared for the next year by creating a profile via My Widewalls! Sign up for FREE and start exploring the vast field of Urban and Contemporary Art!
Featured image: Sanez, Lapiztola collective