Located on the Gold Coast, Australia in an industrial precinct, 19 Karen Contemporary Artspace is dedicated to discovering innovative emerging Australian and international artists with exceptional and diverse talent to shock and excite you. 19Karen exhibitions present art from various genres of pop culture, ranging from street and urban art to pop art, abstract and figurative art. The gallery will soon host four immersive exhibitions – Domestica by an Oslo-based artist Peter-John de Villiers, Living with Nature by a Japanese artist Ryuzo Kojima, Time Traveler by a Japanese artist Go Suga, and Make a Wish by an Australian artist Sacha Beverley.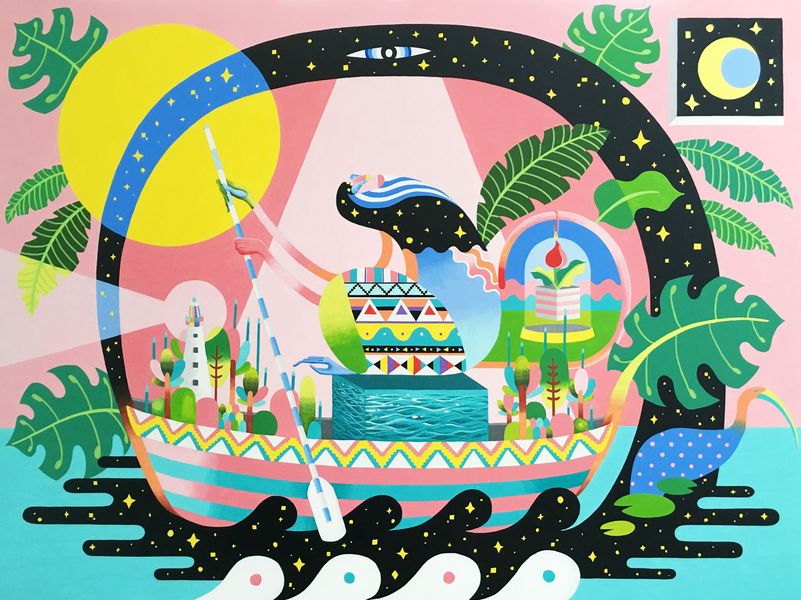 Domestica by Peter-John de Villiers
Born in South Africa and based in Oslo, Peter-John Villiers is known for his iconic style of paintings, etchings, drawings and prints that have become an integrated part of the international art scene. Inspired by the ways people humanize their pets for their irresistible personalities, the artist will present a new body of works comprised of animal portraits. Feeling that some of the most valuable lessons he has experienced were through his connections to animals, Villiers decided to suspend reality for a moment to imagine life through the eyes of his pets.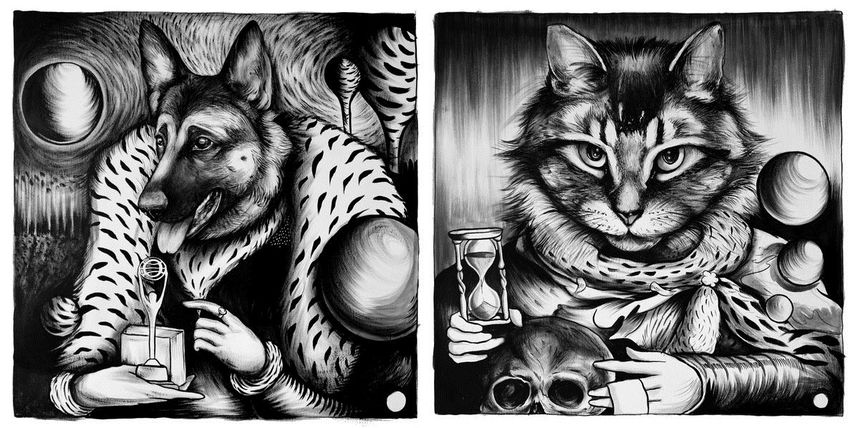 Living with Nature by Ryuzo Kojima
A contemporary artist living in Tokyo, Ryuzo Kojima is well known for his deep connection with nature, which is shown in his artworks. Choosing materials that are completely in harmony with ecology, such as wood, cloth, and paper, he creates art that combines the nature and his need to express himself. In his latest body of work, the artist continues to tackle this subject, highlighting that human beings could never live without associating with nature. Inspired by the ways everyday life with nature is so closely connected to all our lives, the artist reminds everybody about the importance of a conscious understanding of our precious lives, love for all and coexistence as human beings with nature.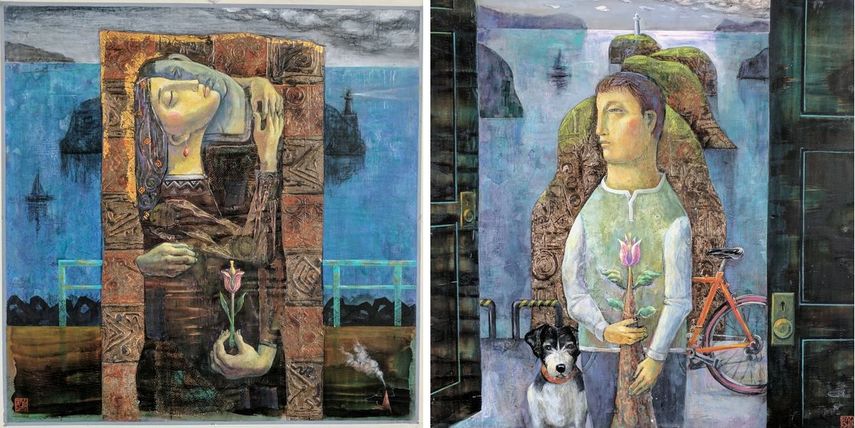 Time Traveler by Go Suga
The work of the Austrailia-based Japanese artist Go Suga blends cultures, plays with the sense of mystique and reflects the artist's perspective on love, life and art. Drawing inspiration from history, politics, culture, religion, chaos, social, animals and nature, he creates truly inimitable and captivating artworks characterized by the use of vibrant colors, shapes and movements. His latest body of work is painted through the eye of the time traveler. Like a comic strip, each painting is a scene that that leads to another, accompanied by a storyline.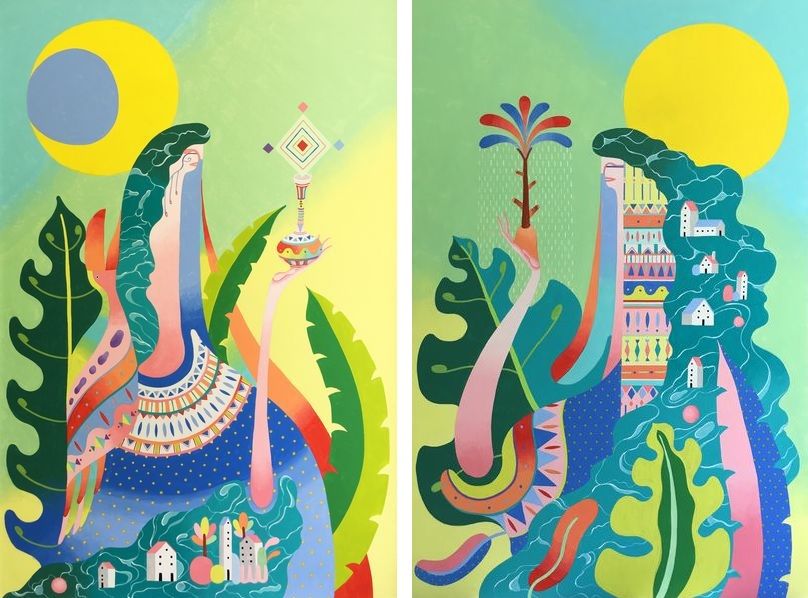 Make a Wish by Sacha Beverley
A contemporary artist based on the Gold Coast, Sacha Beverley is well known for her beautiful use of bright colors, bringing her interior design color expertise into her paintings. She predominantly works on large-scale contemporary artworks that give her freedom of self-expression. Her current body of work explores her imagination, and her inner desires, hopes and dreams, through a series of abstract/expressive paintings, each depicting a different "wish" she'd like to see granted, not just for herself but for everyone in need.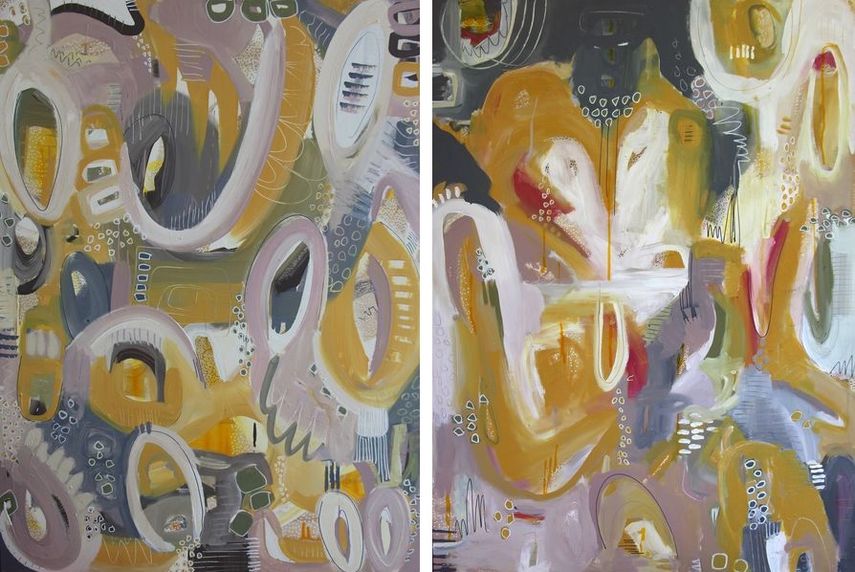 19Karen Exhibitions
The exhibitions Domestica by Peter-John de Villiers, Living with Nature by Ryuzo Kojima, Time Traveler by Go Suga, and Make a Wish by Sacha Beverley will be on view at 19 Karen Contemporary Artspace from May 6th until June 18th, 2017. The audience will have a chance to experience Villiers's captivating animal portraits, Kojima's nature-inspired works, Go Suga's colorful universe and Beverley's dream of an enchanted lamp, all at the same time.
Featured images: Go Suga - Hakaishin (detail); Sacha Beverley - I wish for Peace and Unity (detail); Ryuzo Kojima - Eternal Love 'A Flower' (detail); Peter-John de Villiers - Mang (detail). All images courtesy of 19 Karen Contemporary Artspace.