The plethora of emotions fills our everyday existence – from happiness to sadness, love and hate, to depression and exaltation. Without some bitterness, we would not be able to fully enjoy the sweetness. The balance between these two positions is explored in 19 Karen group show on view in March and April, curated by beautiful.bizarre Magazine. Titled Bitter|Sweet, the show consists of an impressive number of international and local artists who responded to the issue of contemporary emotional overflow by offering the works dealing with this topic.
Featured artists include Alexandra Levasseur, Crystal Morey, Edith Lebeau, Emilio Villalba, Erika Sanada, Ewa Pronczuk-Kuziak, Harold Munoz, Hieu Nguyen, Jeremy Mann, Julie Filipenko, Kazuhiro Hori, Kildren, Kirsten Stingle, Lisa King, Marie Larkin, Margarita Sampson, Mahlimae, Pamela Wilson, Pippa McManus, Rebecca Leveille, Sarah Louise Davey, Sarah Dolby, Sergio Lopez, Sheri DeBow, and Yosuke Ueno.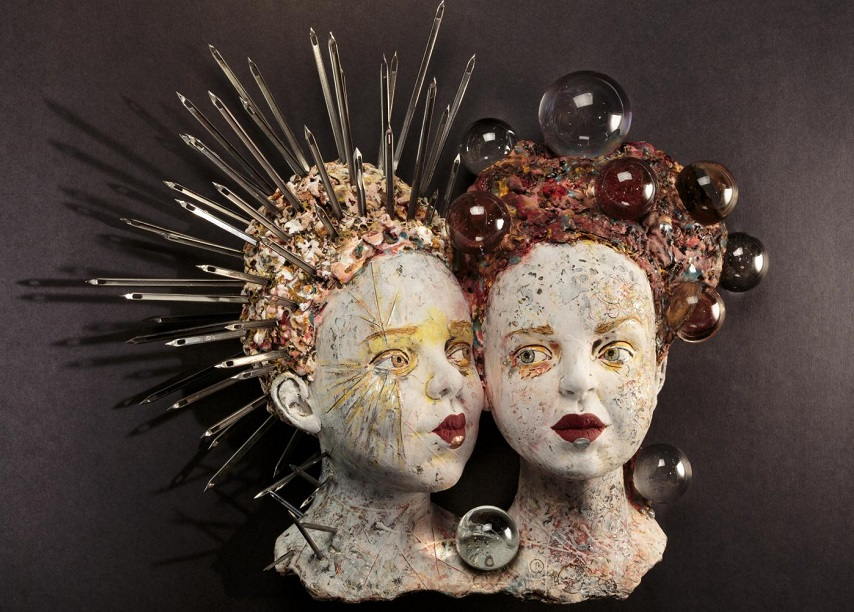 In-between the Opposites of Our World
The extraordinary selection for the Bitter|Sweet show consists of works that embark on the exploration of metaphysical spaces that exist between the rigid opposites such as dark and light, love and pain, bitterness and sweetness. This universe, conveyed in unique styles belongs to a broader Pop Surrealist artistic domain where the borders between dream and reality, fear and security, realism and abstraction remain uncharted.
Realistically done figures are devoured by imaginary pink monsters; a fox standing on a tree trunk seems equally perplexed with its transforming color as we are with the pinkish wood behind it, and a reverie about a loved one that is gone animates the pallid gray world that perhaps exists only in thoughts.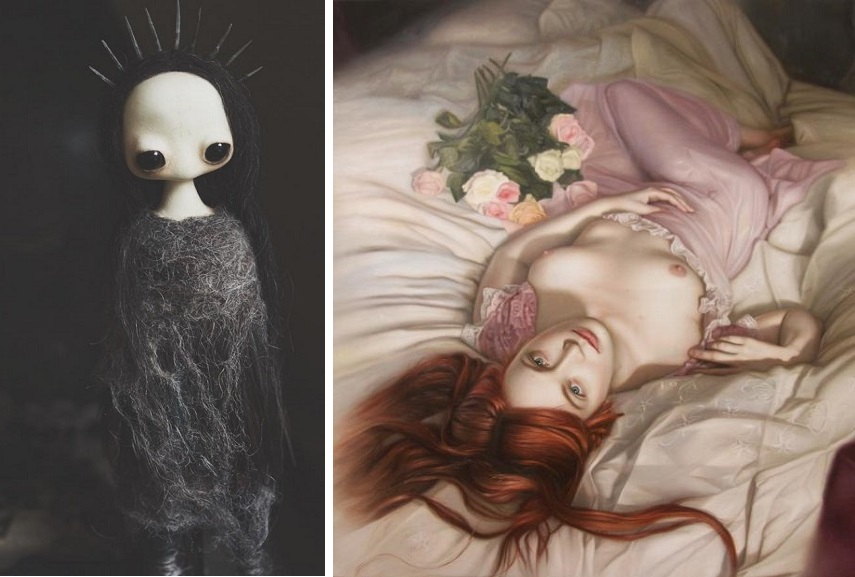 Intriguing and Visually Rich Mélange of Artworks
The artists selected for the show were invited to do two pieces which respond to the given topic from the title, developed in their singular and recognizable styles. Put together, these works create an imaginative narrative of complex situations and emotions that each of us can easily relate to. Going into surreal and often dark realms, the artists came out with intriguing, and visually rich results that are best described as a veritable mélange of amazing artworks that will tantalize the senses.
As Sarah Louise Davey, one of the selected creatives, states: "The art of making…is very much a response to the human condition of needing to connect to one another, as well as to what lies just beyond the borders of our realities. I am drawn to the idea that art can have the ability to affect those who look upon it, allowing [artworks] to be conduits to a realm within our subconscious."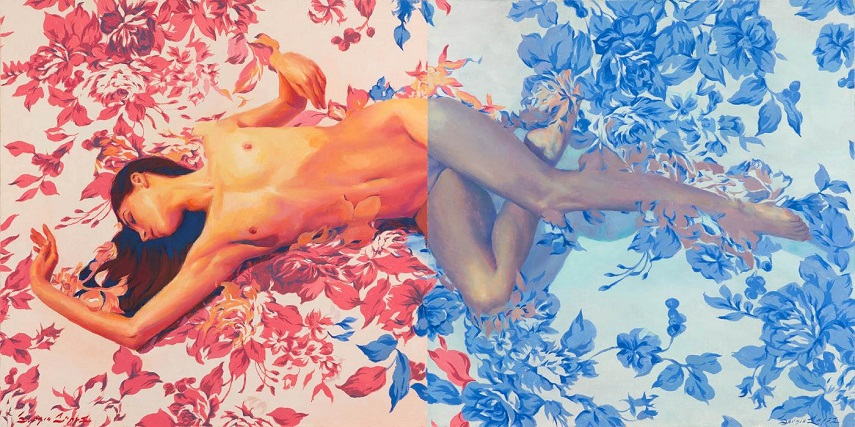 19 Karen Group Show Bitter|Sweet
The exhibition is curated by beautiful.bizarre Magazine, a print and digital art quarterly which impresses with its beautifully put together and carefully picked content. Different from anything previously seen on Golden Coast, this richly selected and important show conveys 25 local and international creatives and leading contemporary stars to 19 Karen Artspace, many of whom will be presented to the Australian public for the first time. The Bitter|Sweet show opens at 19 Karen Contemporary Artspace on 18th March and will run until 29th April, 2017. Opening night reception will be from 6-8pm.
Featured images: Ewa Pronczuk-Kuziak - Sweet secrets, detail; Hieu Nguyen - Silent Reverie, detail; Sarah Louise Davey - Cavernous Lens (back), Concrete Animal (front); Kazuhiro Hori - Prey, detail. All images courtesy of 19 Karen Contemporary Artspace.