In contemporary artspace 19Karen exhibition schedule is set for the end of the year. Starting from the end of November until the January 2017 19Karen prepared three solo shows of Australian artists Melissa Hartley, Richard Denny, and Yossi Messiah. Distinct in their styles and approach to materials, the artists play with contemporary visual forms but also hint at some older art historical tropes. Melissa Hartley is inspired by old masters' styles in her creation of melancholic portraits and still lifes that come out from the black background. Richard Denny's experiment with map has led him to make numerous faces from rivers, oceans and mountains cut out from the maps, which he then places layer upon layer on his expressionistic pieces. Yosi Messiah started out as a jewelry designer but soon turned to painting, where he explores urban imagery and wild side of life in his bold and colorful paintings.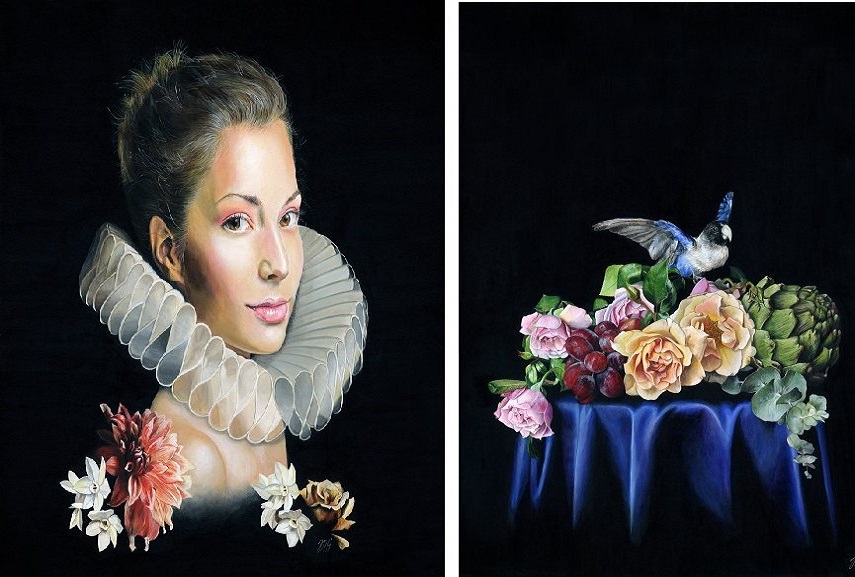 Nocturnal Heartstrings – Melissa Hartley's 19Karen Exhibition
A self-taught artist, Melissa Hartley is preoccupied with creation of artworks that can induce a reflection in the viewers, and that can stir emotions buried deep within the subconscious. She leaves viewers to find their own meaning and understanding in her works, and creates an atmosphere of mystery and beauty, instead of delivering a straightforward message. She achieves this by creating brilliantly crafted portraits, still lifes and depictions of animals. Hartley studied graphic design and is inspired by old masters, fashion photography, and botanical illustrations.
Her new series Nocturnal Heartstrings, made in already recognizable style of deep black backgrounds and figures and flowers depicted at the fore, symbolizes complex emotions that arise from loss and with flowers being constant presences at such moments of grief, she also creates a beautified images of sadness. The sense of vulnerability comes from the apparent shapelessness of the space that surrounds the figures, submerged in nocturnal blackness. Figures are isolated and reflective of the fears and desires that may arise during the night time. Strong contrast between the background and the depicted figures induces the sense of melancholy where shades of skins and flower petals correspond and mimic each other, creating the strong connection between the fragility of flowers, and uncertain and fleeting human existence.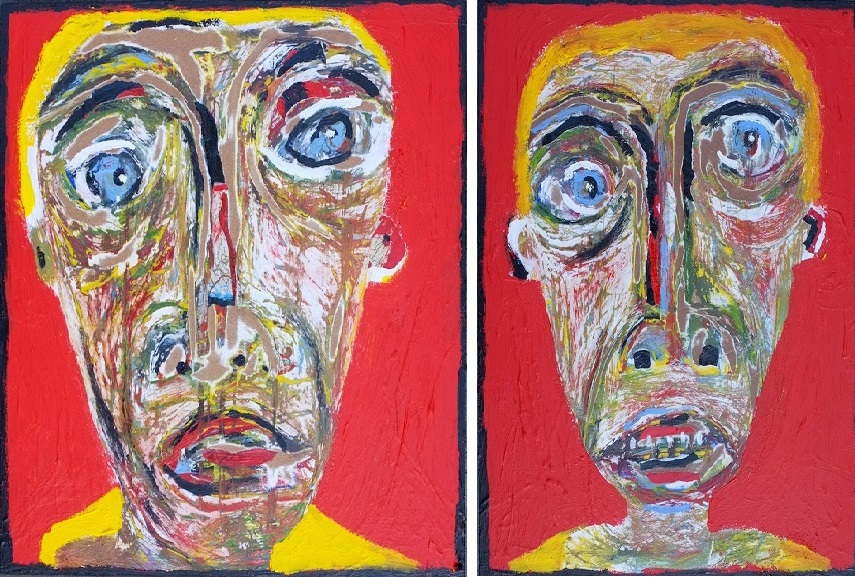 Seven – Richard Denny's Solo Show
A British born Melbourne artist, Richard Denny, combines multiple materials in his work, from oil and pencil, painted and cut pieces of canvas or paper, to enamel and acrylic. He uses pieces of detailed regional maps and attaches them to different bases, such as paper, stretched linen, wood, or even old doors. He started using maps in his work after he discovered a box full of maps in France. Since then he was inspired by the possibilities a map can give in terms of visual expression. Rivers, seas and other represented regions are building blocks of Denny's faces and different characters he creates. His style closely resembles expressionist experimentation with forms and angular planes of color, but there is also a hint of naïve art in his pieces.
Working in layers, for the current show Seven Denny used seven layers on wood (of which some are stripped in parts) and produced a series of faces. In his statement, the artist suggests where his inspiration lies: "7 layers of skin, 7 years of plenty, 7 years of famine, 7 seas, 7 wonders, 7 liberal arts, 7 hills of Rome, 7 days, 7 dwarfs, 7 11, 7 up, 7 seals, 7 chances, 7 sorrows, 7 candles, 7 suns, 7 ages of man."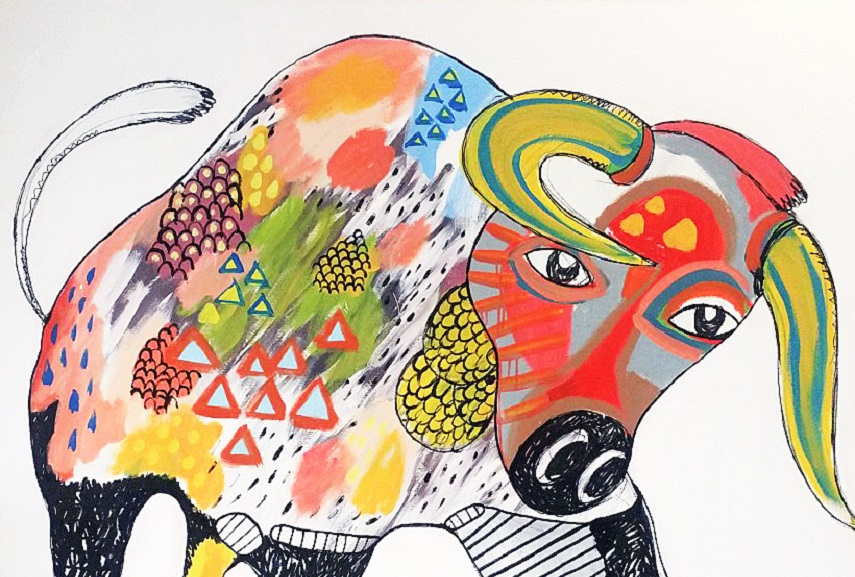 Yosi Messiah - Wild Hearts at 19Karen Artspace
Born in Israel in 1964 Yosi Messiah immigrated to Australia where he now works and lives. His career as an artist spans over 17 years, with a start in jewelry design. He later decided to expand his creative profession and to include painting in his work as well. First working in abstract forms, Messiah moved on to include figures, which are today a dominant element in his painting. However, abstraction is not something he is not thinking about. As he says: "you never know, I may go back to abstract one day." His figurative work features animals and humans, but also imaginary figures. Linearity and bold use of colors construct dynamic pieces that in parts often resemble children's drawings.
In Wild Heart, the candor of Messiah's expression creates warmth and positive feelings that urge viewers to emotionally engage with his work. The story in his paintings is told through the combination of familiar and unfamiliar forms, where individuals he portrays often mix with visual elements taken from the wild side of metropolitan and suburban life.
The show of three artists will open at 19Karen on 26 November 2016 and will run until 14 January 2017, with opening night reserved from 6-8pm on the 26 November.
Featured images: Melissa Hartley - The darkest star, 2016; Richard Denny - A Few Knew, Flexible Results; Yosi Messiah - Dreamy moment, detail. All images courtesy of 19Karen Contemporary Artspace.