For the beginning of 2017 First Amendment Gallery presents a group show of 1AM artists, teachers, and muralists. The name of the show, Family First, suggests its focus. This time, it is on the gallery's own hardworking team. The exhibition showcases the skill that runs 1AM behind the scenes, and the roster of artists includes: RPES, Camer1, Dorian Davies, Matthew Gregorio, Joker, Jose Guerra, Leon Loucheur, Maggie Wang, Nate1, Pemex, Evil6, Exel, Strider Patton, and Mike Bam Tyau. The exhibited artworks done in various styles reflect artists' experiences; different backgrounds that make 1AM team, and also pay homage to the unique and multifaceted cultural space of the Bay Area.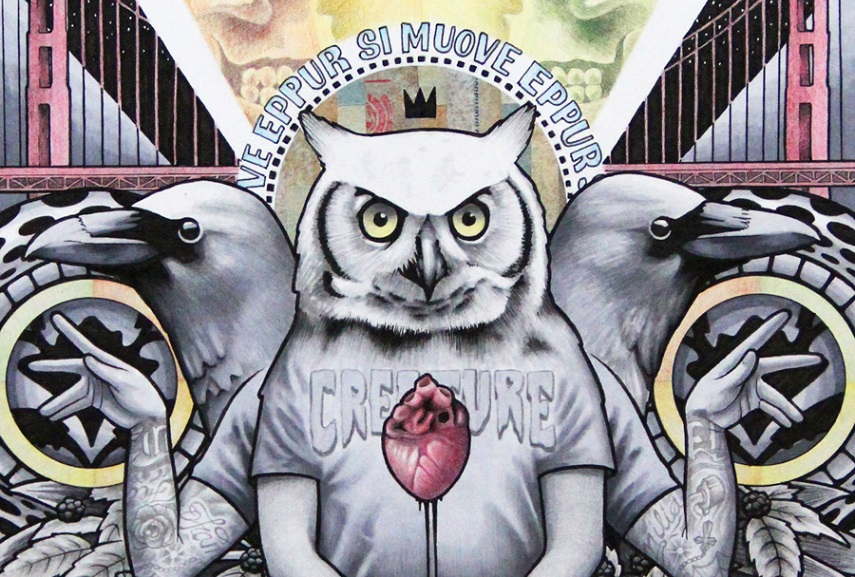 Leon Loucheur, Pemex, Camer1, Nate1
Leon Loucher comes from San Francisco, and is known for his murals and acrylic paintings populated with allegorical images that often include creatures of the wilderness combined and mixed together. His work touches on universal themes of brutality and tameness. Pemex is mostly working in California, and his life experience of growing in South Central Los Angeles is an inspiration for his work. Large scale murals and graffiti are two of his artistic domains, in which, through the apocalyptic folklore images, he strives to represent "an obscene and self-indulgent culture out of balance." Cameron Moberg, better known as Camer1, is another San Francisco artist who does murals and canvases, but is also engaged in local community where he teaches classes for all ages. His work is filled with love and hope as he wishes to change the mood of the world he is living in. Nathan 'Nate1' Tan career spans over 20 years. Starting out as a graffiti artist, Nate1 is today active both as an artist and an educator. He teaches History of Graffiti and mural workshops at 1AM Gallery, while his artistic practice includes themes of graffiti typography, cartoon spray cans and characters, and portraits of urban landscapes.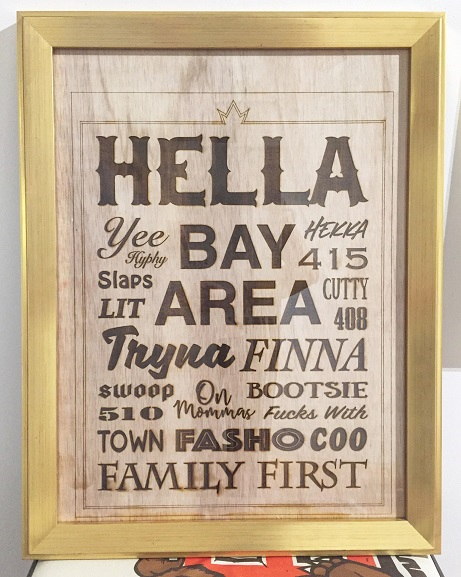 Joker, Strider Patton, Mike Bam Tyau, RPES
Coming from the golden era of bus hopping and yard bombing, Joker/ROF is a representative of the late 80s to early 90s graff generation that is still active. By preserving the style and attitude of those past times, Joker also preserves the graff history of San Francisco. Strider Patton combines his knowledge in anthropology with artistic practice in search for expression that will change the world. He is working as a street artist and painter, and in recent years has moved also to sculpture. His aim, as he states, is "being mindful of the human condition, to gently remind us of our shared humanity and that we are all one." Creating aerosol artworks since 1983, Mike "BAM" Tyau has recently returned to spraycan art after collaborating with some videogame companies. RPES comes from the south of France, and has been working with the PMB crew. He has travelled and worked all over the world before settling down in the Bay Area. His work matured over the years, and today RPES is known for his refined graffiti style.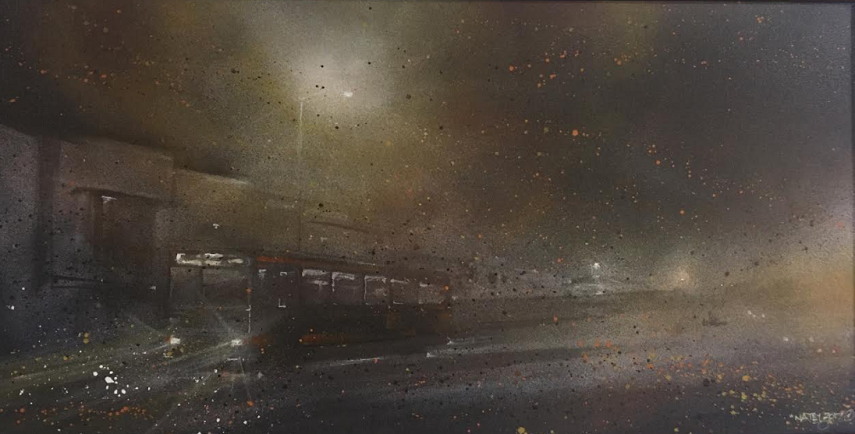 1AM artists at First Amendment Gallery
First Amendment Gallery represents both local and international contemporary street, graffiti and urban artists. It showcases original artworks, commissioned murals and fine art prints. The 1AM gallery was launched in 2008 and its name comes from the desire of its founders to progress the Freedom of Speech through urban art. Organizing monthly exhibitions is just one aspect of the gallery's program, as it also facilitates commissioned artworks and offers a curated back catalog of original artwork and fine art prints for its clients.
1AM artists Family First show opens at First Amendment Gallery on January 19, 2017, at 1000 Howard Street, San Francisco. The opening reception will be from 6:30-9:30PM. The event is free and open to the public. The show will be on display until February 19, 2017.
Featured images: Leon Loucheur - Roach, detail; Flyer for the opening reception. All images courtesy of  the 1AM Gallery.