5 Pointz is done for. As the new wave of gentrification of New York started in the city in recent years, one of its victims was the well-known 5 Pointz urban graffiti center. The open air museum that hosted numerous graffiti art from street artists on its walls, but also small businesses inside the former factory building, was demolished in 2014 - leaving the land for luxury condo complex worth approximately 400 million dollars. From the city's margins to the center of polemics, 5 Pointz and its supporters unfortunately failed to fence off the place form the capitalist paws that, after over 40 years since the place has be purchased by the Jerry Wolkoff, finally came for its prey.
In the development of modern graffiti scene, 5 Ponitz is among the first ones that hosted a great number of aerosol artworks in one place from artists coming from all over the world. The building at Jackson Avenue and Davis Street in Long Island City in Queens was considered a mecca for urban and street art creativity. It took 200,000 square foot of space, and its name stood for "5 boroughs coming together as one."[1] Today, what is left of this vibrant artistic place are photos and videos that preserve the memory of its existence, and artistic richness it hosted.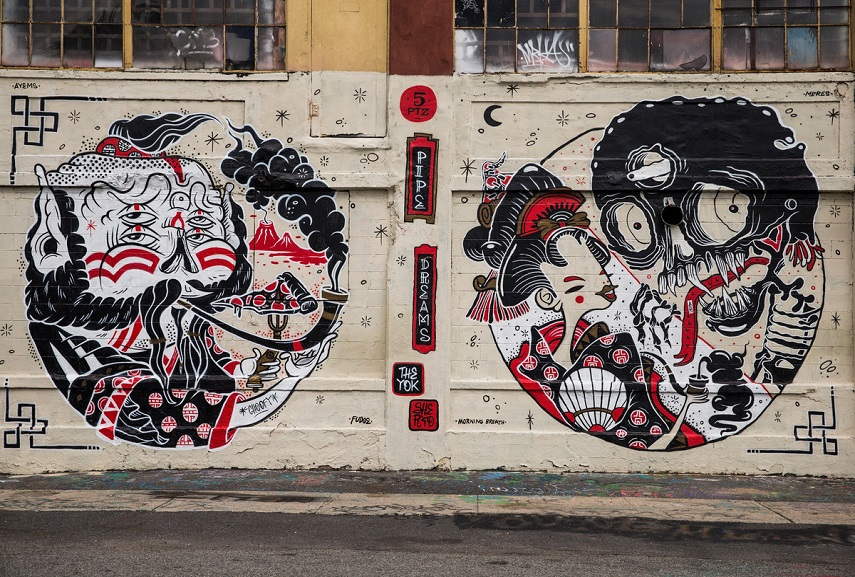 New York Graffiti Scene and 5 Pointz
The scene upon which 5 Pointz appeared is considered the world's center of street art. Graffti as an artistic form developed in New York. From the first tagging on subway and freight trains, graffiti took over to become a respected art form, although some reservations from a more conservative corners has been following them since the inception. Starting in 1970s, graffiti scene in the city was mostly limited to the subway system, with scribbles written on subway cars and station walls. TAKI 183 was among the first tags that swamped the subway, and it came from Demetrius, a Greek-American kid who was working part-time as a messenger. As he explained later: "I just did it everywhere I went. You don't do it for the girls, they don't seem to care. You do it for yourself… I don't feel like a celebrity normally. But the guys make me feel like one… The guys know who the first one was."[2] The novelty of the graffiti scene of New York was not in the appearance of this visual form; graffiti existed before, and in different cities, but their amount and pervasiveness singled out New York as the city where urban graffiti scene was born.
History of 5 Pointz started around the same time, when entrepreneur Jerry Wolkoff decided to buy the old factory building in Long Island City. Although the name of the place as 5 Pointz was established in 2002, the layers of sprayed images on its walls existed long before. The building was one of the rare 'safe' locations for graffiti artists to express themselves, after the city took a sharp turn on graffiti tolerance and started persecuting and incarcerating street creatives. DESA was sentenced to one to three years in prison, while KIKO spend six months on Rikers Island and was on probation for five years, including 25,000 dollars paid in fines.[3] These are just two examples of the disproportionate reaction of officials on street art culture. For a certain number of citizens, presence of tags and other sprayed writings in subway and later on the streets was a symbol of the New York's decaying and economic struggles. As an urgent move to stamp dissatisfaction, political elites in the 1990s decided to completely eradicate graffiti aesthetics from the city, going so far as to advise private business against the use of graffiti style on their advertisements and billboards. Although it was pointed out as a place that feeds "addiction of young graffiti vandals",[4] 5 Pointz somehow managed to endure in these circumstances and to enter the new millennium widely known as a mecca for urban art scene.
Kevin Wood: 5Pointz in 5 Minutes
From an Art Center to Its Whitewashing
5 Pointz became Aerosol Art Center after Jonathan Cohen, a graffiti veteran known for his signature tag 'Meres One', took over its running, and became its first curator. His idea was to convert the building into a graffiti museum that would preserve murals, throw-ups and tags created over 20 years. His plans unfortunately fell short after the owner of the building decided to finally use the building he purchased a few decades before, and to build residential towers in the place of old factory. Before the Aerosol Center was created, the factory was producing water meters, and after the end of the industrial use of the place the owner allowed in 1993 Pat DiLillo to turn it into the Phun Factory, a space for graffiti writers. When in November 2013 video and media producer Kevin Wood was invited to film 5 Pointz it soon became evident that its existence is coming to an end. Today this video footage is one of the last recordings of the existing microsphere of urban art at the location, and as soon as his work was finished, on 19th November the building was whitewashed. The disappearance of art under the thick layer of white paint came after an unsuccessful petition to preserve the Center signed by over 21,000 supporters, and failed fight to include 5 Pointz into the National Register of Historical Places. 5 Pointz was razed in 2014.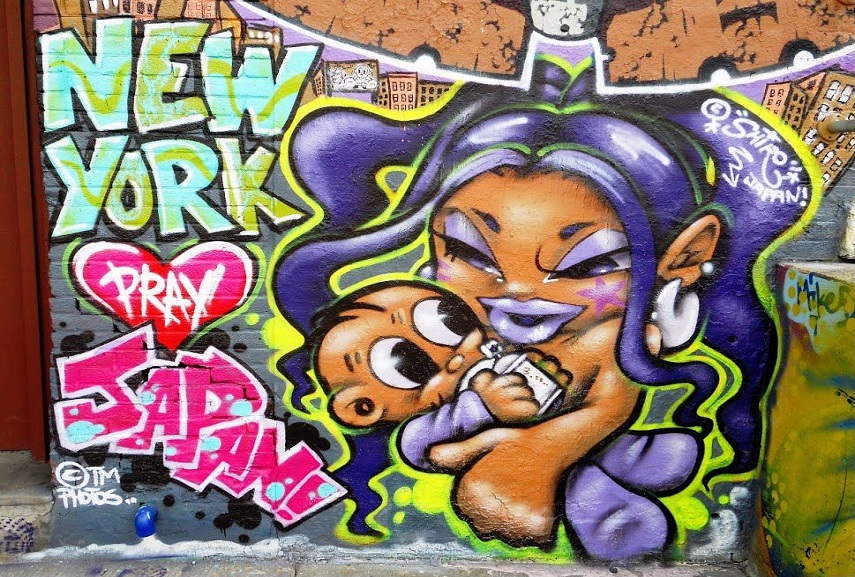 Building a Community - The Legacy of 5 Pointz
The still- running official webpage of the 5 Pointz states that "the industrial complex has actually united aerosol artists from across the world. Legendary writers from Canada, Switzerland, the Netherlands, Japan, Brazil, and all over the United States have painted on the building walls, including Stay High 149, Tracy 168, Cope2, Part, and Tats Cru."[5] It was a place where youth culture was celebrated, which often included mixing of aerosol artists with DJs, MCs and breakdancers. Although the building and its art disappeared, many writers agree that the significance of 5 Pointz surpassed its physical existence. Besides being an open air museum, the space worked to bring together artists from different places and to forge a community and solidarity between them. As Danielle Mastrion explains: "A community is a community because of the people. Yes, it happened to be at a building, but just because the building's gone, it doesn't mean that the community broke apart."[6] For many of the 5 Pointz artists, the idea behind the building will continue to exist, and will be reborn in a new form.
Editors' Tip: Unsanctioned: The Art on New York Streets
NYC has been and continues to be a beacon for artists, who both feed off and contribute to the City's energy. For the last ten years city librarian Katherine 'Luna Park' Lorimer has been cataloging the art to be found on NYC streets. She quickly learned that for those that pay attention, the streets can provide as much of an arts education as a museum. Ever since the City banished graffiti from the subway trains, it's streets have developed into a vast playground for a complex culture, made up of distinct communities, each with their own hierarchies, values and sets of rules. This book comprehensively documents 10 years in the explosion of creativity to be found on NY's streets, and covers the best of graffiti and intervention.
References:
Anonymous,

5Pointz: The institute of Higher Burning

, 5ptz.com [October 15, 2016]
Reis R.A., (2009), The New York City Subway System, p. 98.
Ross J.I., (2016), Routledge Handbook of Graffiti and Street Art, p.408.
Ibid.
Anonymous,

5Pointz: The institute of Higher Burning

. [October 15, 2016]
Silver L., (2014),

Remembering 5 Pointz: A Community Reminisces on What Was So Much More Than Just a Legendary Graffiti Spot

, complex.com  [October 15, 2016]
Featured images: 5Pointz. Image via huffingtonpost.com; 5 Pointz building as seen from a passing subway car, 2013. Image via huffingtonpost.com; Iranian artists Icy and Sot, Mural at 5Pointz. Image via huffingtonpost.com. All images used for illustrative purposes only.