Art of 50s posters sets the basic standards of classic pop culture and retro imagery. After a war period, on the fast developing free market, advertising and marketing agencies have replaced individual authors and small creative studios, the use of photography in graphic design increased, and commercial film, television and magazines entered the Golden Era. There are only few poster artists recognized outside the fields of graphic and product design or illustration – graphic designer David Klein, Reynold Brown author of famous movie posters or pin-up artist Rolf Armstrong, and their works are included in the notable museum collections.
Cultural panorama of 1950s was all about lifestyle innovations – telephones, TVs, cars and household appliances entered almost every home in United States, in landscape full of fast growing urban and sub-urban areas. This "modernization" of domestic life was the main tool of time-saving, which ensure a lot of free time for consuming content we nowadays call popular culture – genre movies (spectacles, sci-fi, action, western, musicals, teen, melodrama, cartoons…), popular music (pop, country, jazz, rock and roll, calipso, bossa nova…), TV programs (quizzes, sitcoms, musical programs, comedy, variety and talk shows…). As a media previously called "the poor man's picture gallery", poster still held significant position during 1950s, because it mediate between old and new world, directly communicating both textual and visual messages to the mass audience. In 50s, poster art exits the exclusive and elitist field of high culture and art and enters the era of widely present mass media and open the door and sets the standards for pop art.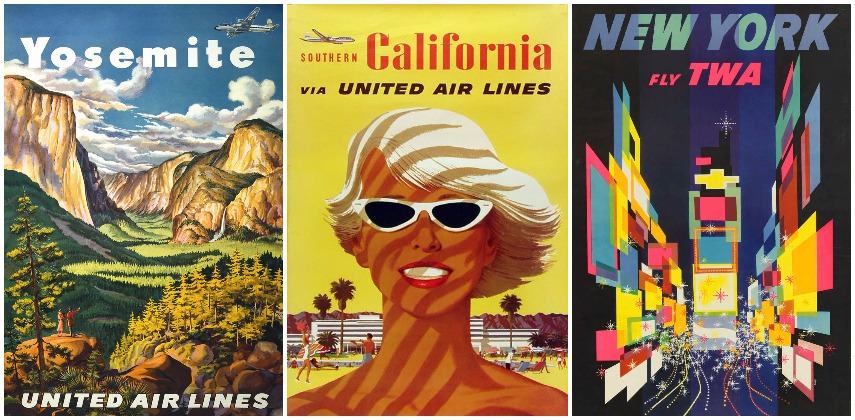 50s posters style characteristics
Relaxed, humorous, cartoon-like style is characterized with simplified human hero characters carrying strong face expression accompanied with bold text blocks borrowed from advertising world with clear inviting and engaging messages. Visual style of these prints is fueled with vivid colors and complex graphic solutions because there were no strong economical restrictions in 1950s and artists could explore all printing features, mix media, use collage or photography. In the same time, in graphic design new modern style is born, Mid-Century Modern internationally recognized by typographic experiments, minimalism and architectonic features, as a opposition to 1950s style prints, with consumer oriented, flamboyant and playful esthetics, nowadays synonym for "retro". Nostalgia in 50s posters is feeling of sympathy for the naïve time of baby-boomers generation, when people fearlessly enjoyed end-of-the-war and economical progress with many technological innovations and newly established pop culture industry, which shortly turn to be main axes of the new world order which reproduces inequalities and conflicts instead of prosperity.
Economical and political propaganda and its values
After the Second World War, occurred the time of changes, both in United States and the rest of the world.  This turbulent decade is mostly characterized by its binary opposed contradictions, big economic reforms and rise of the middle class, space programs, competition between US and Soviet Russia, clashes between rising consumerism from one hand, and growth of socialism and communism as well as number of liberating modern movements around the world set the basis of the cold war global divisions in 60s. In communicating all of these conflicting ideas, heritage of the poster art from war and avant-garde period was crucial, but also the cultural context was significantly changed. In United States propaganda was used to affirm futuristic visions of space research, to create awareness of the Atomic War, to keep social mores of conservatism, including stigmatizing sex and sex workers, affirmation of patriotic and family values but also encouraging people to spend more, to innovate and enjoy vacancies, refreshing drinks and air travel. Propaganda posters from 50s are just an introduction in expansion of advertising in 60s and a great example of political openness, before the invention of political correctness.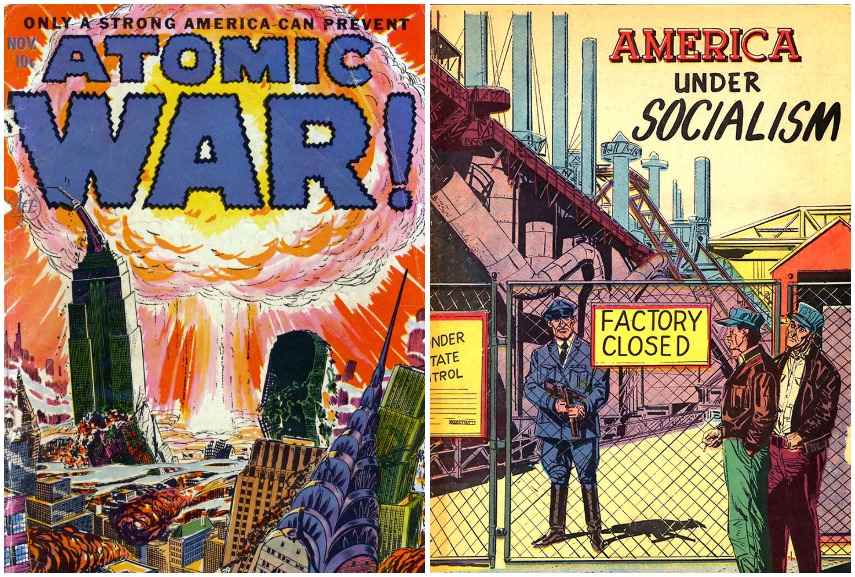 Movie posters in 50s
The boom of television become the main threat for the cinema and hyper developed film industry, whose Golden Era passed in previous decades. Television entertainment better corresponded with the suburban life of majority so the Hollywood film production face the crisis. Film industry was also affected by the witch-hunt, a ride against leftists and communists in the name of moral and patriotic values of conservative Americans. In this such a complex situation, when film production became heavy and risky business, low-fi production of different genre B-movies start being dominant and expensive movie theaters in city centers were replaced with suburban montage drive-ins and surely their wall advertisement – prints and banners. These facts influenced the visual language of the movie posters which lean forward to comic characters or explicit content, and prints become more communicative and direct to meet the expectations of the widest possible range of people with different class and educational background.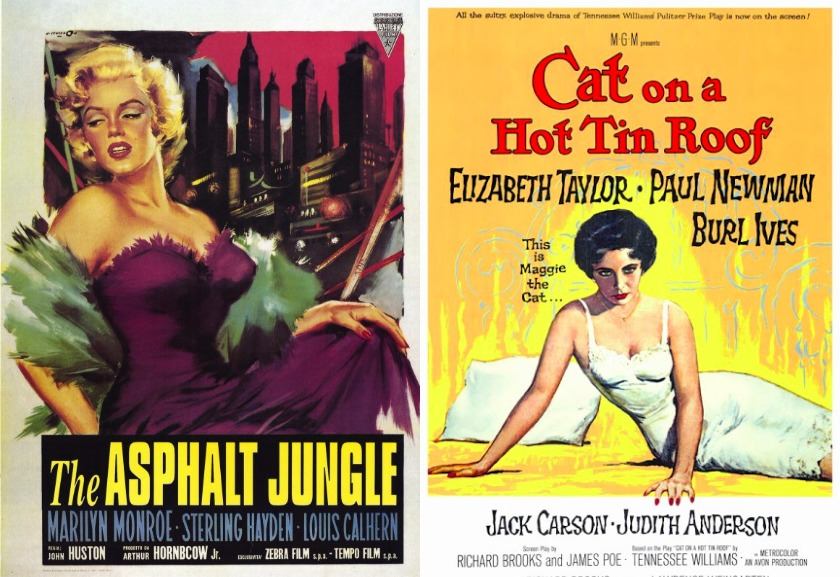 Creativity of sci-fi, action and horror posters
Middle class suburban life made teenagers the main film audience, and genres of romance, rock and roll musical, sci-fi and horror dominant in "B" pictures industry. As the hyper-production of quick and cheep film titles occurred, posters soon appear to be the most efficient communication media. Every film had to have its wall Ads, and frequently it would be its only advertising, so film posters soon reach the stage of the disposable "work of art". Works of Reymond Brown, such as Creature from Black Lagoon,Attack of the 50ft Woman, but also Ben Hur or Cat on the Hot Tin Roof are perceived today as classic from this period. Unfortunately, many of the authors stayed anonymous since the advertising agencies or studios themselves take credits and authorship (author of Forbidden Planet eg.). Even though today is treated as classic or avant-garde of kemp, hand-drawn and mass reproduced sci-fi posters was simply too perfect tool for the hyper-production of fantasy – hypersexual women, action heros, monsters or extraterrestrial creatures…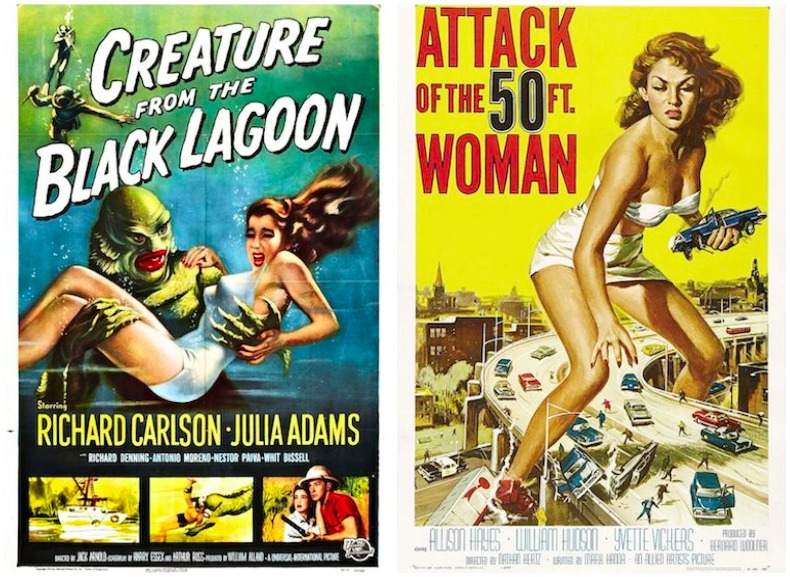 Erotic pin-up designs entered art
Pin-up art is directly built on consumerist development of erotic and porn postcard illustrations and their ideals of beauty, extremely popular and excessively produced during the WWII period. In 50s, informal display of  beautiful and hyper-sensual women photos "pinned-up" on white walls or metal military lockers, went public – appearing on cover pages of magazines, large scale prints and even oil paintings. Also, the ideals of beauty have been significantly changed from post-Victorian pale white Gibson girls, free-minded burlesque performers followed by Hollywood starlets and Vargas girls to a 50s ideal of glamorous curved girl next door, comic "damsel in distress". Even though photography was technologically advanced and omnipresent, in 50s erotic and slightly humorous poster art were dominant. As the ideal body of the time was unrealistically stylized body, hand drawn illustration became graphic tool for long legs, super thin waist, plumped up breasts. Process of retouching reached its peak in pin-up posters of 50s, which turns out to be the synonym for retro sexuality. Today, in the time of affirmation of the positive body image, pin up style has its revival in popular culture, but also in neo-burlesque, fetish art or queer erotic and post-porn visual expression.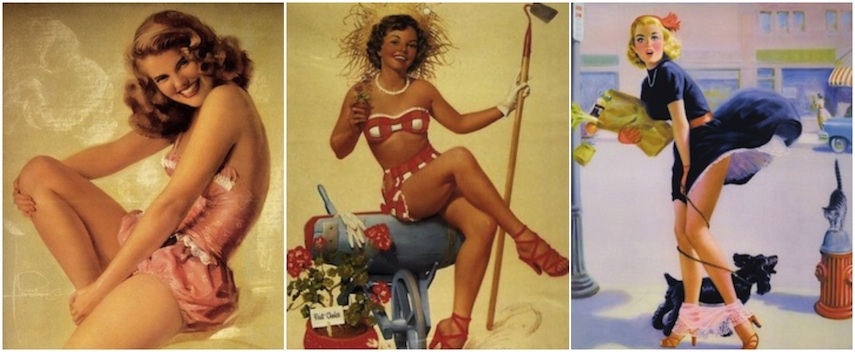 50s poster art heritage
Original 50s posters and their known and unknown authors influenced many modern and contemporary artists and designers, inspired art technology innovations such as retouching software and tools, affected the pop culture and the contemporary art in global. David Klein, Stan Calli, Saul Bass, Reymond Brown, Rolf Armstrong, Antonio Vargas, Art Frahm, Peter Driben, Zoë Mozert, Gil Elvgren and many others have entered the field of fine art and gain the emblematic status of icons, for the whole decade of 50s and concepts of retro or vintage. Moreover, visual representations of the body and gender in 50s become the battlefield for different art and theory disputes, concerning the cis-esthetics of 50s both conservative reproduction of the class, race and gender stereotypes and subversive in its exaggerative, phantasmagoric and auto-ironic manner.
Featured image: Warner Bros-Rebel without a Cause, 1955; MGM studios-Forbidden Planet 1956, detail; Peter Driben-Beauty Parade, 1950, detail; Saul Bass-The Seven Year Itch, 1955;