What is Love? Apart from being the line of a famous song, it is a question that sooner or later most of us come to ask in our lives. But what happens when we ask seven different street artists to give their own interpretations of this enigma, through the painting of murals in a district of Barcelona? This is exactly what 7 Ways to Love project, a new urban art intervention, aims to do throughout 2017 and 2018! After the very successful Genesis initiative last year, the organizers have now decided to show points of view on love, by letting the artists create two new murals with every event in the Metric Market, letting us know that "Art is divine, art is food for the emotions."
7 Ways to Love

Music by Nina Hoven
7 Ways to Love
In 2016, Bizarre and Metric Market teamed up for the Genesis project, where seven artists including Leon Ka, ZED1, Zosen, Saddo, Insane51, Txemy and Klub 7 all interpreted the seven days in which God created the Earth. In 2017, the project gets a bit more intimate, personal and general at the same time, a force that is driving the human race since the dawn of time. What are the different faces of love? Is it a social problem? Why are we taught, through movies and books, that love is always perfect? Artists have explored this topic for centuries, through a unique kind of sensibility. There is one rule in this project, and it's that the artworks - the murals - have to be interactive. It does not matter if during the event or in general, but it has to interact with the people. Also, there will be music, which the organizers will present with every chapter and we make different musicians collaborate for it. At the end of the project, there will be 7 songs on CD made especially for the project.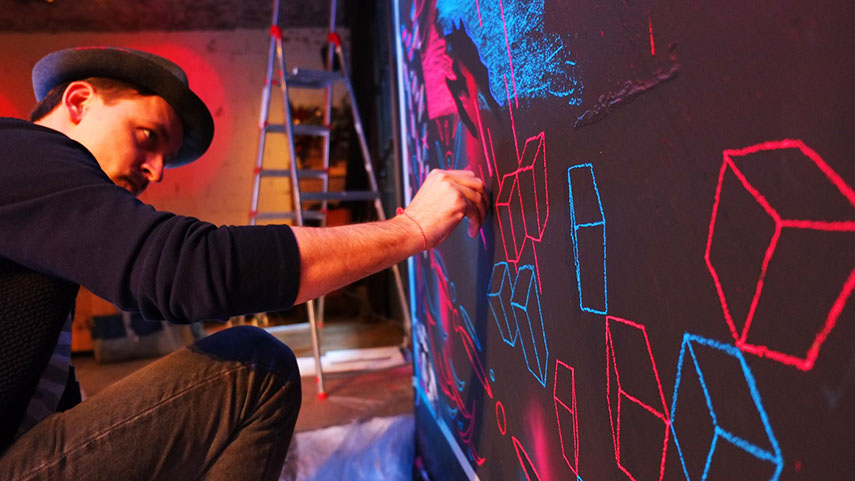 Chapter 1 - Anthony Lister
The first event is on 30th of May, 2017, and the first to take part in 7 Ways to Love of one of the most subversive and talented Australian artist, Anthony Lister. Lister's provocative, chaotic and thrilling artworks, mixing inside collections and outside urban performances have set him up as a true pioneer in the street art scene on his continent and as a world renown artist. Among many other, his career led him to exhibit in New York City, Berlin, London, Miami, Los Angeles, Milan, and others. He'll cross the world and land in Barcelona to dress Metric Market in his new love interactive costume. This presents a great chance to meet the artist and to find out how does he see love.
Stay tuned for more artists to be announced!
All images courtesy Bizarre.