The October art week in Paris got another interesting event, looking to become an annual, must-see fair in the French capital. The 8e Avenue urban and contemporary art fair will have its first ever edition at a pavilion located along the famous Champs-Élysées avenue. Focusing on urban and street art, the event will showcase the works of many world-famous artists working within these movements, presented by 25 international galleries. With a rather interesting booth layout, 8e Avenue will provide a linear view of its rich offer, "as a dynamic place for economic and cultural exchange." Aside from the traditional trade, there will be an exhibition program, to accompany the fair and to satisfy the needs of street art lovers, gallerists and collectors.
The Program
As it will be dedicated to Urban and Contemporary art, 8e Avenue has prepared three exciting exhibitions for its debut, all of which will take place during the fair. The first, simply called Street Art Exhibition, Private Collection, will put on display a selection of street art works coming from a private collection. Aiming to confirm the position of Urban Art on the worldwide art scene, as well as celebrate its presence within galleries and institutions, this exhibition will showcase the evolution and the 60 years of the existence of street art, from its earliest days to today. The visitors will be able to experience first hand the works of legendary artists like Banksy, JonOne, Keith Haring, Space Invader, and many more.
Shooting Shoes On My Floor is the title of a solo exhibition by Franck Loret, whose photographic works started off as a personal project just for fun, but it has now grown up to be a proper artistic endeavour. For the occasion of the show, the artist will also decorate the floor of the main entrance of 8e Avenue in form of a vinyl installation called Je respire pour vous… (I breathe for you). You can find it at Art Élysées – Art & Design, on Gallery Lélia Mordoch's booth 140 A.
Finally, to put a seal to this series of great shows, there will be the solo showcase of Rammellzee, one of New York City's iconic early graffiti writers. Known for his complex, often ironic works, the artist worked with abstraction, 3D designs, trademark lettering. Apart from graffiti and street art, he also created paintings, sculptures and music, having recorded two studio albums. Rammellzee died in 2010, and this show is an opportunity to explore his everlasting talent and skills.
List of Exhibitors and Floor Plan
Participating Galleries and Artists
Taking part at 8e Avenue will be 25 international galleries, which will bring a fine selection of urban and street artists. Among them, there will be French star Blek Le Rat, with Galerie Ange Basso, STeW with Baudoin Lebon, Cope2 and Tilt with David Pluskwa Art Contemporain, Jef Aerosol and JonOne with Galerie Perahia. Street Art Galerie will bring along legends like Phase 2, Taki 183 and Futura, Galerie Le Feuvre is bringing many big names, such as Mist, Word to Mother, Ella & Pitr, Sickboy, Sowat and Invader, at Galerie Taglialatella there will be Banksy, Andy Warhol, Mr Brainwash and Keith Haring, while Galerie Brugier-Rigail is coming with its British superstars in forms of Nick Walker, Guy Denning and Pure Evil, but also MadC and Shepard Fairey.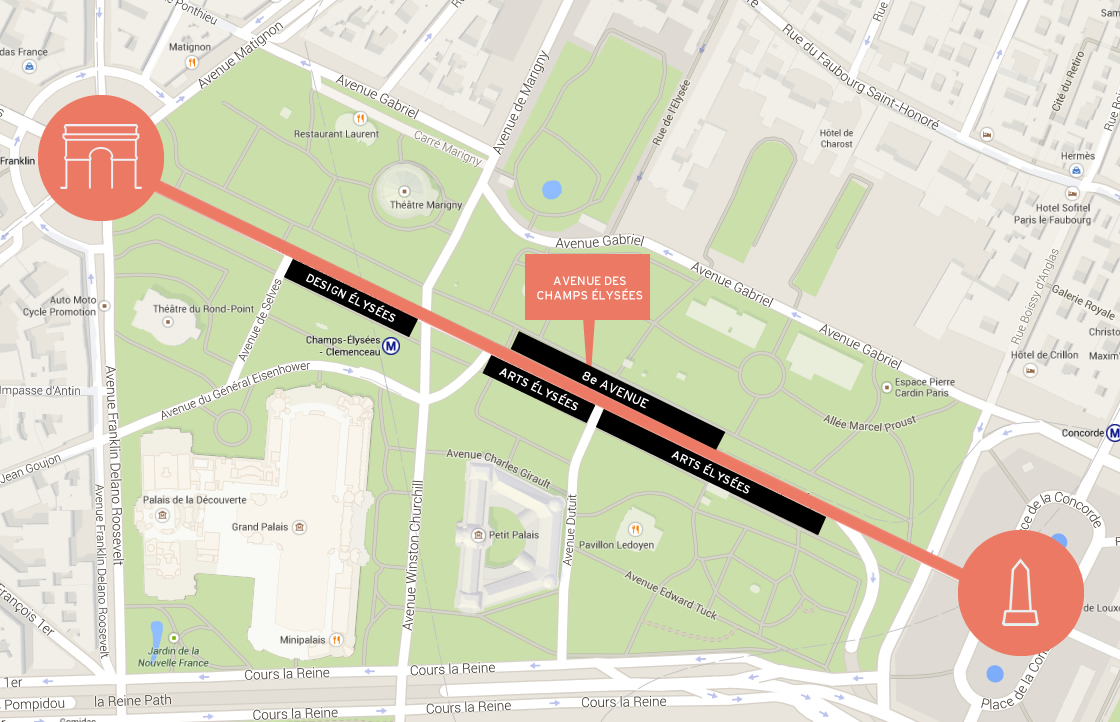 8e Avenue - Practical Visitors Information
The 8e Avenue will take place at the Pavilion, avenue des Champs-Élysées in Paris, France, from October 22nd through 26th, 2015. The press preview and the opening are scheduled for October 21st from 2pm to 6pm and from 6pm to 10pm respectively, by invitation only. Fair hours will be from 11am to 8pm every day, and to 6pm on closing day. The ticket costs 15€, while the catalogue is 20€. For more information, visit the official website.
For more of what you like, sign up for My Widewalls!
All images courtesy of 8e Avenue.