Founded in 1997, The Art of Elysium is a non-profit organization that encourages working actors, artists and musicians to volunteer their time and talent to children who are battling serious medical conditions. This way, the charity helping the ones in need by organizing people from the creative industry to participate in artistic workshops and brighten the day of the ones who need it the most. For years, one of their major fundraising events has been Genesis, a showcase of emerging L.A. talent. Past events have always brought big art names – performers like Jenny O. and Incan Abraham alongside innovative young artists like Night Gallery founder Davida Nemeroff. This year, the organizers are promising Genesis to be bigger and better than ever.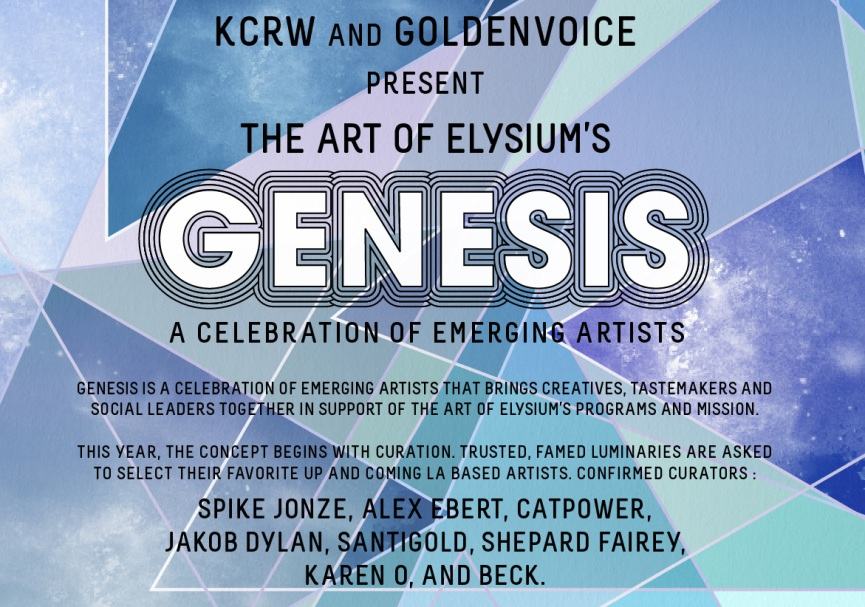 High-Profile Curators
This year, the concept begins with curation. Trusted, famed luminaries are asked to select their favorite emerging LA based musicians, artists, dancers and filmmakers, personally hand-picked by Spike Jonze, Karen O, Alex Ebert, Beck, Cat Power, Shepard Fairey, Santigold and Jakob Dylan. Unlike the past events, Genesis 2014 is taking place at the Theatre at Ace Hotel Downtown Los Angeles. "Moving Genesis to downtown and The Theatre at Ace Hotel allows us to deliver on our mission of supporting emerging artists to the largest possible audience," said Art of Elysium founder Jennifer Howell.
Performances, Installations And Much More
The event will start outside the hotel a live graffiti artist (curated by Fairey, of course), local artists and food vendors, then move into the theatre for live music by SoKo, Rodrigo Amarante, The Garden, Nite Jewel, Mary Ocher, Moses Sumney, Nico Turner, Vorhees, Aaron Embry, and The Donnies and The Amys, and many more. In the fine art and film installation segment the confirmed artists include Chris Milk, Lance Bangs, Wrdsmth, Dallas Clayton, Dilletante, Jacqueline Suskin, Pancake Mountain, Natalie Johns, The Movement Movement, Creative Visions Foundation and others. There will be a significant number of special guests and many other surprises.
Enjoy Art & Help
One of the evening's odder offerings promises to be a "virtual reality Beck concert video," created by director/photographer Chris Milk. There will also be an interactive voting component, so guests can vote for their favorite performers of the evening. Profit from the event's ticket sales will benefit The Art of Elysium and its mission of "recruiting, supporting and encouraging artists to give back to individuals and populations in need globally using their creativity and artistry." Don't miss your opportunity to enjoy great art, have fun and at the same time help the ones in need. Genesis event will take place on Friday, September 5 at the Theatre at Ace Hotel Downtown Los Angeles.