The comedy has its own purpose when we think of its role in the creation of an artwork. It is a highly intellectual and sometimes, an evasive mean to analyze. As we all know, comedy often comes in pair with the notion of tragedy; example of such practice can be seen in the Self-ish paintings of Luke Chueh. Sometimes, as the supporting counterpart in creating a meaningful structure, it stands side to side with the satire, especially in the works of one Friedrich Kunath. This joy-evoking skill inspired many artists, and some of them paid a tribute to one of the masters of this highly intrinsic craft. For the end of January we bring you another example of comedy-based art, which will occupy the space of the ME Collectors Room Berlin. The story is a result of a playful correspondence between two curators, Franziska and Johannes Sperling and number of various artists on the other side of the fence. Over a 100 works that celebrates humor through art, are all encapsulated under the titled A Man Walks Into a Bar and will showcase at the Berlin-based gallery.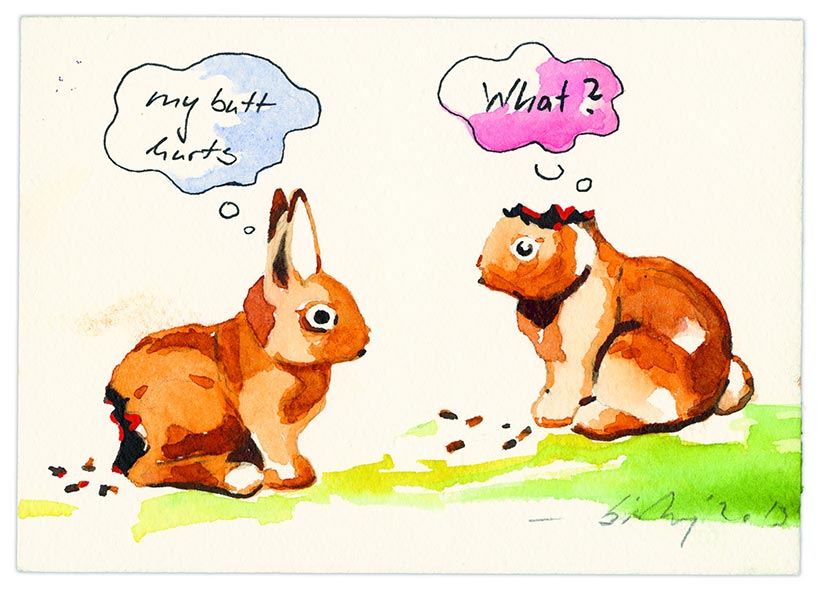 100 Jokes, 100 names
Franziska and Johanes wrote to a high number of artists, and these 100 answered in their own way: Saâdane Afif, Donald Baechler, John Baldessari, Fiona Banner, Rosa Barba, Thomas Bayrle, Olivia Berckemeyer, Tim Berresheim, Beni Bischof, Norbert Bisky, Pierre Bismuth, John Bock, Michaël Borremans, Marc Brandenburg, Ulla von Brandenburg, Sergey Bratkov, André Butzer, Janet Cardiff, Michael Craig-Martin, Keren Cytter, Tacita Dean, Tatjana Doll, Sven Drühl, Marcel Dzama, Marcel van Eeden, Haris Epaminonda, Elger Esser, Matias Faldbakken, Valérie Favre, Simon Fujiwara, Barnaby Furnas, Ryan Gander, gelitin, Andrew Gilbert, Mathew Hale, Lothar Hempel, Uwe Henneken, Anton Henning, Arturo Herrera, Gregor Hildebrandt, Andy Hope 1930, Matthew Day Jackson, Christian Jankowski, Annette Kelm, Ragnar Kjartansson, Terence Koh, Jakob Kolding, Friedrich Kunath, Alicja Kwade, Jim Lambie, Tim Lee, Via Lewandowsky, Atelier van Lieshout, Erik van Lieshout, Robert Longo, Kris Martin, Jonathan Meese, Julie Mehretu, Bjarne Melgaard, Bjørn Melhus, Gerold Miller, Ingo Mittelstaedt, Jonathan Monk, Olivier Mosset, Mariele Neudecker, Frank Nitsche, Roman Ondák, David Ostrowski, Seb Patane, William Pope.L, Tal R, Tobias Rehberger, Daniel Richter, Julian Rosefeldt, Ed Ruscha, Karin Sander, Tomás Saraceno, Matt Saunders, Thomas Scheibitz, Ariel Schlesinger, Thomas Schütte, Norbert Schwontkowski, Sean Scully, David Shrigley, Ann-Sofi Sidén, Sara Sizer, Andreas Slominski, Nedko Solakov, Thaddeus Strode, Rirkrit Tiravanija, Fred Tomaselli, Ignacio Uriarte, Markus Vater, Mark Wallinger, Rebecca Warren, Lawrence Weiner, Rachel Whiteread, Johannes Wohnseifer, Erwin Wurm, Ralf Ziervogel and Thomas Zipp. All of the postcards started with one familiar sentence...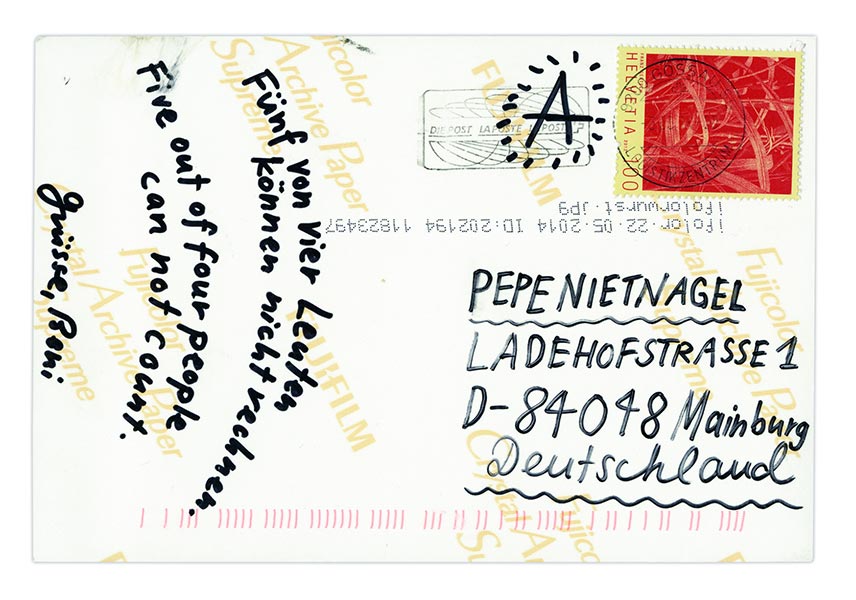 A Man Walks Into a Bar
An iconic opener for most of the jokes, this sentence served as a perfect choice for the title that will bring all these works together. All of the postcards are drawn, written or stuck together and they feature favorite jokes from the contributing artists. Some of them remind us of the Richard Prince's work Hippy Drawings while the others are almost poster-like pieces that carry the similar aesthetic as the Utopian pictures by Gilbert and George. An interesting fact is that all of the postcards were addressed to the famous fictional character Pepe Nietnagel from the series of popular German "Pauker" movies. Being known as a rascal in those films, the pseudonym gave a tone of wickedness to the whole exhibition. For those who want to witness the mentioned works from up close, A Man Walks Into a Bar is set to take place at the me Collectors Room Berlin on the 25th of January and will run through February 22nd.
In 2015 we bring you the best that art can offer so sign up for My Widewalls and never miss a post!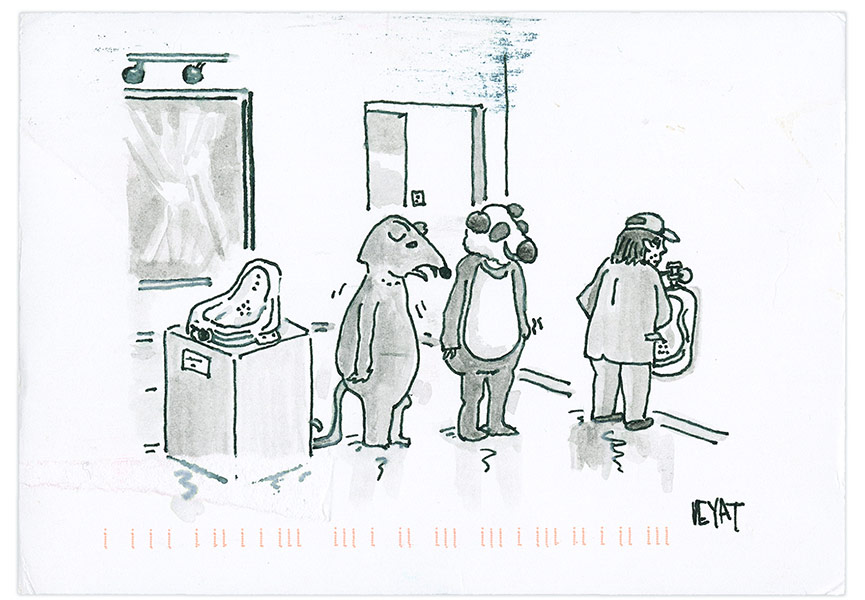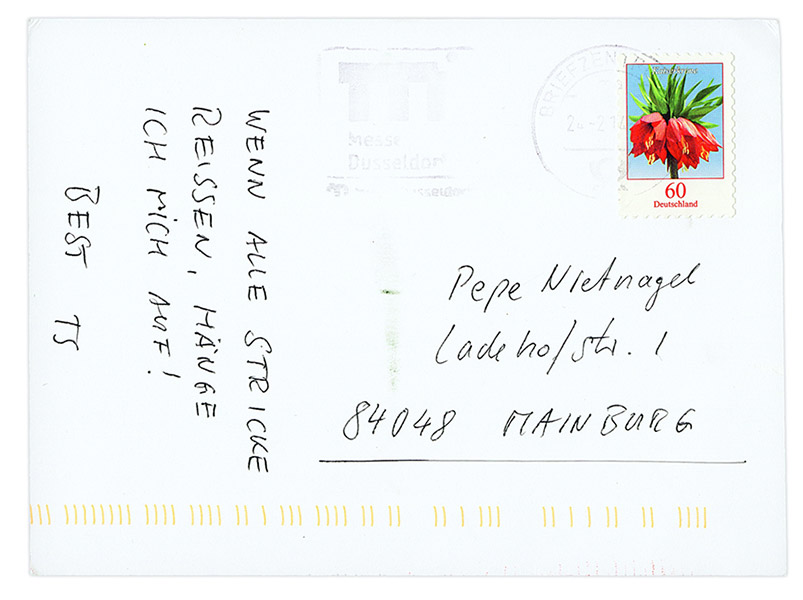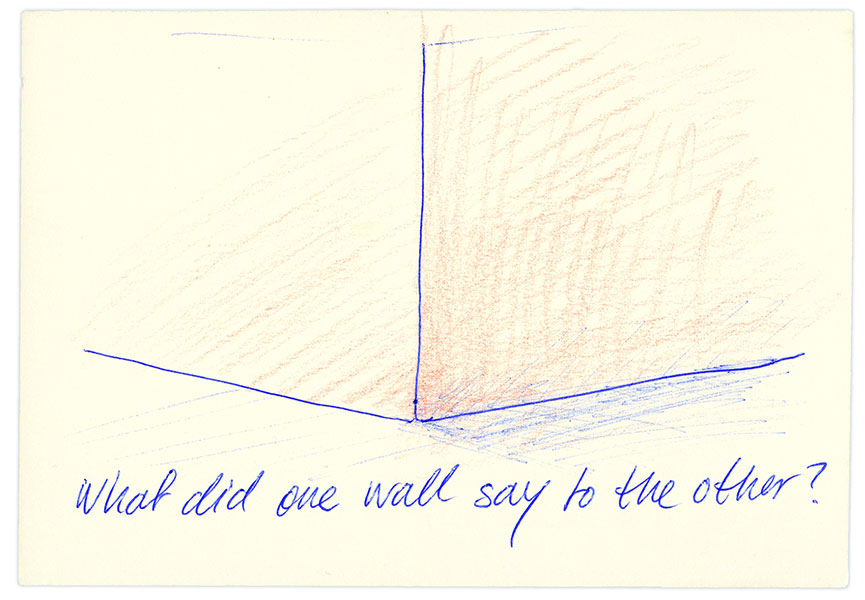 Images courtesy of me Berlin.