It is impossible to remain indifferent when standing before Abdoulaye Konaté's work. The power of its textures and colors alone is breathtaking and strong, even before we are aware of what they stand for. For decades, the incredible Malian artist and one of the most influential voices of African art has been tackling subjects such as war, power, religion, globalization, ecological shifts and the AIDS epidemic within the continent's societies. Even today, his dedication to these explorations is unwavering.
"My works witness and speak of power struggles which have happened for generations in Mali – and beyond, of course. These topics will always be inherent in life and therefore have occurred throughout my practice," says Mr. Konaté in an exclusive Widewalls interview. "They reflect on a more general sense of time and transition, and how these transitions are often revisited throughout generations, but they do not offer answers."
Mr. Konaté's latest body of work, which naturally provides another point of discussion within his oeuvre, is now on view at Gallery 1957. The exhibition, initially postponed due to the COVID-19 pandemic, presents new, large-scale, site-specific commissions which saw the artist employing a brand new cloth found in the country.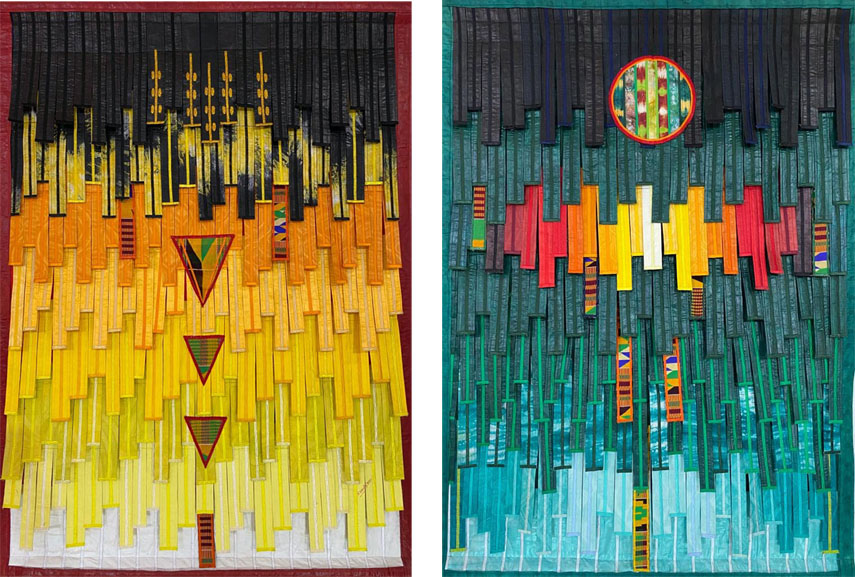 Interwoven (Hi)Stories
In many aspects, the art of Abdoulaye Konaté is one of balance - between vibrancy and character, commemoration and communication, global social and political reflections and local histories, abstraction and figuration. The latter, for the artist, gives way to a dialog. "Conversations take place between the textiles and the viewer, based on the inherent meanings of the fabrics. Color is a new point of aesthetic research in my work; some signify the body through the cotton or the material chosen and so perhaps in this way may offer a representation of the body."
And so, Mr. Konaté's fabric-based installations utilize woven and dyed cloth, carefully cut and sewn to refer to West African textile traditions. The final work of art is rich with symbolism, carrying meaning both foreign and deeply relatable told through a language that is delicate, yet simple.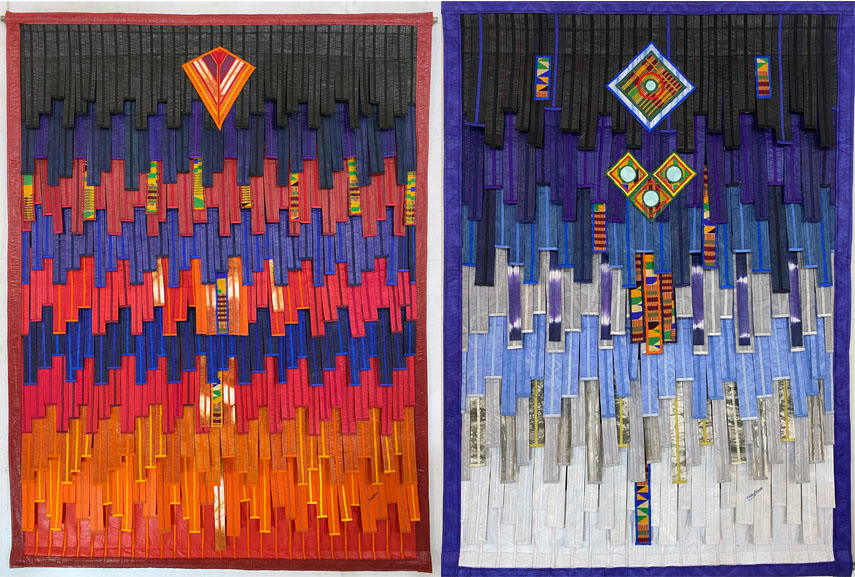 Saluting the African Heritage
For the exhibition in Accra, Mr. Konaté has expanded on his materials with the Kente cloth, a material native to Ghana. To the artist, who grew up in West Africa, Kente was not a new discovery, having been a part of his wider cultural experiences.
"As I confirmed my first solo show in Ghana – a country I've long had a close and meaningful relationship to - I decided it was time to work with Kente for the first time," says Mr. Konaté. "As with all my works, Kente allows me to explore wider concepts of culture and communication; beyond the deep national resonance and respect for Kente cloth, it is also perhaps one of the most recognizable exports of Ghanaian culture internationally, and this is something I wanted to explore: Kente as a global symbol of the communicative power of textile."
These brand new works are now taking up space within both the Gallery 1957 itself and the adjoining Kempinski Hotel. "All my work is produced on my studio floor in Bamako, Mali. For the exhibition at Gallery 1957 I have created some large site-specific installations which I hope will remain indefinitely in the wider setting of the Kempinski hotel. My process consists of bringing together my ideas and using the textiles as my point of reference, then dying and weaving the strips of material into the final works."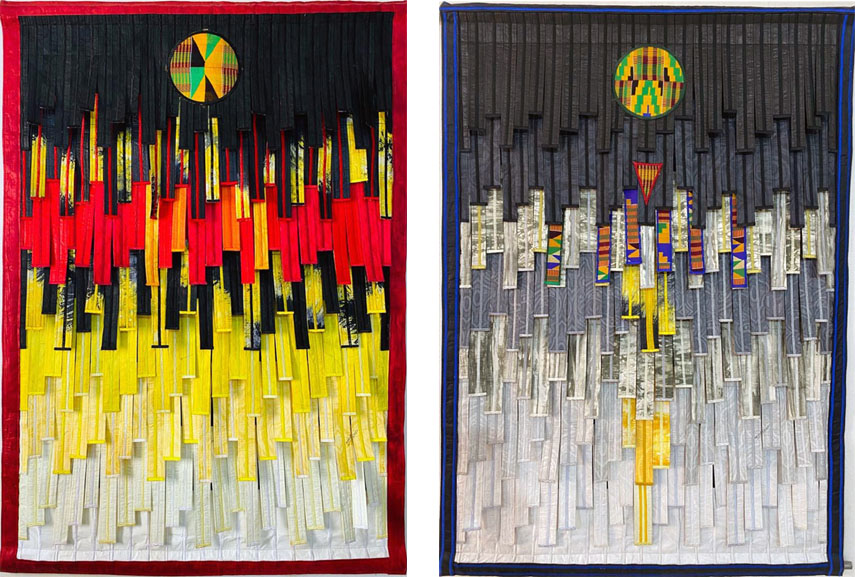 Abdoulaye Konaté at Gallery 1957
Materials found within various regions of Africa are always represented in Mr. Konaté's work. In several of the new artworks, however, the artist has also imbued West African textiles with artistic traditions and motifs used in the region known as the Sahel - a vast area on the southern edge of the Sahara desert that includes present-day Senegal, Mauritania, Mali, and Niger.
These Sahel symbols are a visual language in themselves, and by bringing them together with Kente and Malian fabrics, I'm reflecting on the interweaving of material cultures and wider societies across the continent, and perhaps offering a metaphor for the strength and beauty of unity as a whole.
Abdoulaye Konaté is on view at Gallery 1957 in Accra, Ghana 25 September to 18 November 2020.
Featured image: Abdoulaye Konaté, 2016. Courtesy the artist and Blain Southern. Photo by Peter Mallet. All images courtesy Gallery 1957.