Washington-based miniature artist, Abigail Goldman, continues working on her dieorama series in her new solo show Wishful Thinking at SPOKE NYC. The exhibition showcases her small-scale sculptures and dioramas featuring a variety of narratives, but interconnected trough a single theme ‒  murder. The scenes represented borrow the aesthetics from a provincial everyday life, but a closer look reveals the details of brutal murders committed by less than an inch high aggressive and homicidal characters. From murders taking place in suburbian settings, to the ones committed in remote deserts ‒ all reveal both the vindictive nature of the contemporary subject, as well as it's humoresque indifference about crimes happening in it's close surroundings.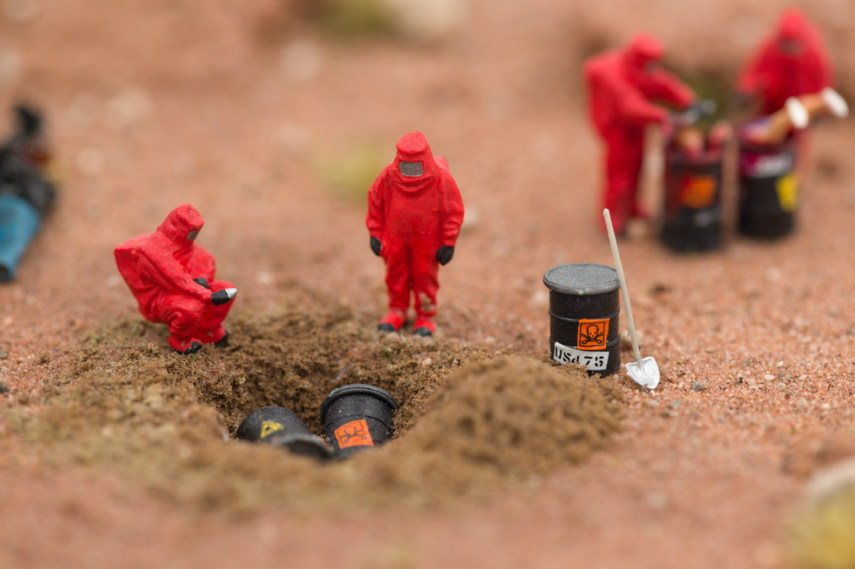 Brutal Dioramas Inspired by Real-life Crime
Abigail Goldman spent a few years working as a news crime reporter for the Las Vegas Sun, and another few as the Investigator for the Federal Public Defender; both of which gave her an opportunity to explore the dark side of human nature in reality. All of the elements she collected trough years of work and research, later served as an inspiration for the "vivid" murder scenes she started exploring in her miniature sculptures. The overwhelming and horrifying experience of professional encounters with the most brutal scenes of crime in the U.S.A., made her artistically reduce the barbarism of the settings, both in size ‒ by using the diorama technique, and by adding humor to the least expected places and characters; like showing a couple of figures trying to paint over an impossible large amount of blood, or a man peacefully standing next to a murder scene and drinking beer.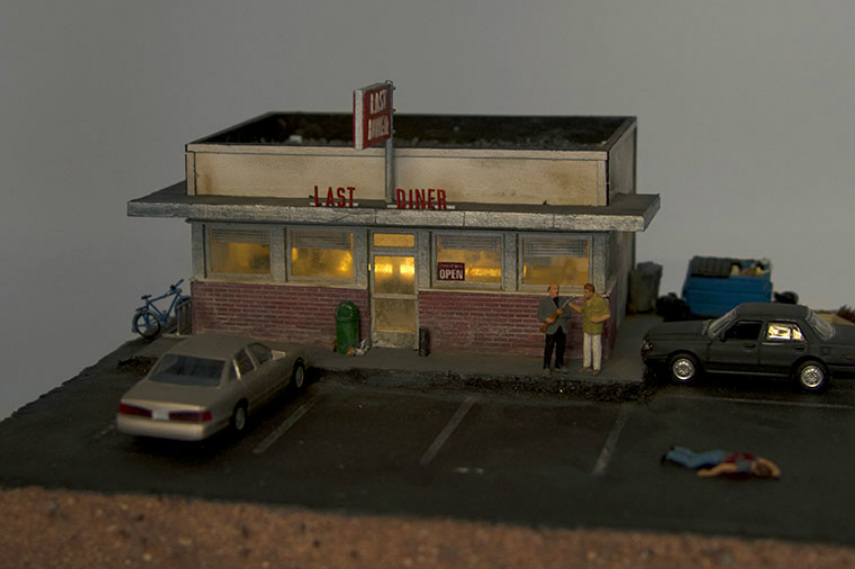 A Closer Look into the Face of Death
"Because my work is so small, people are forced to lean in close or crane their necks to see what's happening within. I always enjoy seeing people hunched over a dieorama suddenly reel backwards when they realize there's a tiny murder under the glass – it's a very physical reaction, craning forward and then jutting upright and then leaning in for a closer look." – elaborates the artist. Without leaning, these scenes would remind us of our everyday surroundings; enjoying birthday parties, relaxing by the pool or drinking in a bar; but what is hidden inside, when we decide to take a closer look of the characters which surround us? What happens when we are forced to think about the unrevealed motifs which launch the dark human side and result with the omnipresence of death in all of these superficially vivid moments of our existence?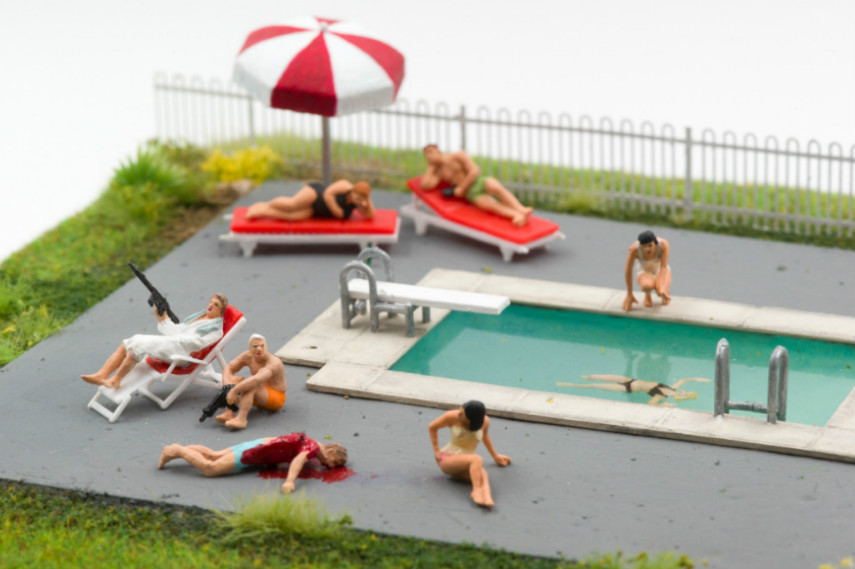 Abigail Goldman Art Presented in SPOKE NYC
Located in the New York City's Lower East Side, SPOKE Art will present works by Abigail Goldman at the opening of her solo show on Saturday, March 4, 6 - 9pm. The exhibition will be on view until March 26, 2017. Do not miss the opportunity to witness these both unapologetically violent and gory miniature murders which might lead you on an investigation of your own dark and disturbing thoughts, or the investigation of the tiny humorous elements which make even the moments of death more vivid.
Featured images: Abigail Goldman - Blow Out Candles, Blow Up Friends (detail), 2017; Abigail Goldman - Assets, 2017; Abigail Goldman - Blow Out Candles Blow Up Friends, 2017; Abigail Goldman - Catching The Express Train, 2017; Abigail Goldman - Catching The Express Train, 2017; Abigail Goldman - Catching The Express Train (detail), 2017; Abigail Goldman - More Rent Control, 2017; Abigail Goldman - Waste Removal, 2017, All Images Courtesy of SPOKE NYC