Executed in intricate detail, dioramas present us with three-dimensional microcosms that pique our curiosities, by displaying the strange beauty that comes from capturing our world in miniature. The artist Abigail Goldman has taken the seemingly innocent art of diorama to a whole new level while holding up a mirror to viewers to reveal their own affinity for the macabre.
The artist's latest body of work is now on view at Hashimoto Contemporary in her second solo exhibition with the gallery. Rubbernecker features her ongoing series of miniature violent, yet charming and wickedly clever dieoramas, as she likes to call them.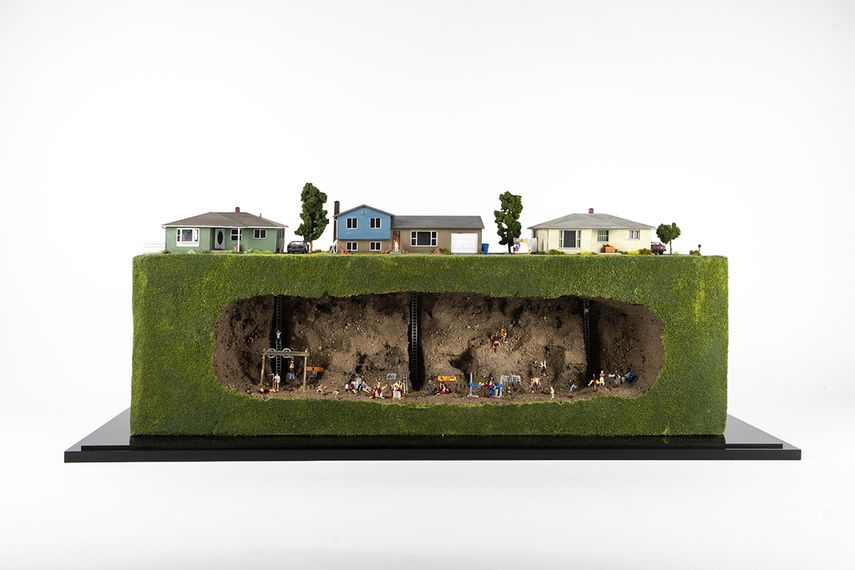 The Practice of Abigail Goldman
Inspired by the grim, Abigail Goldman constructs tiny worlds that appear to be mundane Americana scenes, populated by figures less than an inch high. We see city blocks, suburban homes, a peek inside someone's living room as they curl up on the couch with a book.
However, upon closer inspection, the disturbing nature of these constructed worlds reveals itself. Tapping into our dark appetites, as well as the culture of anger and outrage, Abigail's minuscule environments are center stage for grisly murder scenes and various acts of mayhem and gore.
Executed in meticulous detail, these dieoramas present small insular universes where chaos reigns. Reducing the brutality to a miniature scale, her works are at once dark and humorous, creating an uncomfortable tension within the viewer.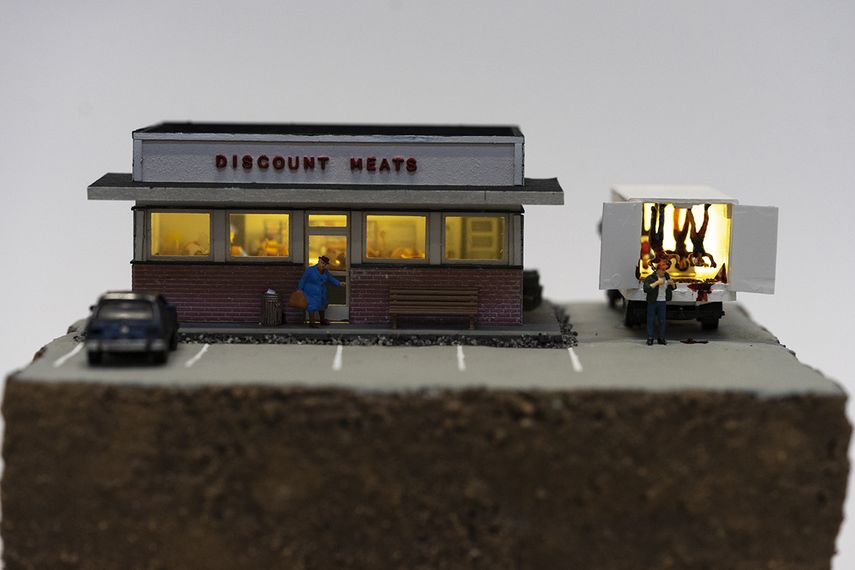 Capturing Tiny Moments of Violence
Working on a small scale and playing with the concept of cute, Goldman confronts us with our own fascination with violence, our desire for it, what is considered appropriate and ultimately our desensitization as a whole. As the artist explained, we live in violent times, becoming accustomed ourselves to tragedy.
I think there's an undercurrent of anger that is rippling just under the surface - it builds and bubbles up in unexpected places; we find ourselves with clenched fists in line at the grocery store, or sobbing in the shower, or ready to ram the back of someone's car when they stop short.
By capturing tiny moments of violence and containing them, they become charming. "If I can make someone laugh, or make them see something of themselves or their own simmering frustrations in a dieorama, then I've succeeded," she says.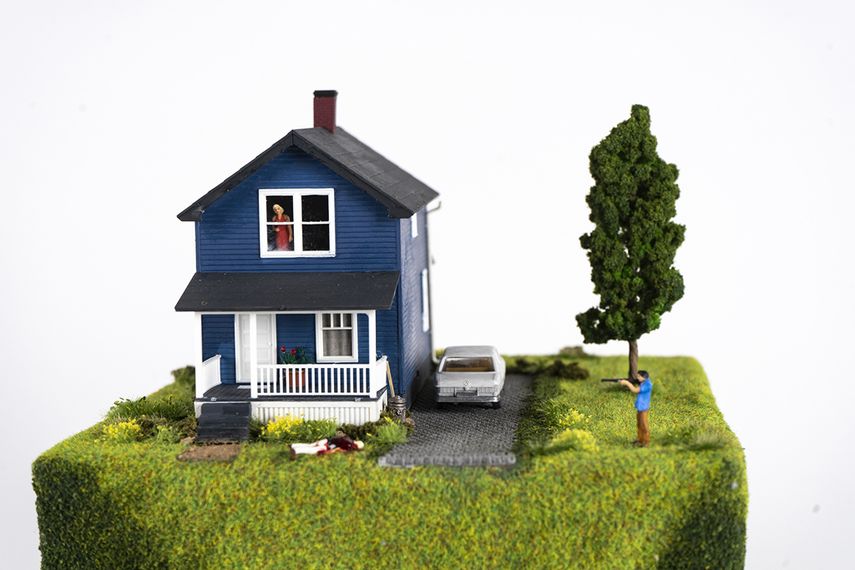 Rubbernecker at Hashimoto Contemporary
At once adorable and offensive, Abigail Goldman's dieoramas are an exploration of violence - it's omnipresence and resulting banality, and our innate attraction to the grisly and macabre.
The exhibition Rubbernecker is on display at Hashimoto Contemporary in New York City until January 4th, 2020.
Featured image: Abigail Goldman - Paradise Motel (detail), 2019. All images courtesy Hashimoto Contemporary.